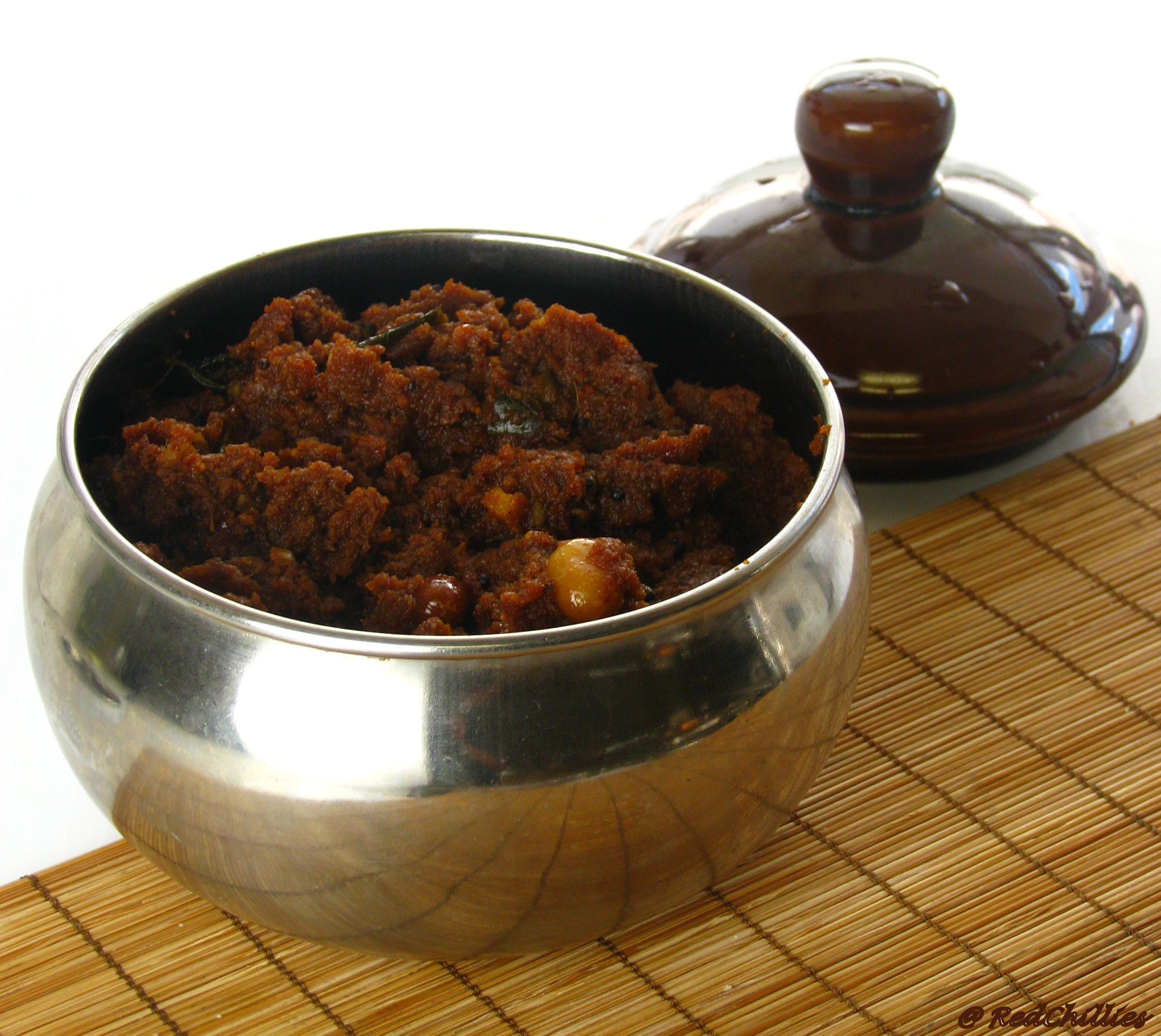 It is not often that one would find me in the kitchen preparing something as elaborate as this dish. Most of the dishes I make are quick ones, which do not involve too many steps and gets done in a jiffy. Even though I cite the excuse of lack of time, the real reason is I am lazy to cook something that takes a long time.
But this one is an exception as it has a warmth and tradition marked on it. This recipe of Konkani Chitranna Gojju was my husband's maternal grandmother's "Amamma" trademark recipe. She had passed this along with so many others on to her daughters including my MIL. I had noted down this recipe and had seen my MIL making it once. Amamma a warm and wonderful lady passed away recently. So I wanted to make this in her memory and save it for years to come. It is a small way of paying respect and also cherishing her much loved traditional recipe.
So what is a Gojju? For those unfamiliar with the name, Gojju is a Kannada name and is a spice paste/concentrate consisting of tamarind, jaggery, dry coconut, sesame, oil and plethora of spices. It has a balanced taste of sweet, sour, spicy and salty, but in concentrated form. This is treated more like a pickle and is eaten only in spoonfuls. The common way to eat this is by mixing a spoonful of Gojju along with warm cooked rice. Even though it is a time consuming process, the end result is worth every bit of it. Needless to say this is a favorite one at our house.
The complete preparation takes about an hour to make. But keep in mind a little goes a long way for this. Keep the Gojju in an air tight container and it lasts for a month without any problem.
Off this goes to Jaya's Back to Basics Event an event hosted by a warm and witty Desi Soccer Mom.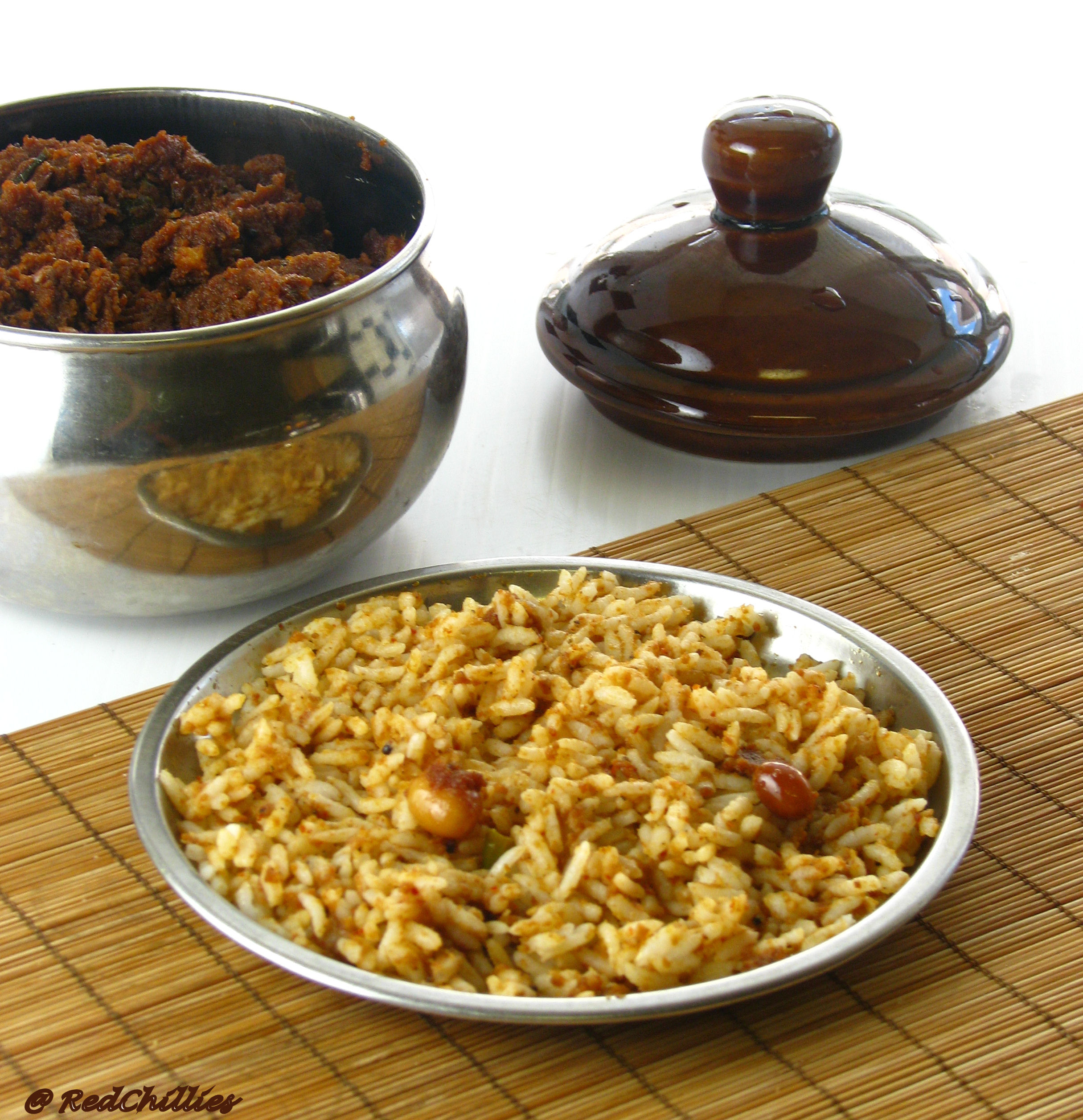 (Goju mixed along with warm cooked rice)
Ingredients
For the masala
1 small dry coconut/kobbari
2 Tbsp coriander seeds (Dhaniya)
2 Tbsp chana daal (kadle bele)
1 Tbsp Urad daal (uddina bele)
2 tsp sesame seeds (yellu)
2 tsp pepper
¼ tsp methi seeds/fenugreek
1 tsp jeera/ cumin seeds
30 dried red chillies ( I use Byadgi variety) ( there is no mistake here, this is very spicy) Note: Use caution, decrease the quantity based on preference.
 For the seasoning
Lemon sized tamarind (made into paste)
½ cup peanuts
5-10 curry leaves
Asafetida 2 pinches
Little jaggery (based on taste)
2 Tbsp Finely chopped ginger
2-3 green chillies (chopped)
1 tsp Mustard seeds
Salt
Oil (close to 1 cup)
Method:
In a small kadhai/pan toast the ingredients for masala in little oil separately.
 Note: The above step is a time consuming process as each one has to be evenly toasted and should not get burnt/browned.
Note: Be cautious when toasting the red chillies as it emits plenty of smoke.
When the above ingredients have cooled, grind all of them together first without any water to make a coarse powder.
Next add salt, tamarind, water sufficient enough to make a fine paste. (Even if the water added is more do not worry).
Take a heavy bottom pan and add 2 Tbsp of oil. Add the mustard seeds, asafetida, curry leaves and peanuts. Fry until the peanuts are browned and crunchy.
Add ¼ cup oil, heat and then add the ground paste and mix well.
Turn the heat to medium high and let it cook. This mixture will take a long time to cook.
Half way through the boiling process add the chopped ginger, chopped green chillies, jaggery and more salt if required.
You will notice that the mixture becomes dry and starts sticking to the bottom of the pan; in that case add little more oil in intervals.
The end point is when the mixture does not have raw smell, becomes thick and the oil begins to leave the sides.
Let this cool and then transfer to air tight container. Use as required.
Note: This Gojju is a concentrate and hence is spicy and sour. This is treated like a pickle and eaten one spoon at a time! A spoonful can be eaten along with yogurt rice, daal rice, idlis/dosas and the best along with rice.
Take about half cup of warm cooked rice and add 2 teaspoons of this Gojju, mix well and eat it when warm!.