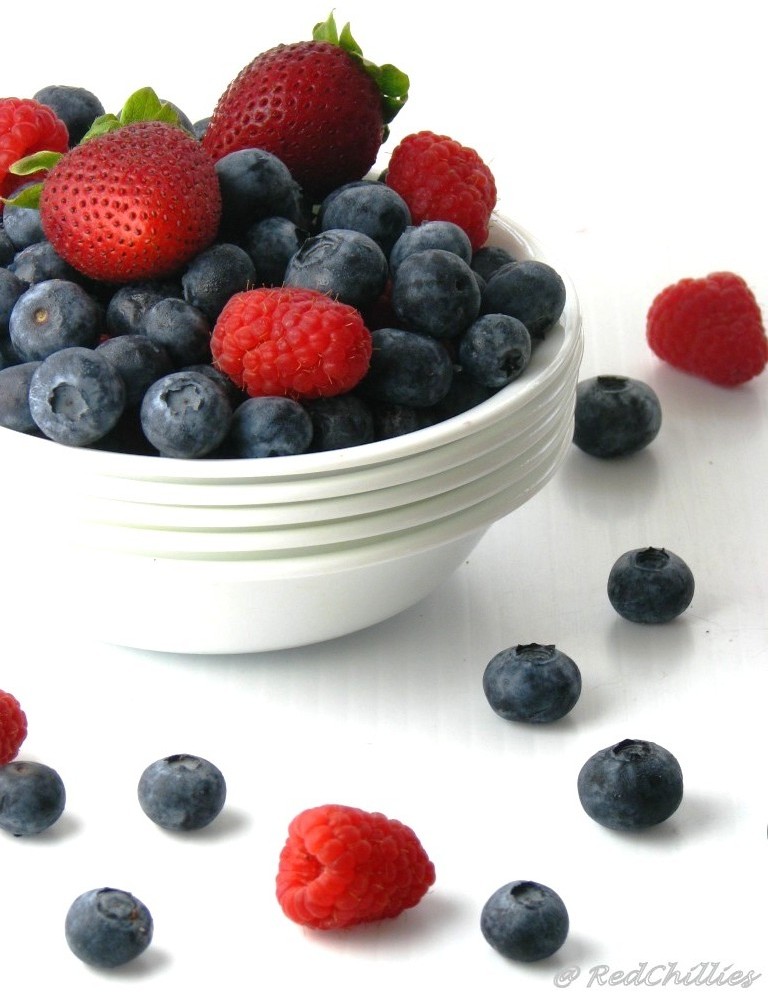 What is it about summer that you like the most? Is it the outdoor gardening, picnics, longer days, out door grilling, fresh bounty of fruits and vegetables? For me the first pick would be the longer days and close second would be the fresh bounty of fruits specifically the beautiful berries. The grocery is usually flooded with fruits and vegetables; not only are they fresh but they are cheaper as well.
Did somebody say "what about the summer heat"? Well, let's not go there shall we? If you live in some place like Texas, then the lesser talk about the heat the better. Let's just focus on the fresh and fruity for now like this summery, low-fat dessert, parfait.
If you are wondering what is a parfait? An American parfait is a dessert normally made by layering cream, ice cream, or flavored gelatin dessert with other ingredients such as granola, nuts, yogurt,   fresh fruit, or whipped topping. A parfait is normally made in a tall clear glass making all layers visible. (source).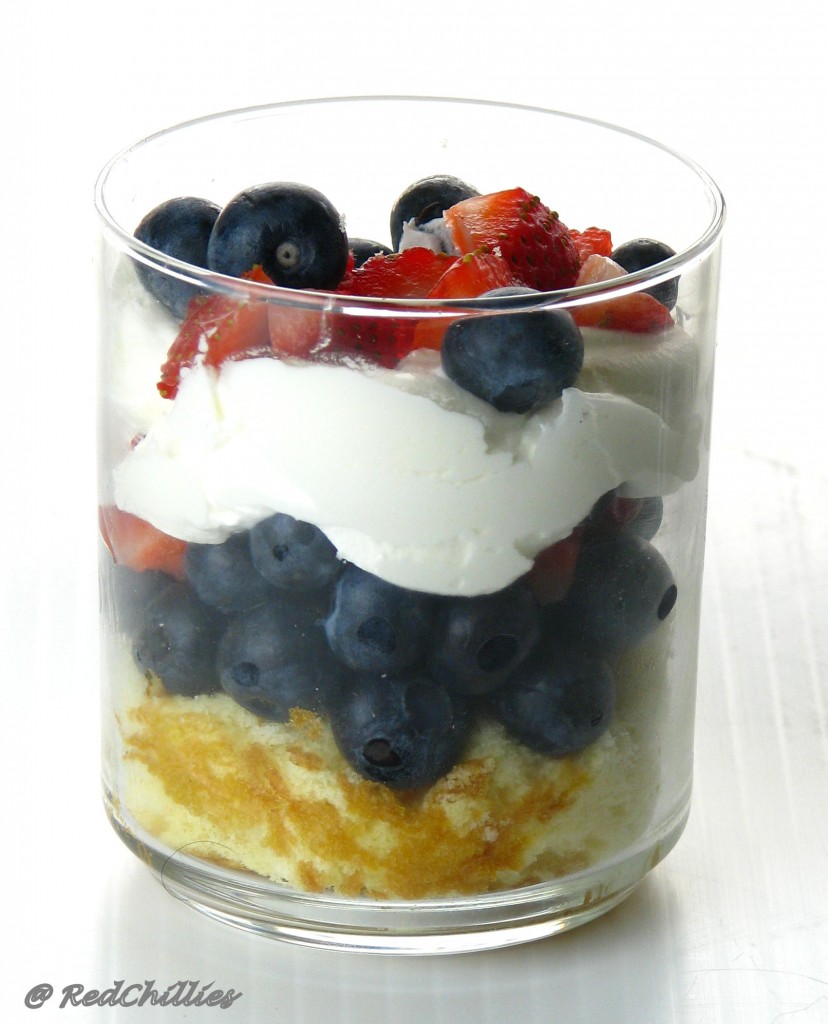 Typically heavy whipped cream is used while making the parfait, but I substituted it with the lighter cool whip cream. If you do not like cream at all, then you can try the Yogurt parfait.  Either way this is such an easy, light, elegant looking dessert and the one you don't feel guilty while eating.
This is a good way of using up left over berries. During summers I usually make it during the weekend evenings. It is no cook parfait and hence you do not have to slave in the kitchen. It is a cool way to bring the family together, eat healthy, chat and forget the summer heat J (albeit a little while).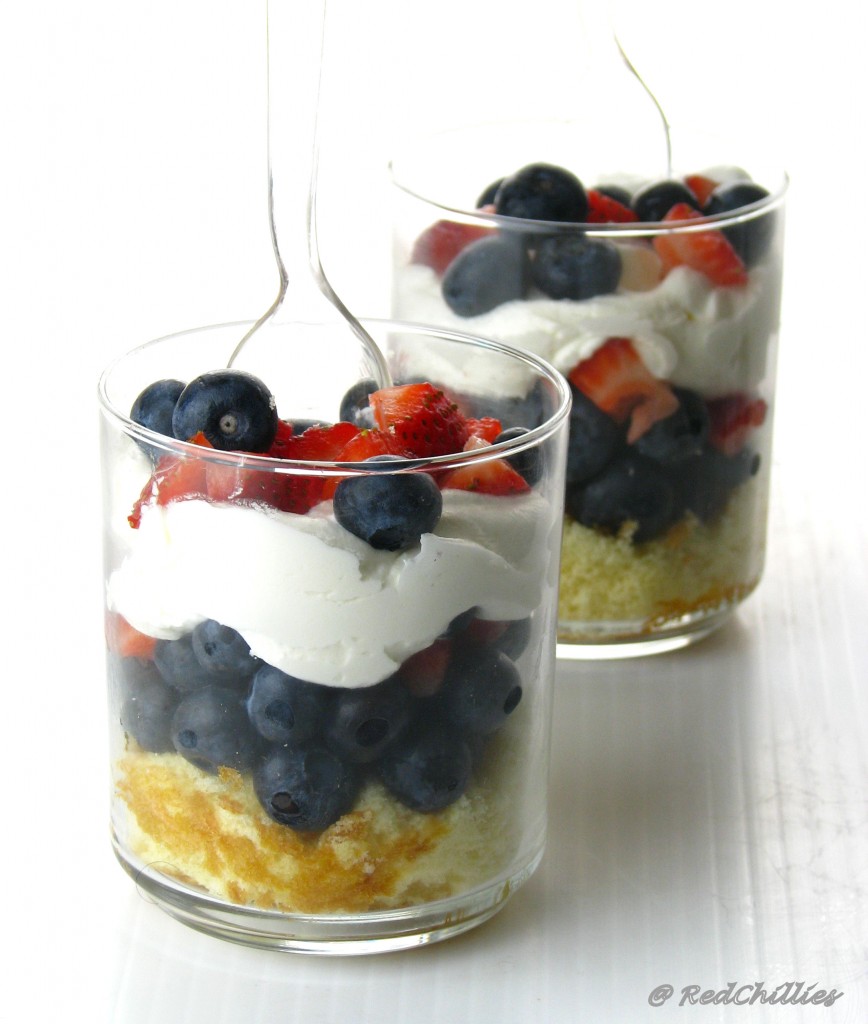 Berry Parfait Recipe
Ingredients:  
1-2  cups berries ( I used blueberries, strawberries)
1 tablespoon white sugar (per taste)
1 tablespoons powdered sugar
Cool whip cream (chilled)
Angel food cake/ dessert shells/light cake (make sure it is moist)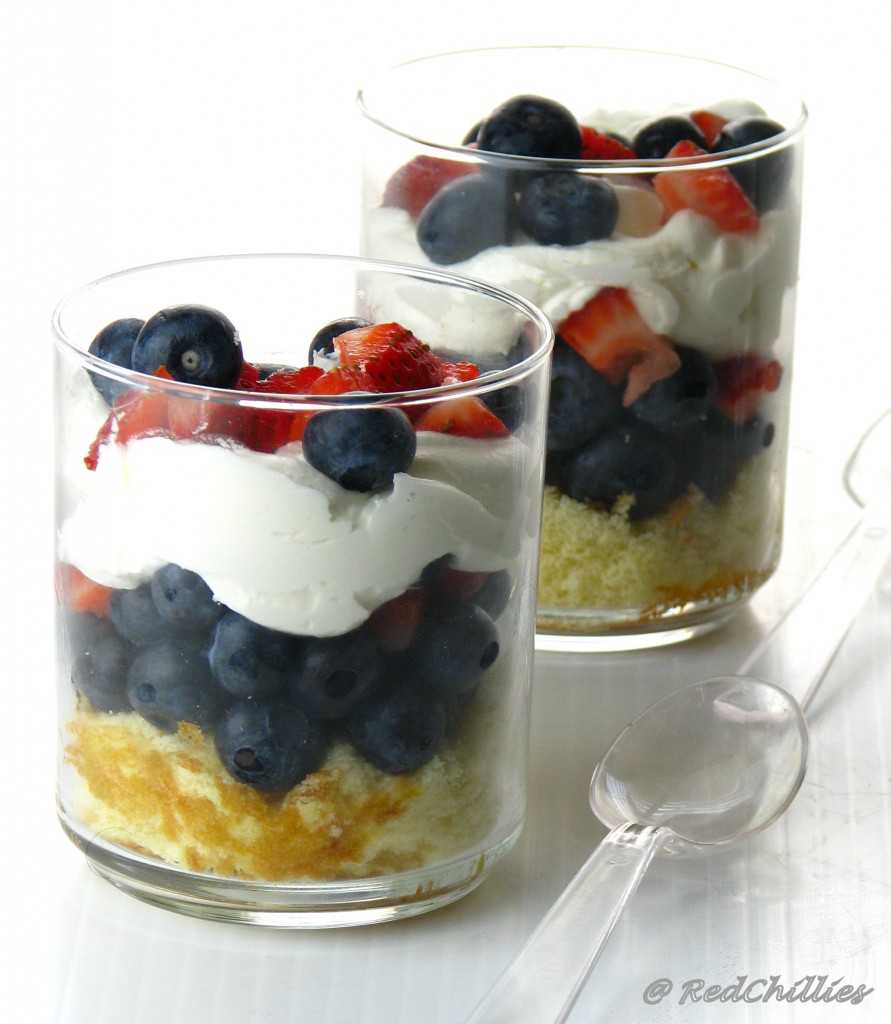 Method:
Remove the stem from the strawberries and cut into small pieces and place it in a bowl.
Add sugar to this and mix well. Let it stand to macerate for 30-45 minutes.
Note: I did not chop the blueberries.
In another small bowl, add cool whip cream and mix with powdered sugar (this is optional).
Take wine or parfait glass and place the cake at the bottom layer, press with spoon. (cut the shape of the cake depending on the glass)
Layer them with some berries, top it with whipped cream. Continue layering with berries and cream as desired. Serve immediately.