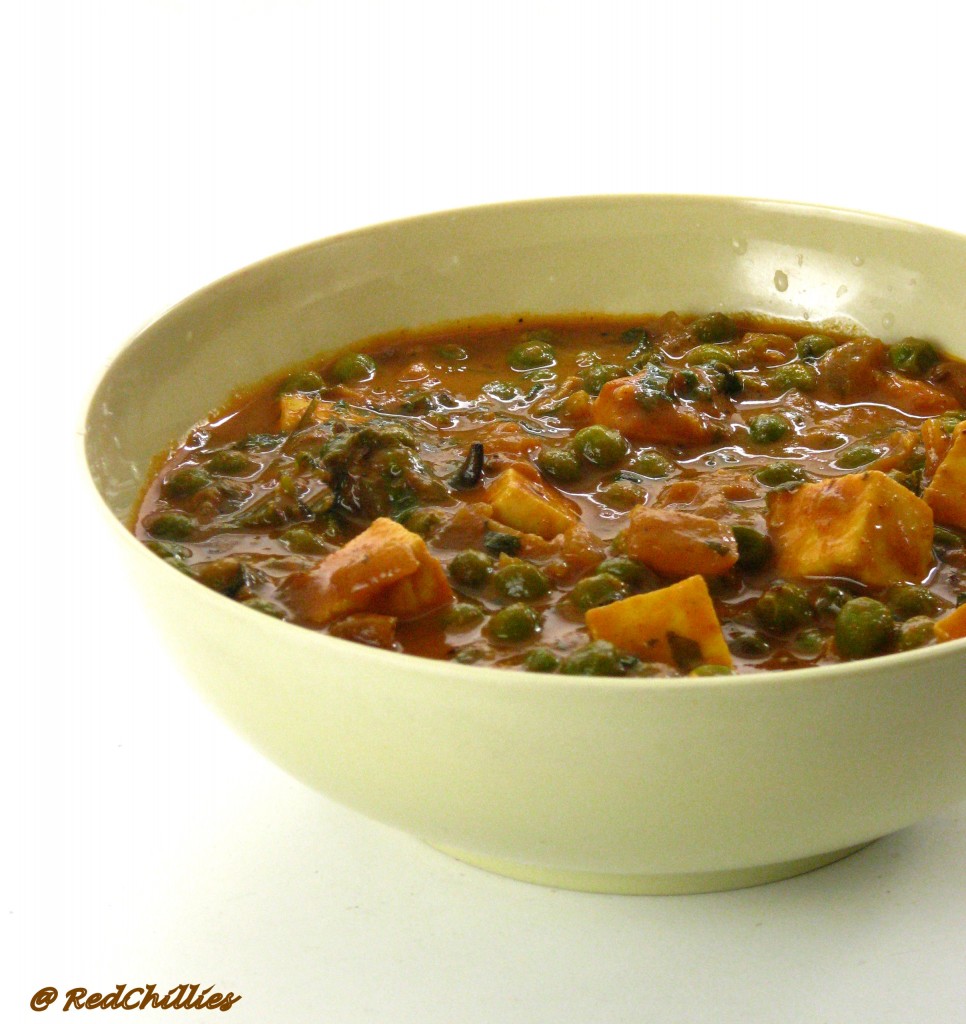 I have already posted a version of Matar Paneer with Methi before. Usually this is the recipe I stick to, while making Aloo matar or Matar Paneer.  But over the past few weeks, I have been experimenting with coconut milk and have been adding it to many curries with good results.
 Adding coconut milk to this curry provides a mild creamy taste and balances the taste of the spices/garam masala. This provides good flavor without having to add heavy cream or even the cashew almond paste. The combination of tomato paste and coconut milk gives ample thickness to the curry. 
I had made this Matar Paneer for a Diwali potluck recently and it turned out well.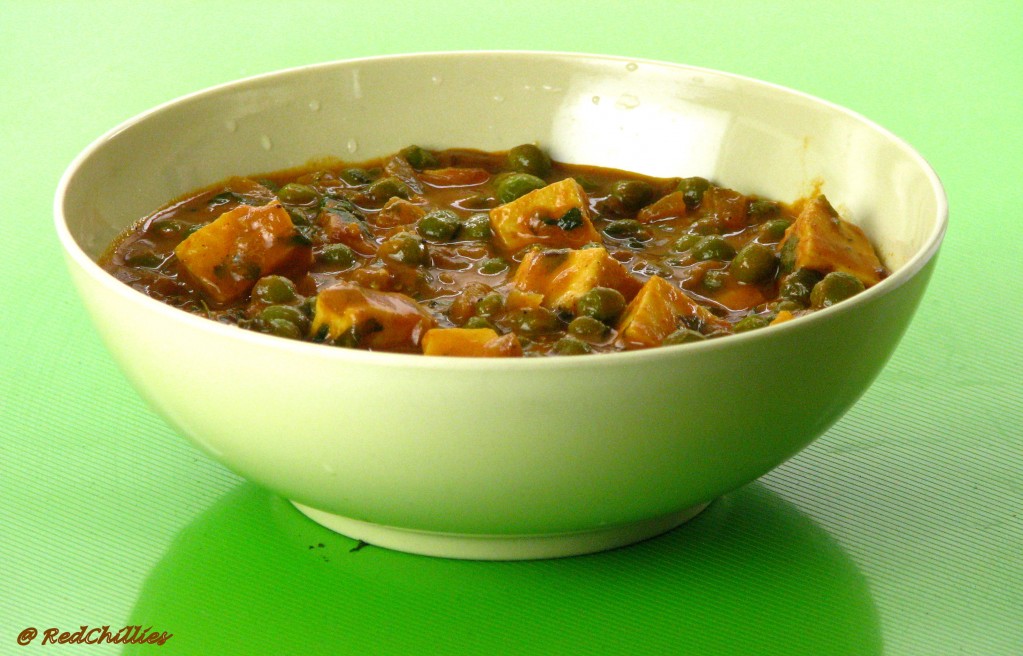 Notes: 
Prepare this dish about 6-8 hours in advance before serving. This way the coconut milk blends well with the spices and does not leave an after taste.
Adding tomato paste gives this a good level of thickness. So do not skip this.
The curry thickens up when cooled, thin it out with little water and milk, warm the curry before serving.
Ingredients
1 cup peas (fresh or frozen)
1 medium onion (chopped)
2 Tbsp tomato paste
¾ cup Paneer diced into cubes
2 tsp garam masala
1 tsp chilli powder (optional)
1 tsp chana masala (sounds strange, but adds a good flavor)
1 Tbsp Grated ginger + grated garlic
4-5 cloves
1 tsp cumin seeds
¾ can coconut milk (if using lite coconut milk)
4-5  small cinnamon sticks
1 tsp powdered kasuri methi
1 cup milk (2%)
1 Tbsp chopped coriander leaves
3 Tbsp Oil
Salt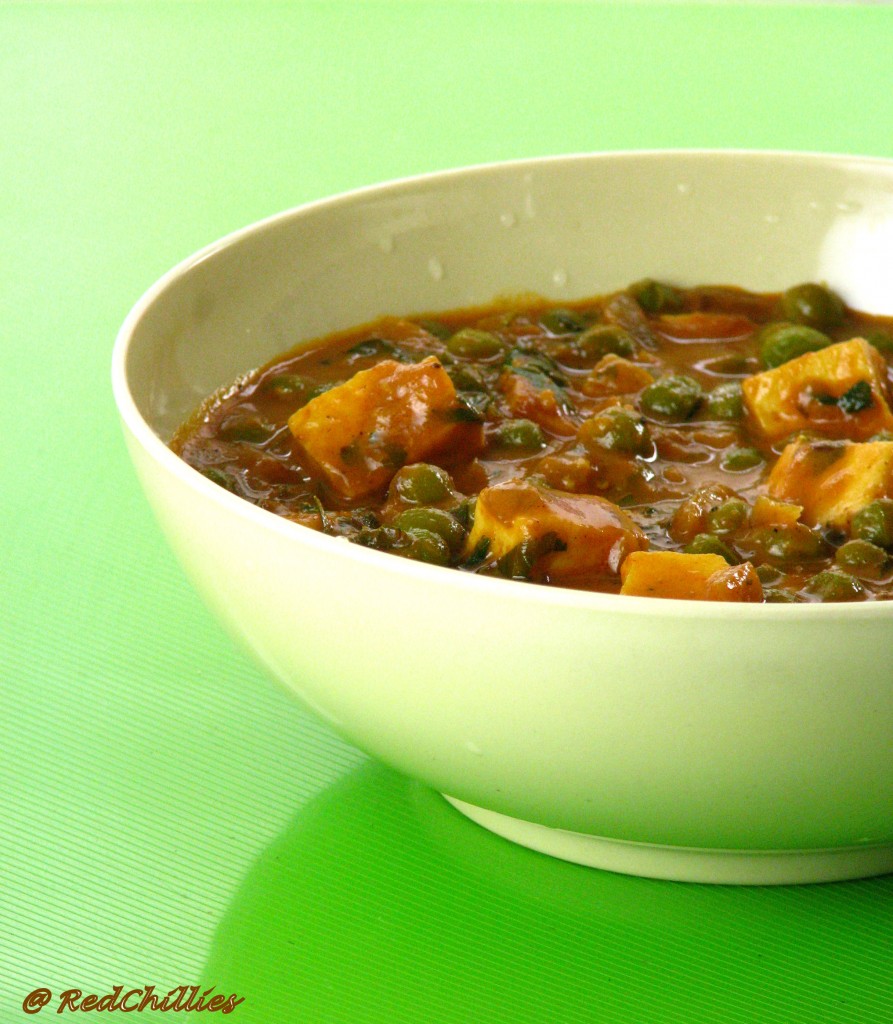 Method: 
Boil the peas separately in little water either on the stovetop or microwave. Retain the water that was used for cooking.
Take a heavy bottom pan, add the oil. Add the cumin seeds, cloves and cinnamon and mix well.
Next add the ginger and garlic and sauté until the garlic turns light brown.
Now add the onions and stir until it turns transparent.
Add the tomato paste, stir and cook until the raw smell of the tomato is gone.
Add chilli powder, garam masala, chana masala and mix well.
Add coconut milk and water from boiled peas.  Mix this well and let it simmer.
Now stir in the peas, paneer and continue to cook.
Add the milk and let it simmer for a while.  Check the taste and add seasonings if required.
When finally done, add kasoori methi, chopped coriander stir and then close the pan with lid.
 This tastes good with Rotis, Phulkas, Puri and also serves as an accompaniment with plain rice/ jeera rice.