The past few days have been an emotional roller coaster ride for me. I did a normal WordPress upgrade on both Redchillies and FoodWorld but that went wrong and crashed both of them. I have done many upgrades before on both of them, but this time I was trying too many things at the same time and guess it was meant to be a disaster. As soon as I realized my mistake, I did some restoration work with the backup that I had taken earlier, but that made the situation even worse and the blogs became inaccessible.
 As you can imagine, it was a shattering experience seeing the blog being ruined right before my very eyes. I did some research on the web, but the mumble jumble of technicalities did not help in any way to restore the blogs back. More stress followed and the fact that I might lose my precious blog, along with 4 years worth of recipes hit me hard.
 Finally I approached the web host provider BlueHost who after a nerve wracking 16-24 hours did a decent job of restoring the data and the blogs back to normal. Phew! At least in this process, I have learnt things that I should not be doing with the data and the blog 🙂
 It truly feels good to back to blogging and I feel that a part of me is back. Thanks for the overwhelming support on FB, my dear blogger friends it was truly touching. I frankly did not know that there were so people who cared for my blog.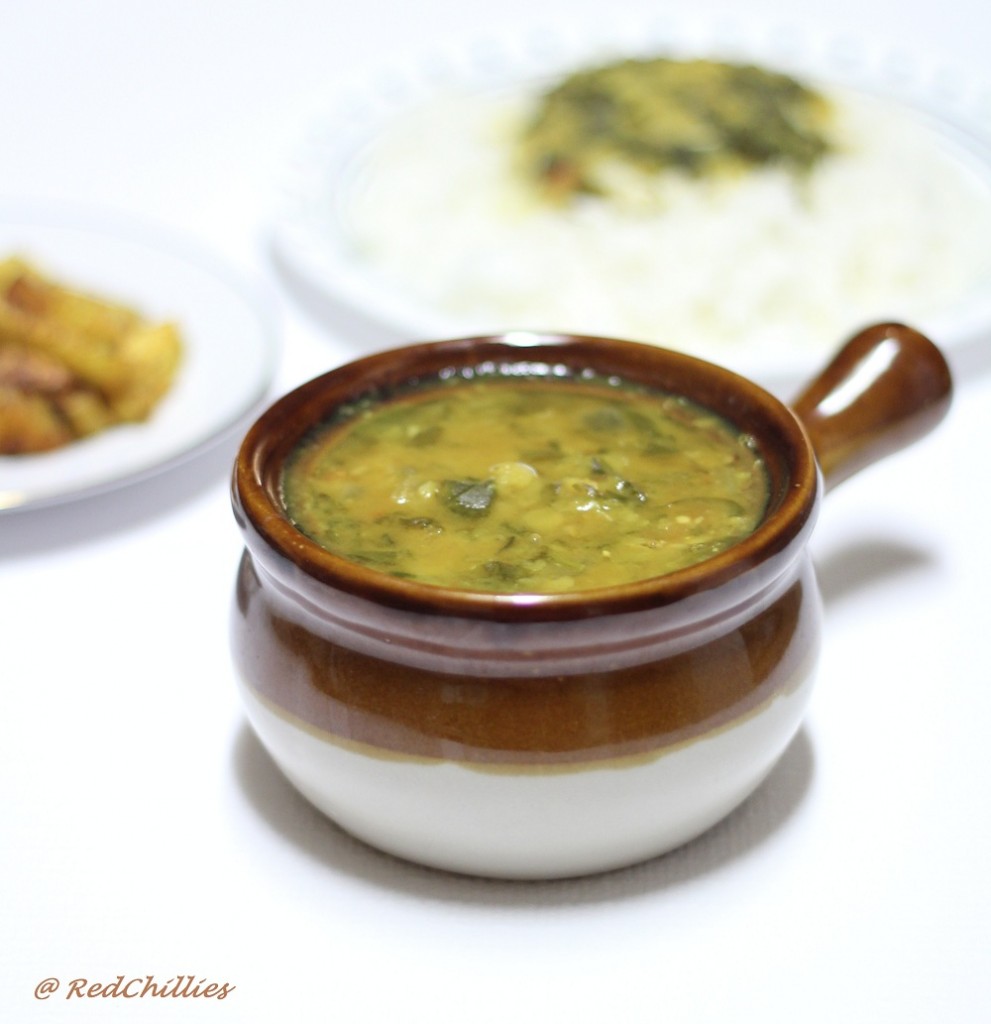 Anyway, coming back to the recipe Palak Daal , this is a simple recipe and comfort food at its best. And comforting food was what was needed during those tense, jittery days. There are different ways of making this daal, I make it pretty much this way, sticking very close to our Konkani Daal, Daali thoy recipe.
 We get cleaned, pre-washed spinach right out of the bag all throughout the year. So it is very handy for people like me, who do not have the patience to clean, remove roots, stems, wash, wash and then wash J  You can substitute any greens in this instead of Spinach (methi, dill etc).
 I prefer having this daal with rice than with Rotis.
PS: On another note, thank you all for taking time and contributing wonderful Dosas to the event Dosa Month @ Redchillies. I plan do a roundup soon.
Ingredients
3/4 cup Toor daal
3 cups fresh palak/spinach (washed and chopped)
1 /2 cup onion (chopped)
2-3 garlic pods (peeled and crushed)
1/2 tsp grated ginger
3 green chillies (slit and chopped )
cumin seeds/jeera
1/4 tsp turmeric
Oil/ghee
Salt to taste
 Method:
Pressure cook the Toor daal till soft along with water, cumin seeds/jeera and turmeric. After it has cooled mash it and keep aside.
Take a pan and heat oil (ghee will be much better).
 Add the cumin seeds and after they start spluttering add the crushed garlic. Sauté until it turns light brown.
Now add the chopped onions and green chillies. Sauté until the onions are cooked and transparent.
Add chopped spinach, turmeric and salt. Fry the mixture till it turns soft and the greens are cooked. (Spinach does not take a long time to cook).
Add the mashed daal to this and mix well (along with little water). Add the chopped ginger, salt (if required) and let it continue to boil.
 Remove from flame and serve hot with rice or rotis.