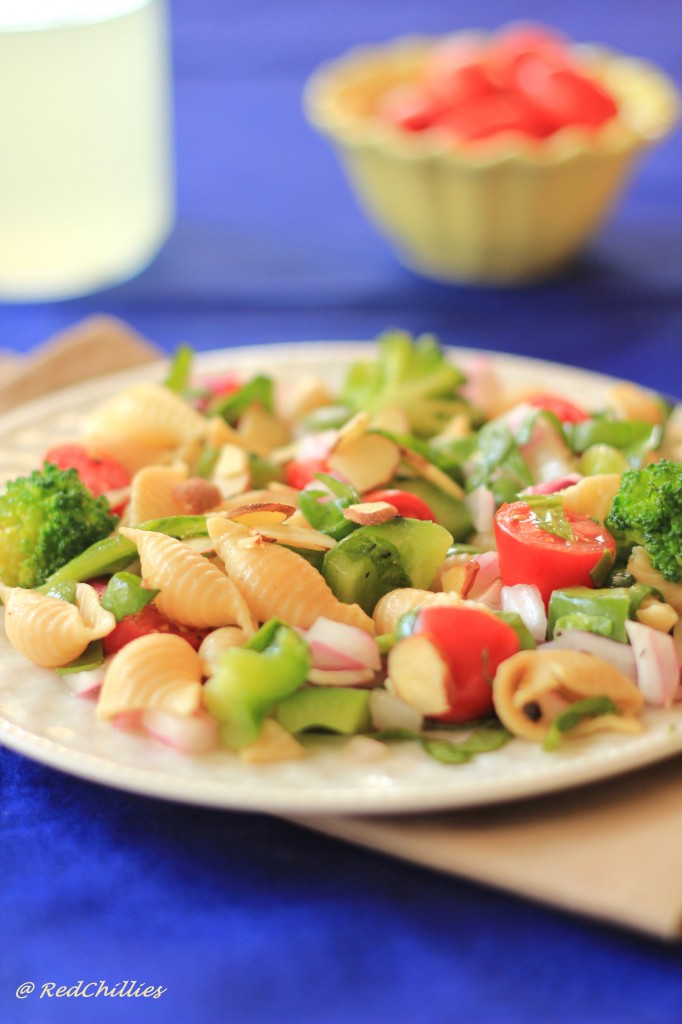 Don't we all look for light healthy food options?  I do and I look for low fat, healthy, vegetarian lunch ideas all the time and that is the idea behind the Light lunch Event. Throughout the month of June I will be posting recipes of salads, sandwiches, rice, breads etc food that not only looks good, but tastes good too and which is easy on the stomach. 
Also head over to Jaya's space as she is joining me in this Light Lunches event and check out her lunch ideas as well.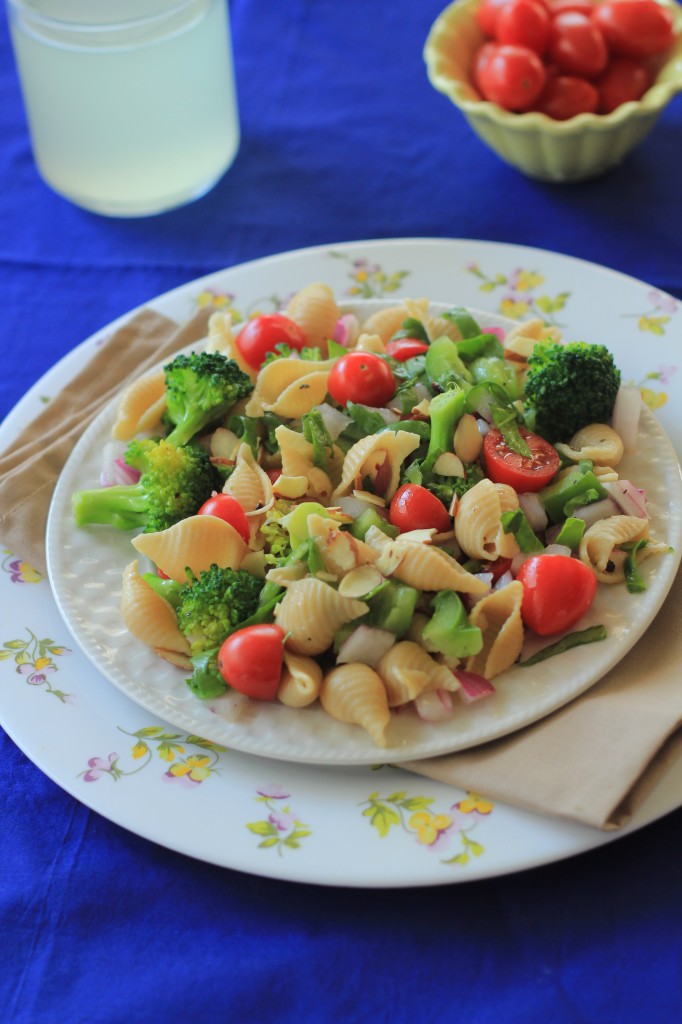 I make this Pasta Salad pretty often at home. With vegetables like celery, cucumber, tomatoes, pepper and onions all tossed in, this is a super healthy, great tasting and low calorie salad. It is lightly dressed with just vinegar and pepper powder. Of course, you can add any dressing of choice if you do not like vinegar. 
Frankly it has taken me years to the get the acquired taste of eating salads and developing a love for them. About 6-8 years ago I wouldn't have imagined eating salad as snack let alone as lunch. It is a 180 turn but now I love them and would not mind surviving on them.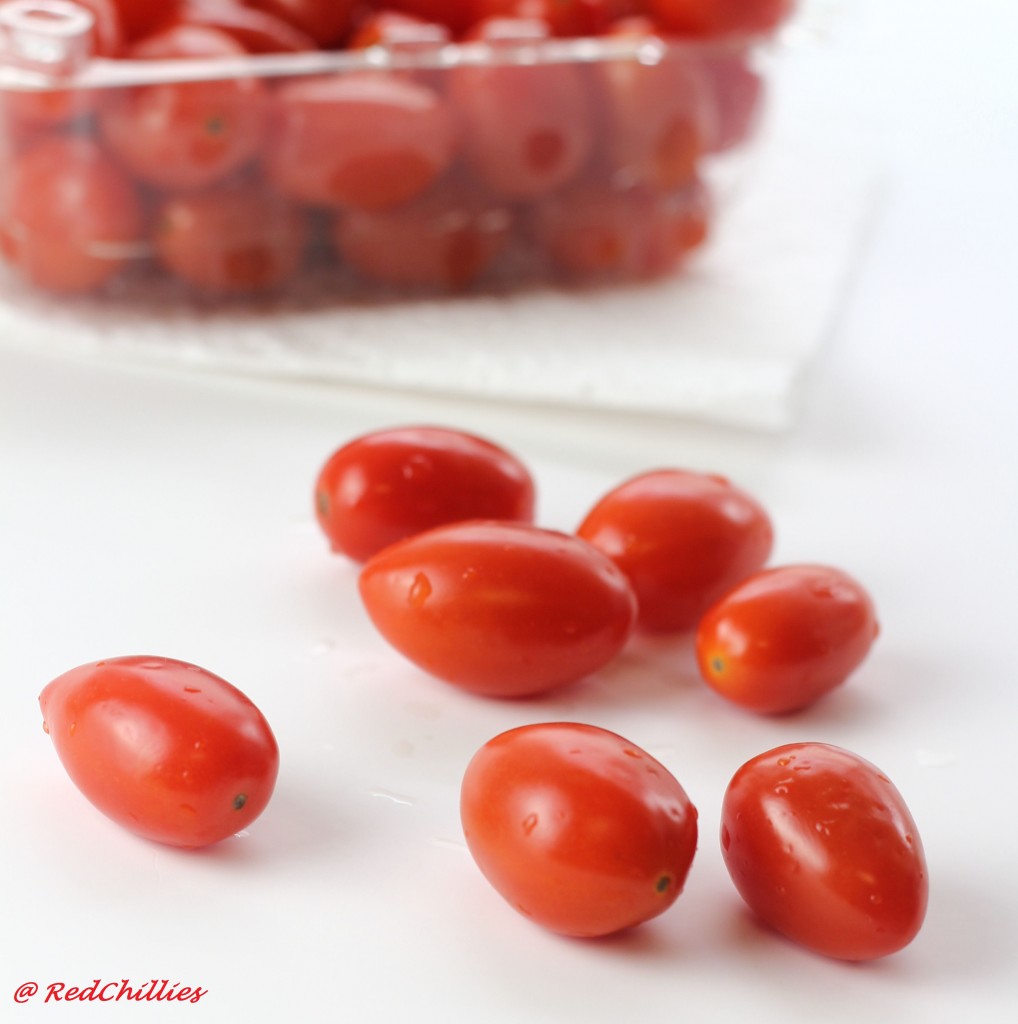 Aren't those grape tomatoes so cute? They form wonderful addition to salads and I could snack on them all the time. 
Note that you can use any vegetable of choice that you prefer. Almost everywhere Garden pasta salads contain olives, but I am not too fond of olives; hence I do not use it in my salad. But if you like them, then please go for it. 
Also I do not like my salads cold even during hot summers; I prefer it to be at room temperature, but I like to gulp this salad down with fresh juice or smoothies.
Ingredients
¼- ½  cup uncooked pasta (any shape will do) [I used whole wheat one]
¼  cup chopped onion
½ cup cooked broccoli
1 stalk celery (cleaned & chopped)
½  cup bell pepper (chopped)
½  cup cucumber (peeled & chopped)
Handful of grape tomatoes (chopped) [use regular tomatoes]
2 Tbsp vinegar or (use any dressing like  Italian-style salad dressing)
¼ cup olives (optional)
¼ cup almonds (sliced)
½  cup grated Parmesan cheese (optional)
½ cup Lettuce/spinach/any greens/ basil
pepper powder (per taste)
oil
Method
Take a pot and boil water in it. Add the uncooked pasta, salt, little oil and cook until al dente. Rinse under cold water so that it does not stick and drain water completely.
Take a big bowl and mix chopped celery, olives, broccoli, cucumber, bell pepper, tomatoes, and onion together.
Add the cooked pasta to this and mix again. Pour vinegar, crushed pepper over mixture
Add Parmesan cheese, sliced almonds to this before serving.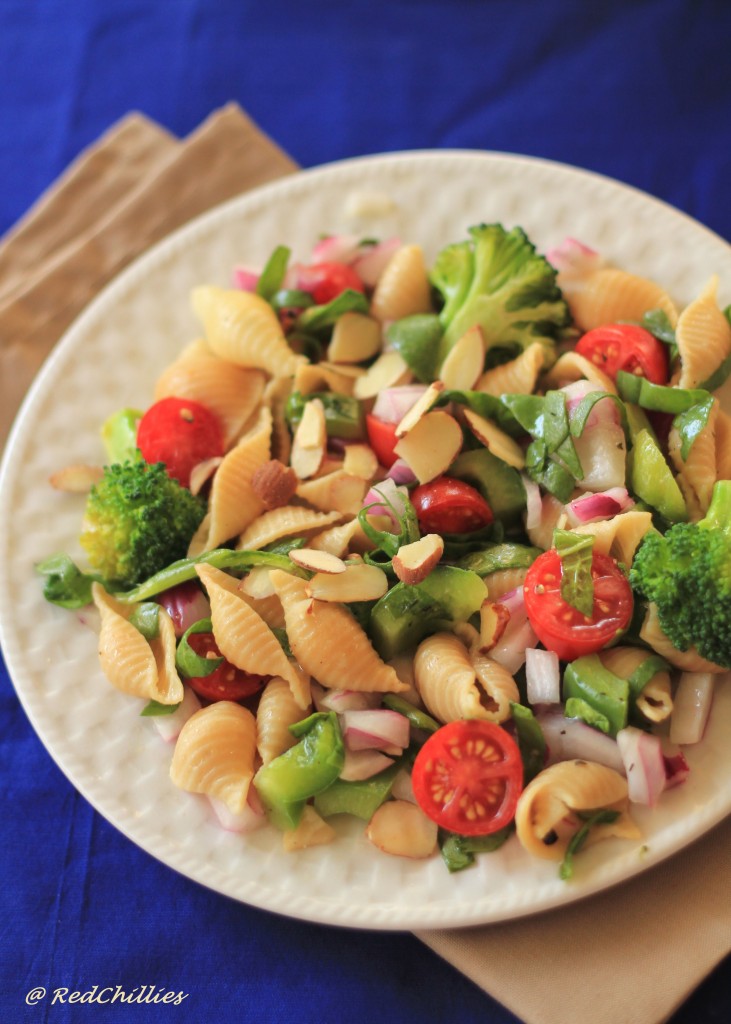 Finally, do not forget to leave your comment on the Event page (if you have not done so) for a chance to win that cool Taste of Home cookbook. The event ends on June 20th and there are only 4 days left.