Wishing all readers a happy and blessed festival of Navarathri.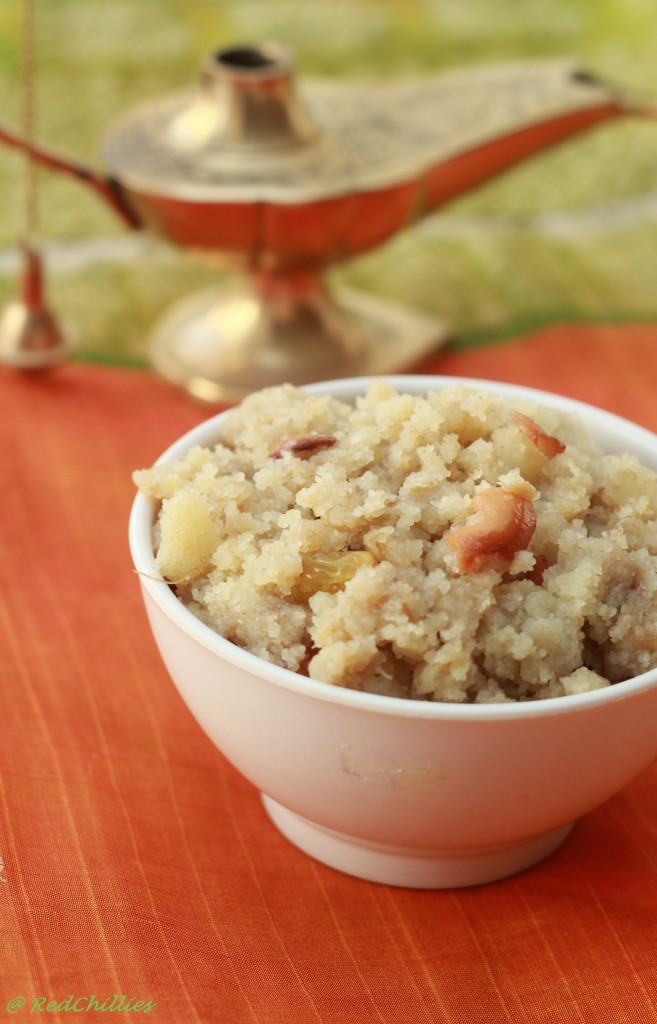 This Banana Semolina pudding or halwa or sheera is one of the easiest Indian sweet dishes that I know of. Although it involves three different processes, all made simultaneously it comes together in no time. If I need to make something quick for a pooja neivedya then I either resort to preparing this or the Sweet Poha. This recipe is also a good way to use up any overripe bananas.
This Sheera or the plain one (without any fruits) is usually prepared during SatyaNarayana Pooja and offered as Prasad. While preparing this please be sure to be liberal with the Ghee, otherwise the Halwa might have a dry taste. That said, do not overindulge in ghee, otherwise it will end up being greasy. Using oil as substitute for ghee might not have the desired taste.
Even though I am a huge fan of using cardamom and saffron (kesari) in Indian desserts, I do not use them here. I feel that way just the flavors of the cooked banana and ghee will be able to stand out, instead of the powering taste of the cardamom.
If you want, you can substitute pineapple or mango pulp instead of the mashed banana for a different fruity take on this Indian semolina pudding.
Ingredients:
1 cup Rava/Semolina/Sooji (fine)
3/4 cup sugar
1/2 cup ghee (clarified butter)
1 cup milk
1.5 cup water
2 medium ripe bananas (peeled & mashed)
Handful of raisins, cashews (broken into pieces)
Method:
Boil the water and milk together in a sauce pan/vessel.
While this is boiling in another big pan roast the Rava/ Sooji/Semolina on medium flame in 2 Tbsp of Ghee until it turns nutty and light brown. At this time there will be a heavenly toasted aroma of semolina waffling through.
Add in the sugar to the roasted rava and stir well.
Add the boiled milk and water to this in batches, while stirring the roasted rava/semolina continuously.
After a while the liquid gets completely absorbed and the rava/semolina plumps up.
Add the mashed banana to this semolina mixture and mix well.
Now add the remaining ghee and stir making sure it does not stick to the bottom.
Fry the raisins and cashews in about 2 tsp of ghee. Make sure the raisins plump up and the cashews obtain light brown color.
Add this toasted raisin and cashew to the freshly prepared halwa. Serve warm.