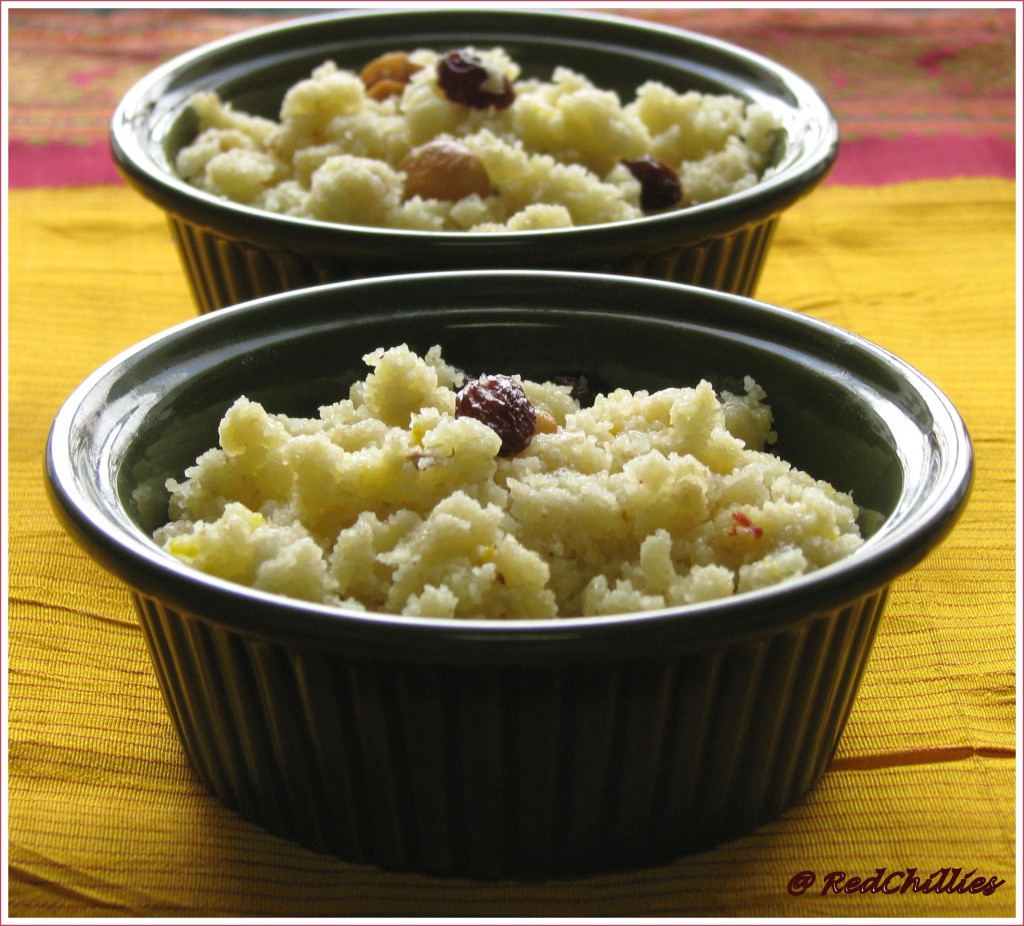 Wishing you all a very happy Ganesha Chaturthi and hope you all had a blessed and a wonderful day. This festival is also known as Vinayaka Chaturthi or Vinayaka Chavithi and as Chavath) in Konkani.
Growing up in Bangalore this was a very important festival for us. Every year on this day of Chavath, all our relatives and family would gather at my Uncle's place and celebrate the festival in a grand way. The festivities would go on for 3 or more days starting with Gowri Pooja, Ganesha Pooja and then finally the Ganesha Visarjan.  Gowri Pooja was the day when the married women did the "Vaina Pooja"/Coconut Pooja and also fasted on that day. When we were younger as kids it was fun, playing with cousins, new clothes, good food, no school activities etc.
But as we grew older we got a glimpse of the tradition, our culture and the importance of Satvik Cooking offered to the Lord during the time of the Pooja.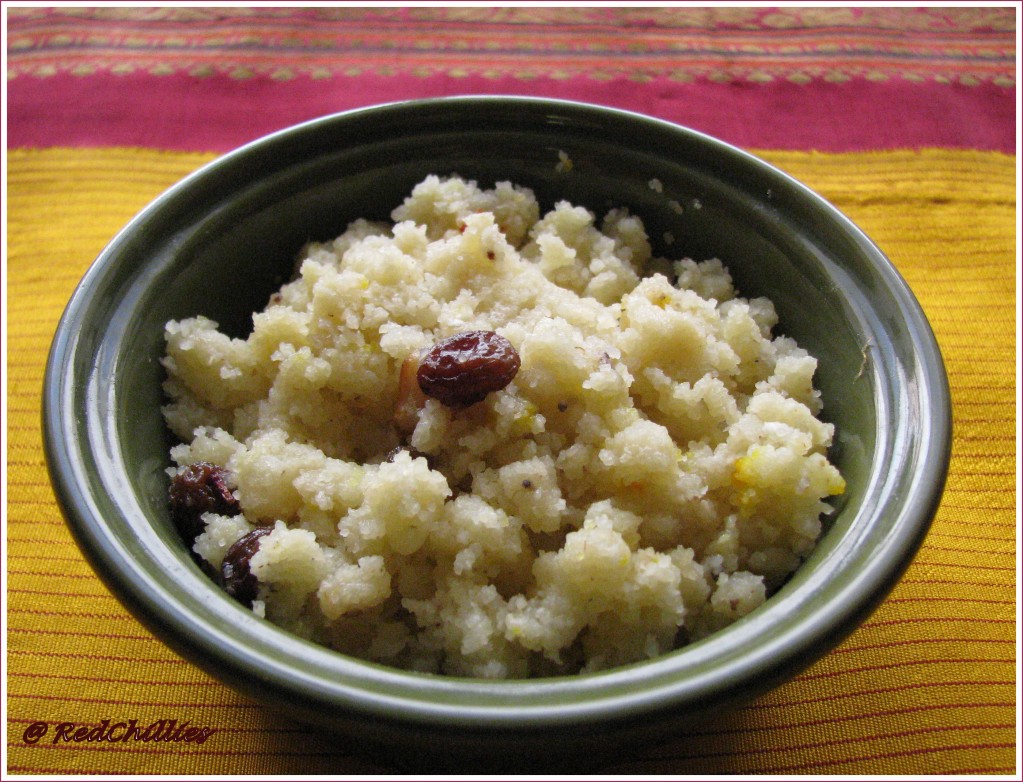 I feel blessed to have witnessed and be a part of that tradition. I can continue to pass this tradition to my son albeit a small way. As a part of the Parbe Jevan (Festive food) I had prepared Lemon Chitranna, Cucumber Kosambari, Daali thoy, Onion Pakodas, Potato Curry and this Rava Kesari/ Rava Sheera (Sweet Semolina pudding)
This recipe of Suji Halwa/ Kesari Bath is my MILS's speciality and she prepares this extremely well. While preparing this please be sure to be liberal while using the Ghee, otherwise the Halwa might have a dry taste. Using oil as substitute for Ghee might not have the desired taste. This Sheera is usually prepared during SatyaNarayan Pooja and offered as Prasad.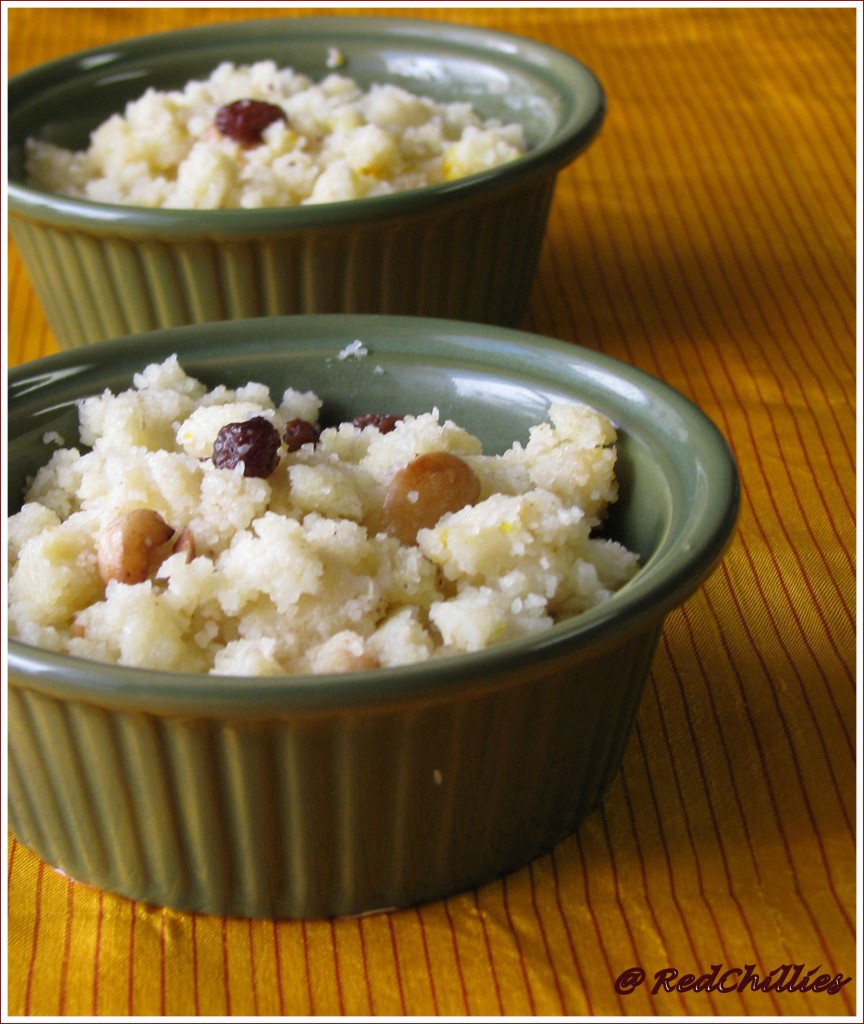 Ingredients:
1 cup Rava/Semolina/Sooji (fine)

1.5 cups sugar

2/3

 

cup ghee (clarified butter)

1/2 tsp cardamom powdered

1.5 cup milk

Saffron (a pinch)

2-3 cloves

Raisins, cashews (broken into pieces)

oil (optional though Ghee is preferred)
Preparation:
Roast the Rava/ Sooji/Semolina on low flame in 1 Tbsp of Ghee until the toasted aroma of Semolina waffles through. Transfer it to a plate.

Soak the saffron threads in about 1 Tbsp of warm milk.

 

Fry the raisins and cashews in about 2 tsp of Ghee and set aside. Make sure the raisins plump up and the cashews obtain light brown color.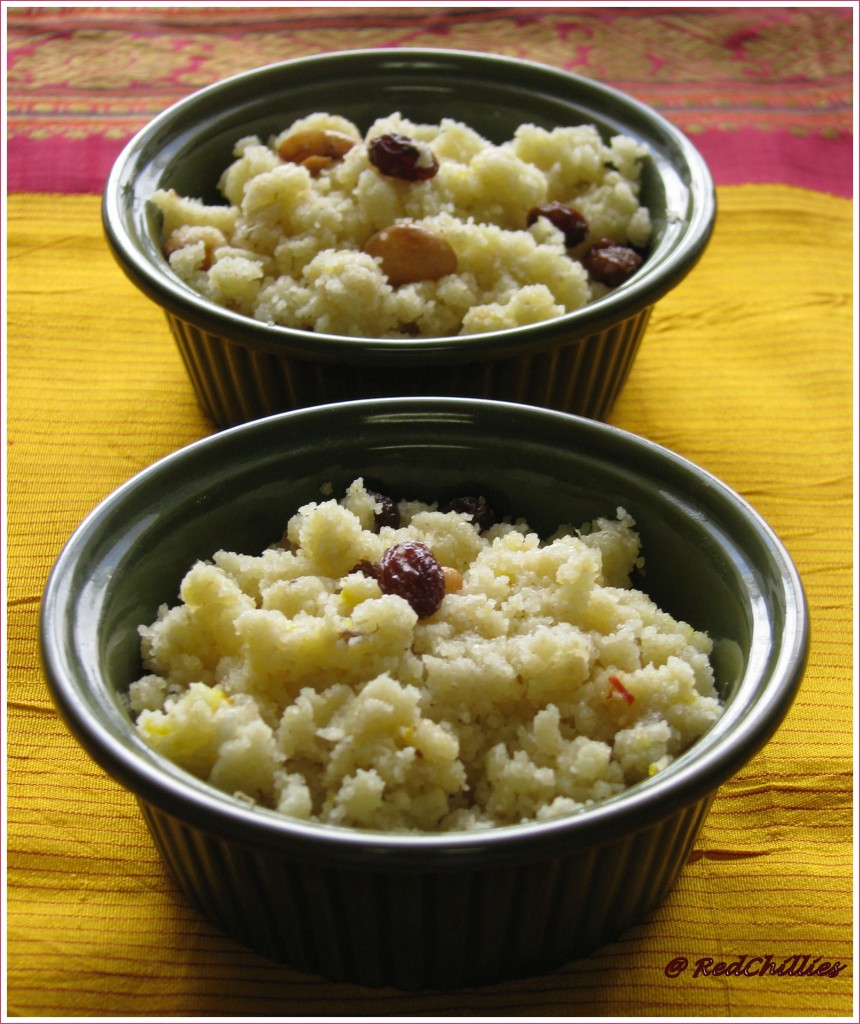 Method:
Take a heavy bottom pan and boil milk along with 2 cups of water .

Add the roasted Rava/Semolina in small batches and stir in between. (Do not put all the rava at once in the boiling liquid otherwise lumps will be formed).

Put in the saffron milk, which now acquires a beautiful yellow color.

Add in the sugar and stir once and cover this with lid and turn the flame to medium.

After a while the liquid gets completely absorbed and the rava/semolina plumps up. Now add the ghee is small batches and stir in between on low flame.

After a while the ghee starts leaving the sides of the pan. Now add the cardamom powder and mix well.

Finally garnish with roasted cashews and raisins. Serve warm!