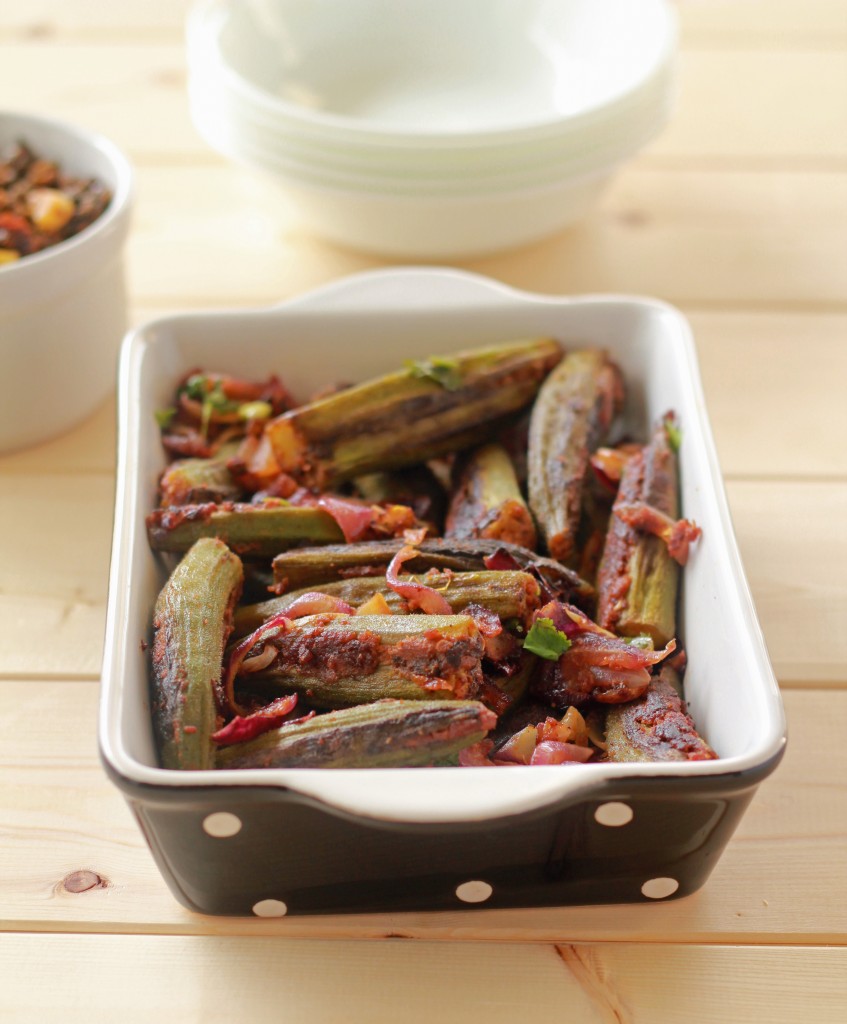 Be it the stuffed eggplant/brinjal (bharlele vaingan), stuffed capsicum, stuffed karela there is something interesting and special about these recipes. It gives one a feeling that lot of time and effort has been put while making the dish. 
Having grown up in a Konkani household, most of the stuffing that I know of is prepared using ground coconut masala. Traditionally stuffed Bhindi is prepared based on this curry, with a thicker version of the masala called 'Maasaolu'. 
Anyway, few weeks ago it was close to the weekend and I had only about a handful of these vegetables waiting to be used. The quantity was not sufficient to make the regular Bhindi Fry and. Added to that I ran out of coconut and so I was forced to look for other options. Few searches later, I narrowed down to this Bharvan Bhindi recipe by Vahchef. 
I love this versatile masala, as this does not involve any roasting or grinding. The ingredients are one's found in the pantry and so do not require the time consuming prep work. You can change the ingredients for the masala as per your taste. 
This masala can be used with other vegetables like brinjal, karela/bitter gourd or tindora.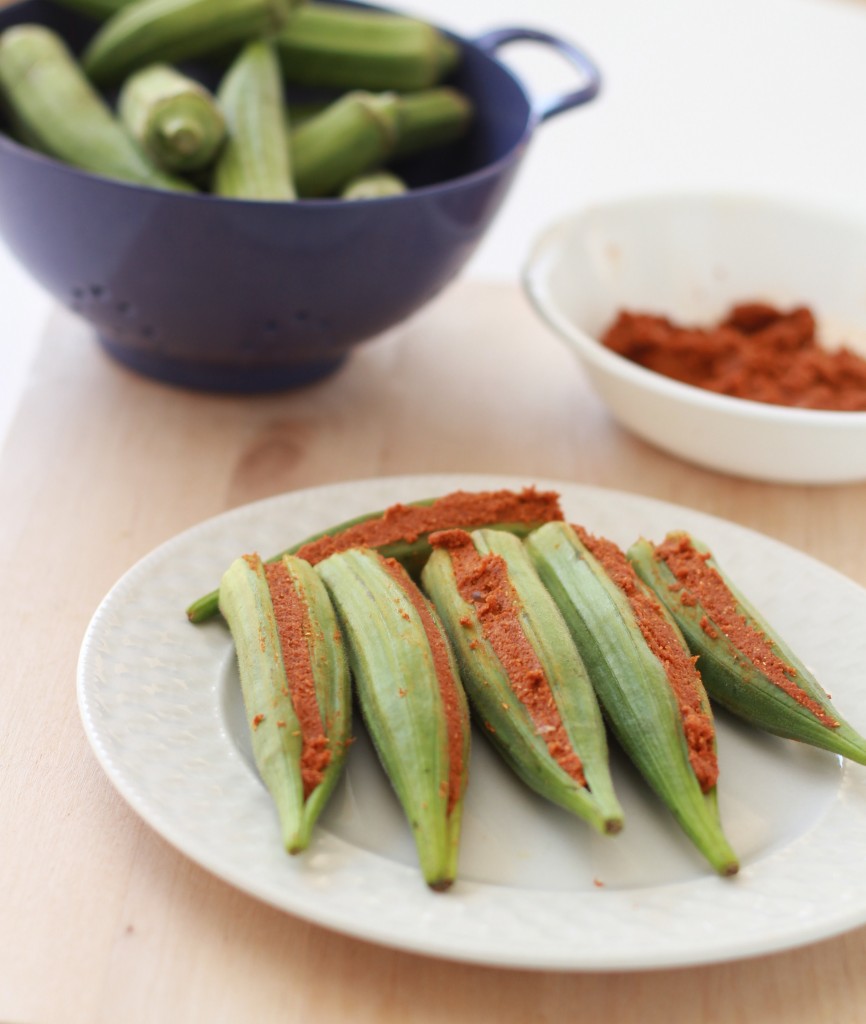 Recipe Source: Adapted from Bharvan Bhindi

Ingredients:
15-20 fresh tender bhendi/okra/lady's finger
1 cup onion (chopped thin lengthwise)
Chopped Coriander leaves for garnish
4-5 curry leaves
Oil
 
Masala/ Spice powder for stuffing 
4 Tbsp sambhar powder
1 Tbsp dry mango / amchur powder
½ tsp fennel seeds powder/saunf (optional)
Salt to taste
Red chilli powder (if required)
1 Tbsp Besan/gram flour
Juice of half lemon
waterMethod: 
Masala paste: In a bowl add all the dry ingredients and mix. Add the lemon juice and water little by little to make a thick paste. Keep aside.
Now wash the okra and pat them dry with a kitchen towel or paper.
Cut off the two ends and using the same knife, make a slit lengthwise on one side of the okra, without cutting through it. Do the same procedure with all of them and keep them aside.
Stuffing: Gently open the slit on a okra, take a spoonful of the masala paste and stuff slowly lengthwise, so that the whole opening is covered. Continue the procedure with remaining okras.
Take a deep pan/kadhai and heat 2 tbsp oil, and then add the stuffed okras (masala side up) to it one by one. Do not stack over each other.
On medium flame, cook the okra till the part below turns light brown and then flip it over until it turns brown evenly.
Add the slit onions, curry leaves and continue to cook for a while stirring in between.
Add the chopped coriander leaves and stir again.
Serve hot with Rotis or Daal-yogurt rice.