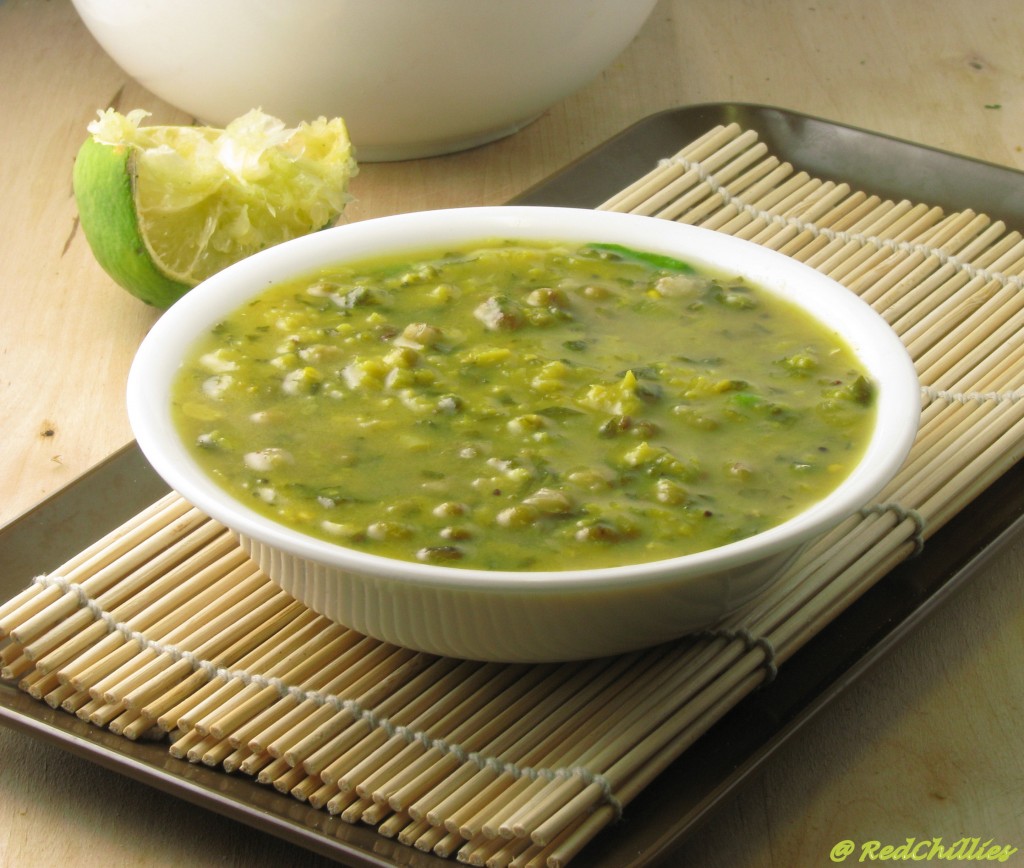 Ever since I read on Sandeepa's blog about green whole moong's ability to get rid of the toxins from our body, I have been thinking of ways to incorporate more of these beans in our diet.
Here is what one source says about these small green beans. "They are very nourishing, while being relatively easy to digest–they do not generally create abdominal gas or bloating, the drawbacks of larger beans. According to modern nutrition, mung beans offer 14 gms of protein per cooked cup. Mung beans are also a good source of dietary fiber. They also contain thiamin, iron, magnesium, phosphorus, potassium and copper, and are a good source of folate." (Source).
Here are some Indian Mung Bean Recipes that I prepare often:
So for a change I decided to make a regular everydaydaal; I also used the split moong daal along with this to give it a thick consistency. Since I had some Methi , I used it as well. I do not like pressure cooking the methi leaves along with the daal, as I feel its flavor is lost. I usually add chopped methi leaves during the Tadka/tempering process. Methi leaves emit a wonderful aroma when it hits the heat and cooks along with chopped onions. If Methi/Fenugreek is not available, then substitute any other greens by all means.
Of course with addition of onion, methi and other daal I am not sure if this exactly qualifies to be the one to detox  the body the Ayurveda way. But then this daal I feel is a nutritional powerhouse full of minerals and protein, enhanced by the goodness of Methi/Fenugreek and ginger. Nevertheless it was one tasty and wholesome Daal.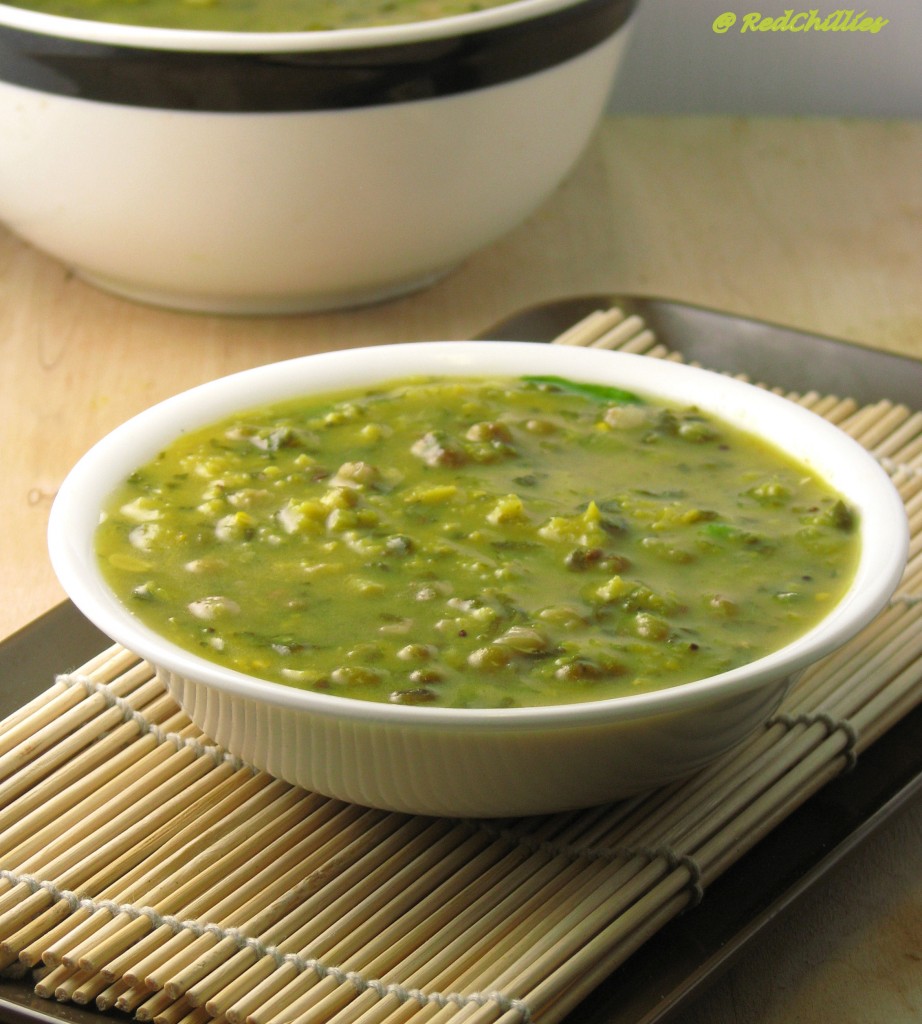 Ingredients: 
1 cup split yellow moong daal
1/2 cup green whole moong/ green mung bean
 2 cups packed methi leaves [cleaned and stems removed; tender stems are fine][ add more if you like the methi leaves flavor]
 ½ cup chopped onion
 2-3 green chillies
 Salt, oil
 ½ tsp Turmeric 
 1 Tbsp ginger (grated)
For Seasoning:
 2 tsp oil
 1/2 tsp mustard seeds
 Jeera /cumin seeds
 Curry leaves
 Pinch asafetida
Preparation:
 Soak the whole moong overnight and split moong daal for about 3 hours separately.
 Pressure cook both the mung bean and daal along with jeera and turmeric. Keep aside.
 Separate the leaves from the Fenugreek stems, and wash then thoroughly. Make a bunch of the leaves and chop it finely. Slit the green chillies into 2 halves.
Method:
 Take a heavy bottom pan; add about 2 tsp of oil. Add jeera, mustard and let it splutter. 
 Then add curry leaves, asafetida, green chillies and diced onions and sauté until onions have cooked a bit.
 Add the chopped methi leaves and mix well. Continue to cook until the onions turn transparent. The methi/fenugreek leaves cook easily in a minute or two.
 Add the cooked daal and then mix well. Add the grated ginger, salt, some more turmeric, water and cook it covered.
 Note: the amount of water depends on how thick or thin you prefer the daal to be. 
 Check for seasonings and add some green chilles, salt if required.
Put in a dash of lemon over the daal and Serve with Rotis/ phulkas or with Rice.