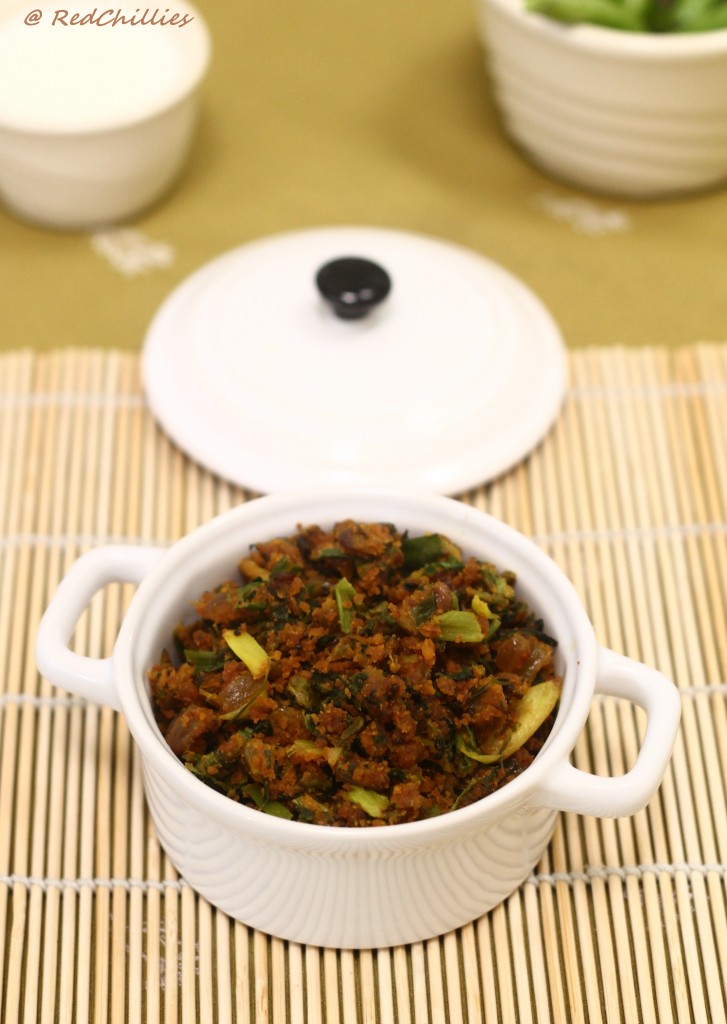 Around this time of the year (Fall/winter) we get good and fresh methi/fenugreek leaves, dill in the groceries and I make good use of that. I am not too fond of the frozen fenugreek leaves, as I feel that they do not have the same flavor and so I look forward for the arrival of the fresh ones. 
Few people I know do not like the intense or bitter cooked taste of the methi, but fortunately we love it at home and so I get an opportunity to try different recipes with it.
This methi besan sabji was one of my favorites and that which my mom used to make often when we were kids. I love the simplicity of this dish, with just basic ingredients yet has a flavorful taste.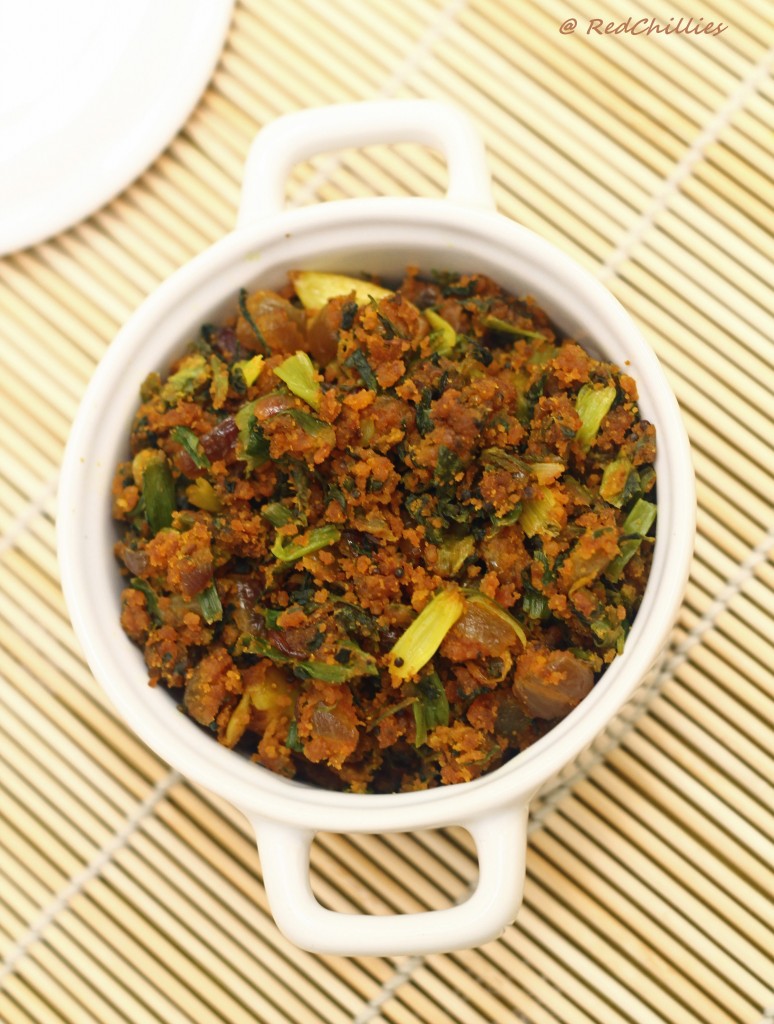 Here are some recipes using Methi that I have blogged earlier: 
This might be a little dry for chapathis (unless you serve it with a salad or raita), but tastes good with yogurt rice.
Ingredients: 
3/4 cup gram flour/besan
10-15 spring onion stalks (chopped)
1 small bunch Methi/fenugreek leaves
1 onion (chopped)
3-4 green chillies
¼ tsp turmeric
Salt to taste 
Seasoning/ Tadka:
1 tsp Mustard seeds
1/2 tsp grated ginger
2-3 garlic pods (grated)
4-5 Curry leaves
oil

Method:

Dry roast the besan flour on medium flame until it toasts and turns light brown. Keep aside.
Wash the methi thoroughly, cut and discard the thick stems. Retain only the leaves and the thin/soft stems. Chop finely.
Heat oil in a pan and add mustard seeds, asafetida, curry leaves. After the seeds splutter, add ginger garlic, mix well, and then add the slit green chillies andchopped onions.
When the onions are nearly cooked, add the chopped methi leaves, chopped spring onions and keep stirring until the raw small of methi is gone.
Add the roasted besan, salt and stir well. Be careful as the besan sticks to the bottom.
Keep stirring in between until the besan blends and cooks.  ( I do not cover the lid for this sabji).