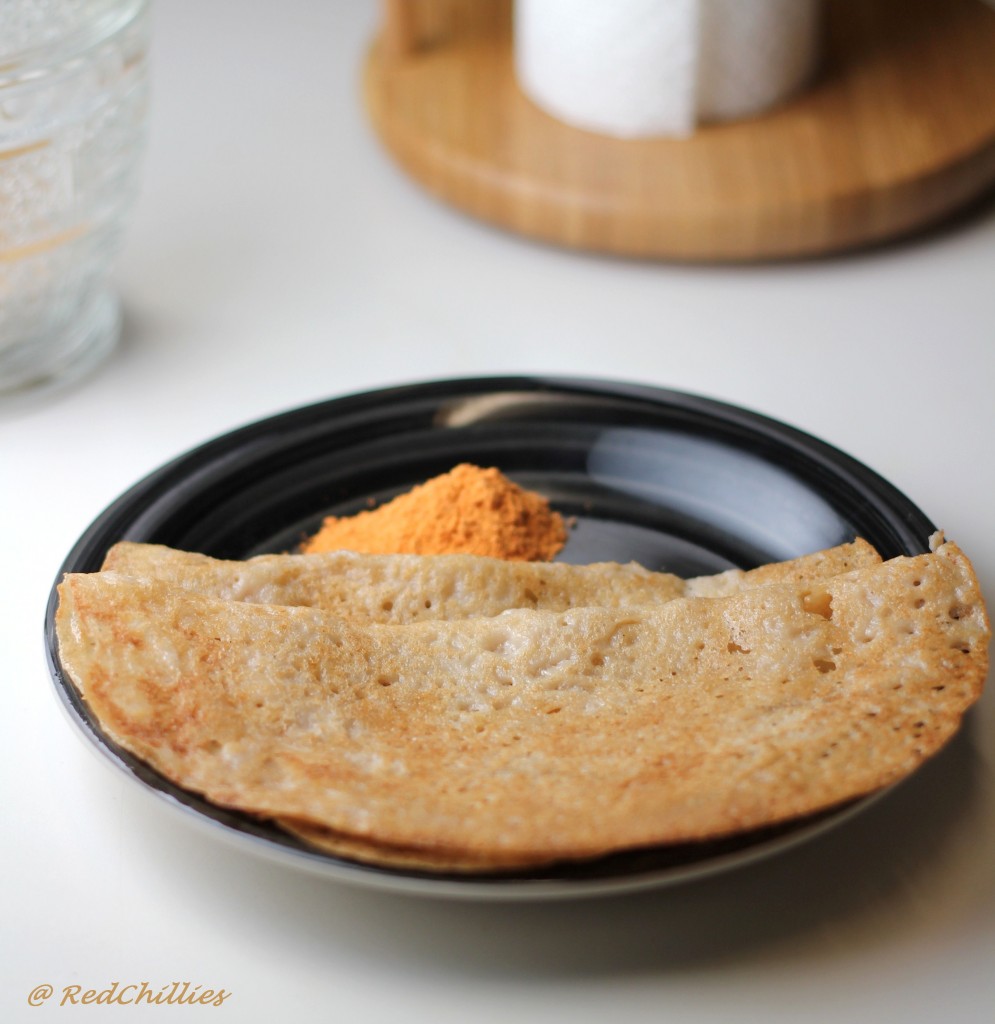 In our grocery we get good plantains all year around and so we buy it often. I usually make Raw banana fry, Banana curry or add it in sambhar most of the times. But recently I have leant making dosa from the green bananas.
If this is something new to you then I assure that the taste  is that of a regular dosa. The batter has aroma of the raw banana, however there is no flavor or even taste  in the cooked dosa. It is as if the banana is invisible in the dosa, but adds good bit of nutrition to it.
The batter is made of soaked rice and the green  banana. Please note while grinding the batter adding coconut is optional; the original recipe did not call for it. When I tried with coconut, the dosas were soft, fluffy but not very crispy kind of reminded me of our Neer Dosa. But without the coconut, the dosas make out soft and crispy. Nevertheless both were tasty and filling, but I liked the one with coconut better. 
I think that one can substitute potato instead of plantain and make this dosa. I have not tried this myself, so remember that this is just a theory. So if you want you can get adventurous and try this out, do it by all means and let me know 🙂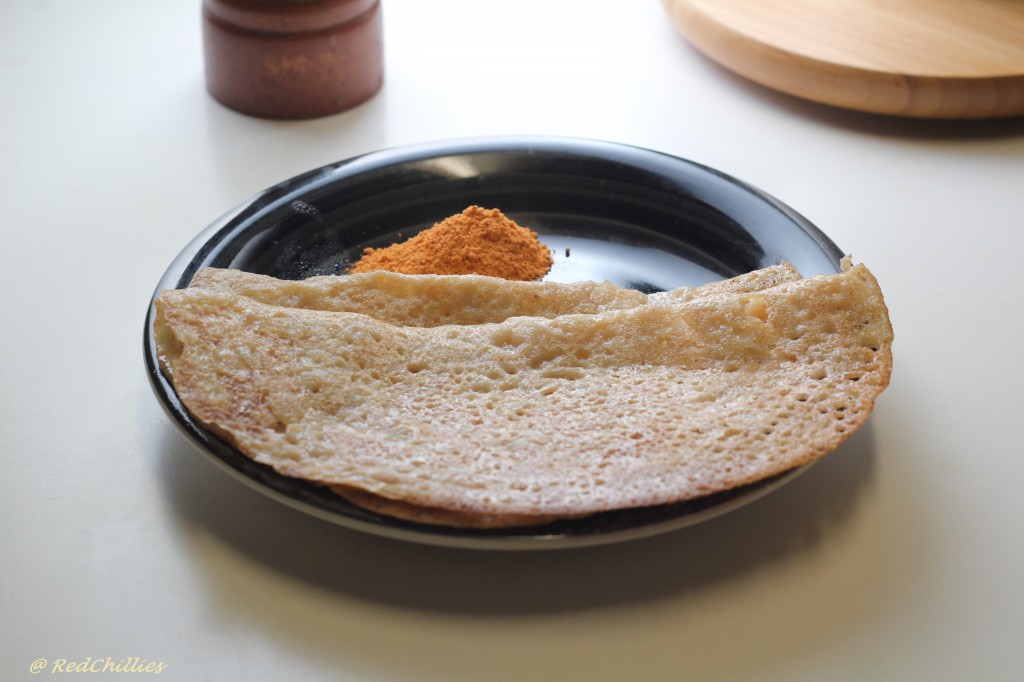 Category: Soaking, Grinding required, however no fermentation is required.
Recipe Adapted from: Balekayi Dosa
Ingredients:
1 cup raw rice (soaked in water for 5-6 hours) [I used Sona masuri rice]
1 cup plantain/raw banana chopped ( outer skin peeled ) [Balekayi in Kannada]
½ cup shredded coconut (optional)
1 green chilli (optional)
Salt
oil 
Method:
Grinding: First dry grind the chopped banana, along with salt and green chilli so that there are no lumps. Then add the soaked rice, coconut (optional) along with water and grind to a thick fine paste.
Transfer this to a bowl, add salt as needed and mix well. The dosa batter is ready (No fermenting is required)
Making Dosas: Heat the iron griddle or non-stick tava on medium-high heat. Sprinkle some water on the tava.
After the water evaporates, pour a ladle of batter in the centre, spread with the back of the ladle to form a big circle.
Pour tsp oil over and around it. Let it cook for a minute until the bottom part has lightly browned.
Turn with a spatula when crisp and flip onto the other side. Let it cook for another 30 seconds.
Take the dosa out and transfer to plate. Continue making dosas similar way with the remaining batter. Serve hot with chutney, potato masala or chutney pudi.