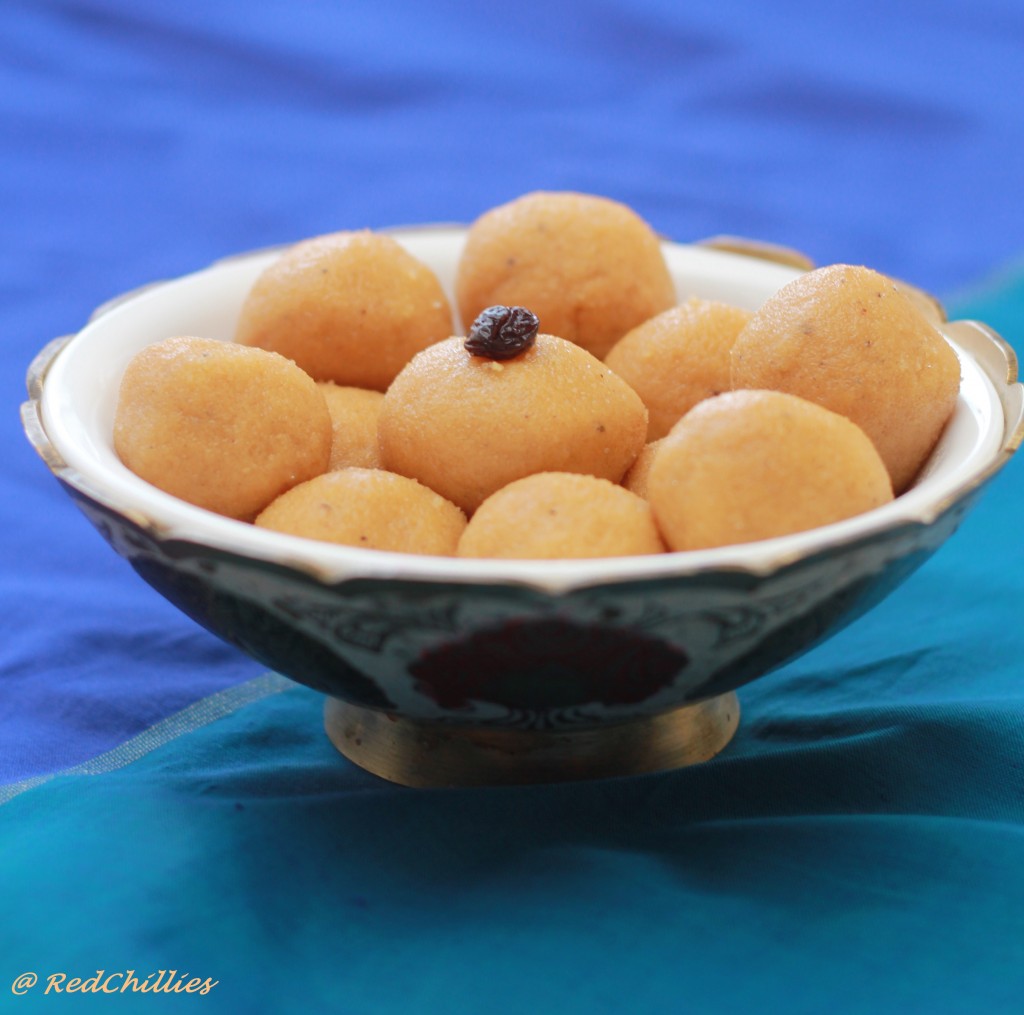 For the recent Ganesh Chathurthi, I asked the kiddo which sweet he wanted to eat that day, so that I could make it for him. "Yellow laddoo" he replied without a blink. It caught me by surprise as I did not get the usual "nothing" a characteristic reply, especially when I ask him about desserts. You see, unlike his mom, he is not a dessert person and the only dessert he loves is something which has chocolate in it like the chocolate chip cookies. And occasionally he might eat some yellow laddos aka Besan Ladoo.
I did not have the time to prepare the traditional Besan Ladoo as it was a work day for us and secondly we are trying to adjust to his new school schedule. Ever since he started his kindergarten, our weekdays have become even more hectic and packed. Along with the commute, work pressures, deadlines, house related stuff we now have to make time for his homework, reading journal and other extracurricular activities.
Not that I am complaining, but I am sure that as days go by we will adjust to the new routine and things will fall into place. For that day, however I did not have the heart to refuse his request and decided to make these Laddos in the microwave, quick and easy way.
Recipe Source: Bhaatukli's Besan Ladoo
Makes: 9-12 medium ladoos
Ingredients:
1 cup Besan flour (Gram flour/ Chickpea flour)
6 Tbsp Ghee (Clarified butter) [add more as required if unable to form laddos]
1 cup sugar (Powdered or fine sugar)
4-5 cardamom pods (skinned and powdered)
Method:

Note: Make sure that you are using a good quality of ghee; else the laddos will not have good flavor.
Take a microwave safe bowl and add the Besan flour/gram flour and add 2 Tbsp of the melted ghee. Microwave this for about 2 minutes.
Take it out and stir it well, add 2 more Tbsp of ghee and microwave for another 2 more minutes.
Continue for couple of minutes more until it gets a dark yellow to brownish color. At this time you will begin to smell the wonderful aroma of the toasted besan waffling through.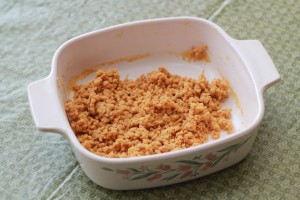 Note: Making sure that the besan is correctly cooked, is an important step. If it is undercooked, then it will leave an odd after taste and if it is overcooked then it will taste bitter.
If you feel that it is dry, add a tablespoon more of ghee and cook for a minute. After the gram flour is toasted well, keep aside to cool.
When it is still lukewarm add the cardamom powder and mix well.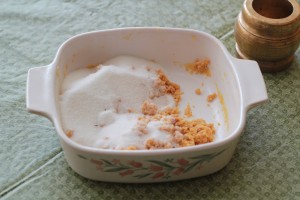 Next add the sugar to this and mix it very well. I prefer using hands as I feel I am able to control it better. I mix it from anywhere between 3-7 minutes so that the sugar blends in.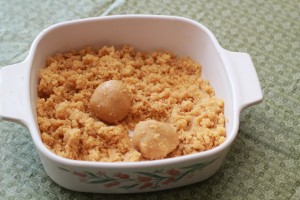 Take small amount in your hands and try to shape them in the form of laddos. Garnish with raisin (optional).
Note: if you are not able to make the balls as they are not holding together, then ad little more ghee and warm it.