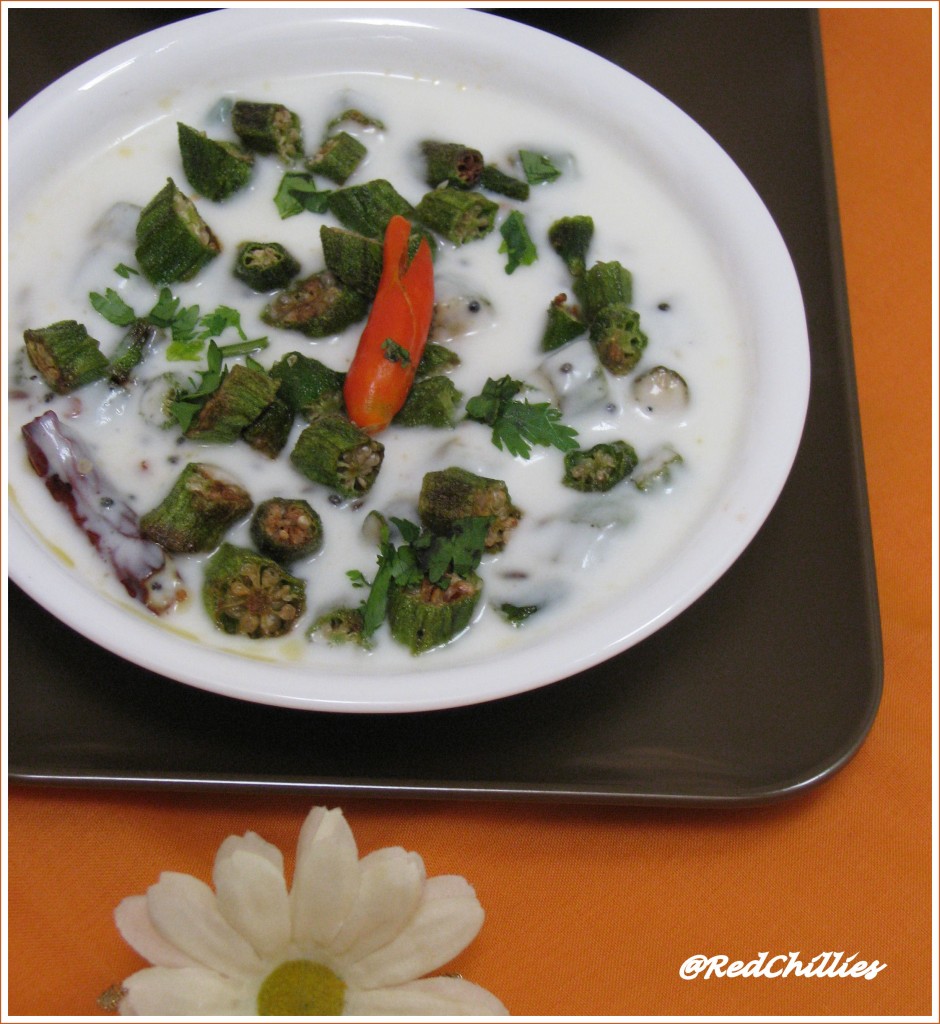 Dahi Bhendi/Okra Raita was one of the first dishes that I had learnt from my MIL after our marriage. Okras are crisped and then added to seasoned yogurt; the crisped okra then absorbs the yogurt and plumps up giving it a unique flavorful taste. I loved the taste and have been making it ever since.
This Raita makes a very good side dish Rotis/Chapathis and also with Rice. This is very easy to prepare and is also a good way to finish of those few remaining Okras/lady's finger sitting in the fridge. My MIL makes this the traditional way by roasting the okra in a wok/kadhai.  But I have learnt to roast the okra similar way in the microwave and this process does not require any handling at all.
Please Note: about crisping the okra/lady's finger in the microwave: Please use only glass plates for crisping the okra in the microwave. The lady's finger gets crisped very fast in the microwave and the stickiness is gone too. The okra in the picture above was crisped in the microwave, mine takes only about 3 minutes. Depending on the power of the microwave the time might vary, do keep a close eye on it though. The crisp okra with salt is very tasty and kids love to snack on it as is!
If you have never tried this dish before, I strongly recommend that you try it one and you will be surprised!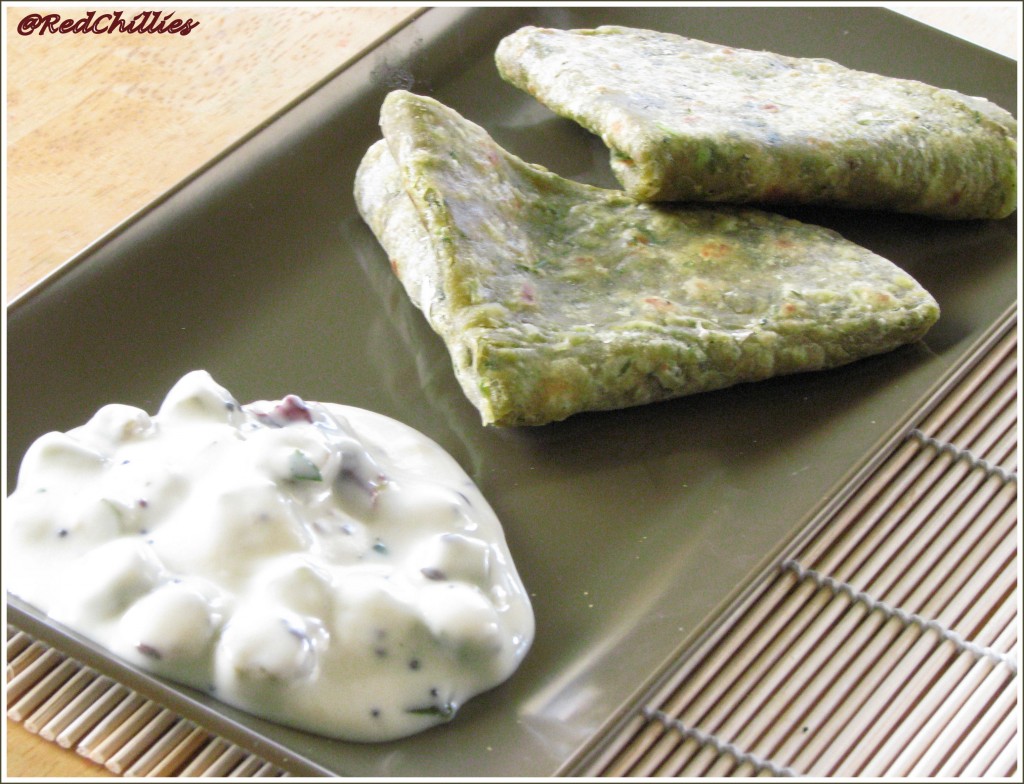 Ingredients:
10-12 big lady's finger/okra/bhendi

1 cup yogurt

Milk/water to thin out the yogurt

Mustard seeds

Curry leaves

Green chillies slit (depending on taste)

Chopped coriander leaves

Oil

salt

 
Serves:
3-4 people
Method:
Wash and wipe the okras clean. Cut then into small discs about an inch long.

Next we need to crisp the lady's finger. This can be done in a traditional way in a wok/Kadhai or using the microwave.

Microwave

: Take a microwave safe plate (I recommend a glass plate) and place the cut okras, pour in about 1-2 tsp of oil and some salt and mix well. Microwave for about 2-3 minutes (depending on the power) until it becomes crisp and crunchy.

Kadhai/wok

: Take a heavy bottom pan, add some oil and put in the cut okras. Continue stir in intervals until it becomes crisp and crunchy. Resist the urge to snack on the okras at this time

J

Meanwhile in a big bowl add the yogurt and if thick then thin it out with milk (if yogurt is sour) or water. Please make sure that the yogurt is not thick else this will not taste good.

Add salt, green chillies, coriander leaves and mix well.

Add the crisp okra to this yogurt and mix well.

Prepare a tadka/seasoning of oil mustard seeds, cumin seeds, curry leaves, red chillies (optional) and add it to the yogurt mixture.
Serve with warm Rotis/Chapathis or Rice.