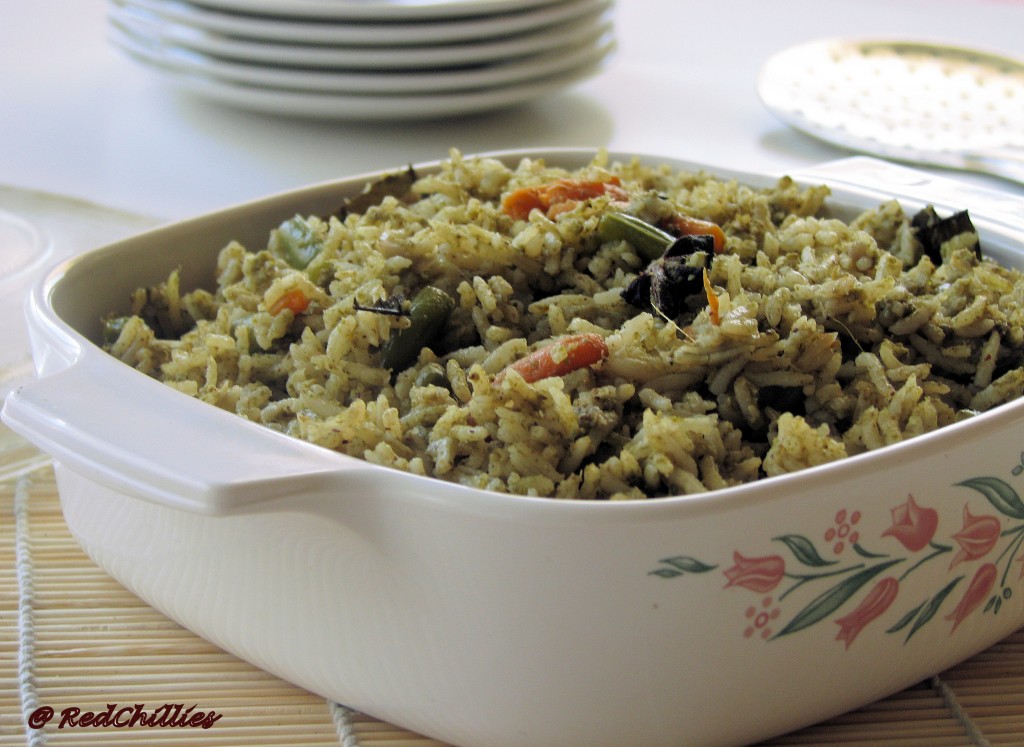 Hope you all had a relaxing weekend and now it is back to the grind already. We had a hectic Saturday and were out of the house most of the time, taking the kid to ice-skating, finishing up some chores etc. 
We made up for that on Sunday, by staying at home, relaxing and doing work around the house. I did not have the mood to cook something elaborate and made this quick and easy Mint Pulav. Serve with Raita and some roasted Pappads and it is a meal by itself. 
For making this I have been inspired by many people my mom, friend Subbi and also little bit of experience. I do not like making a paste of the mint leaves as I feel the aroma and flavor is lost. So I chop it and mix it along with onions and fry it in oil. 
The best part about this dish is the fragrance and the aroma it imparts. The whole house smells pretty amazing which gives me a cosy and comfortable feeling.
Note: There were few comments about preventing the pulao/ rice from sticking when made in the pressure cooker. So I thought of adding that note here:  
Here are some useful tips to prevent rice from sticking: 
I have had good success cooking pulav/pulao in the pressure cooker. If using Basmati Rice, then add slightly less water than the required. Example, if using 1 cup rice, then the norm is to use 2 cups water. In this case, use slightly less than that.

Soaking the rice in water for 30 minutes before making the rice helps.

I allow only 2 whistles to blow from pressure cooker and then switch it off. More count than that also makes the rice over cook. ( I use the Hawkins style cooker, it might vary for other pressure cookers).

Also after all the seasonings, water is added to the rice, close the lid only after the water is boiled. This way the pressure is released early and does not over cook the rice.

A friend of mine has added that rice/pulao in a cooker cooks well on gas stove rather than on electric stove.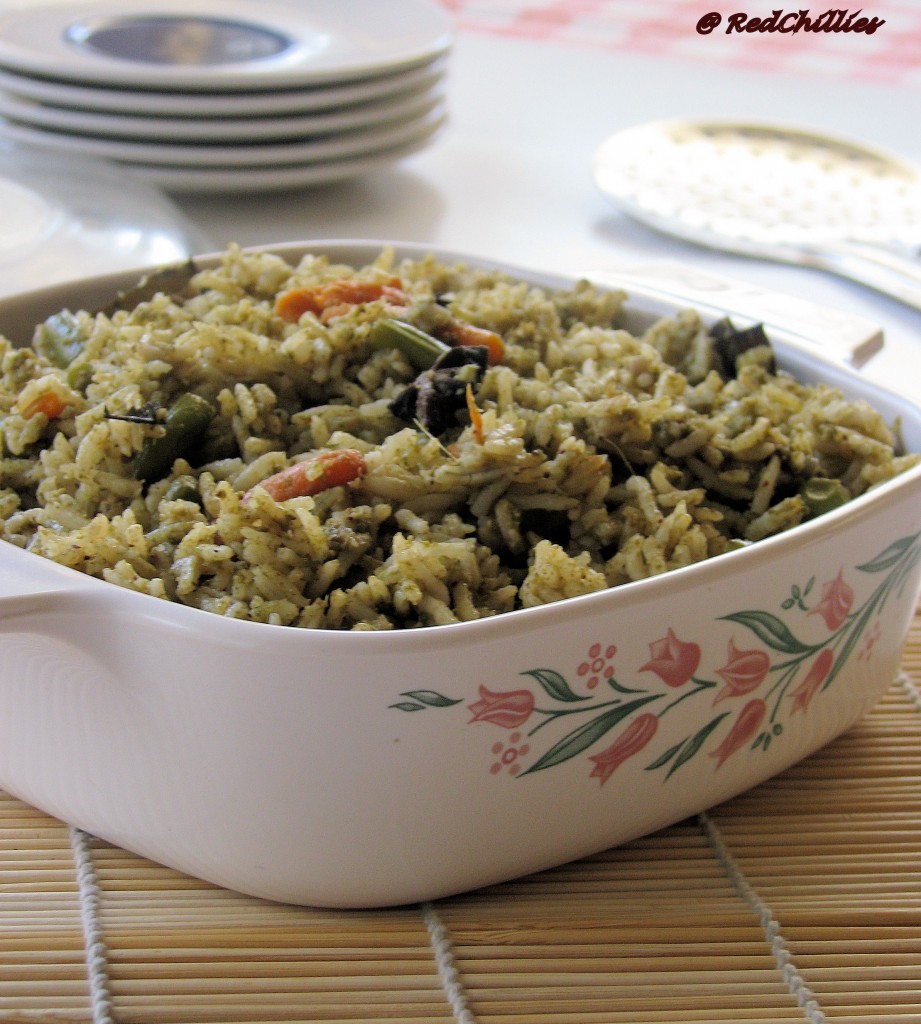 Ingredients:
1.5 cups Basmati rice

1.5 cup mint leaves (stems removed and cleaned)

1 small onion

1 cup veggies of your choice (carrot/beans/peas)

6-8 cloves (slightly crushed)

1 inch cinnamon (slightly crushed)

2 star anise (optional)

2 Bay leaves

Jeera/ cumin seeds

Oil

Salt
Masala to Grind 
¼ cup shredded coconut

3-4 green chillies

2 garlic pods

Ginger 1 inch

1 tsp fennel seeds

Handful of coriander leaves
Wash the rice thoroughly in enough water. Soak it in water for 30 minutes. After that drain it and keep aside.

Cut the onions into fine piece and keep aside. Chop the vegetables into small pieces. Chop the mint finely as well.

Make a paste of the ingredients under "Masala to Grind". Use as less water as possible.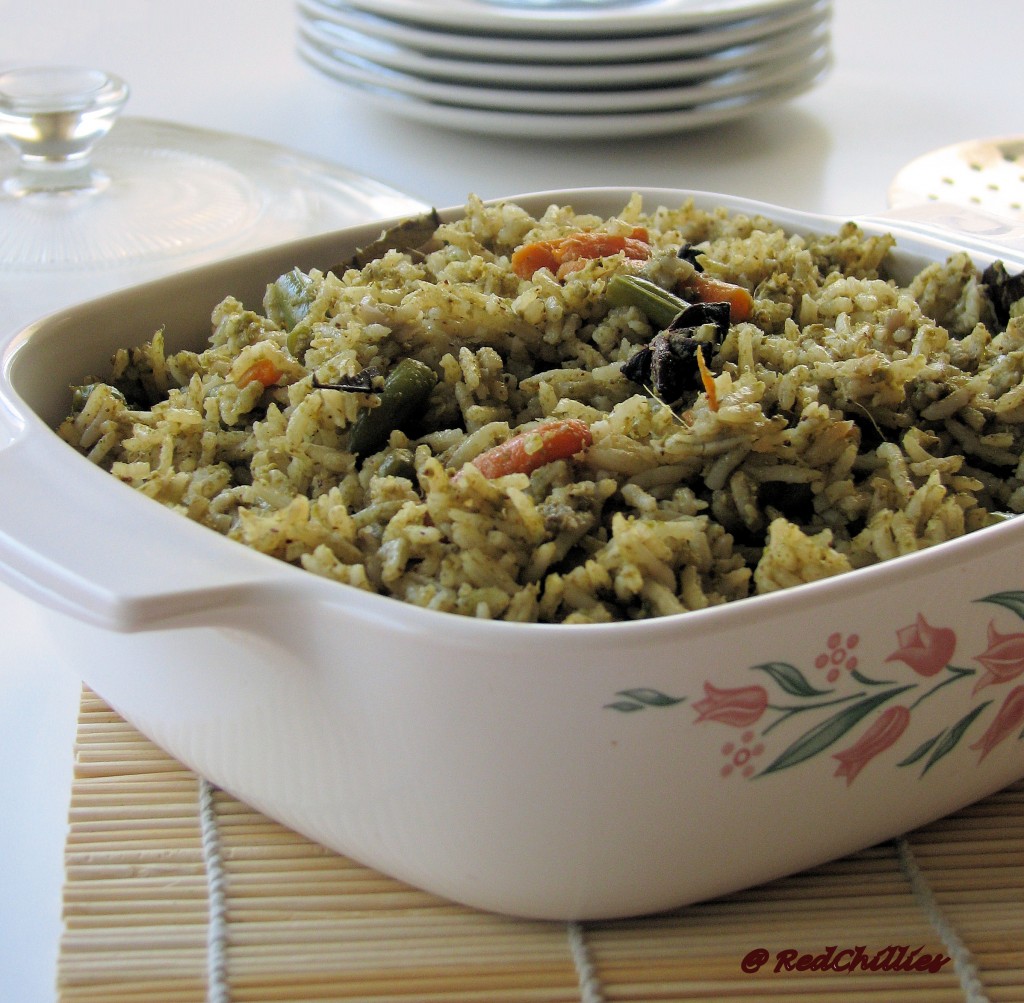 Method:
In a pressure cooker, add some oil and wait till it becomes hot.

Add the jeera, bay leaves, then add cinnamon, star anise (if using) and cloves and stir well.

Add the chopped onion and stir until it softens a bit, now add the other vegetables and chopped mint.

Stir until the mint cooks a bit and emits its aroma. There is no need to wait until the vegetables are cooked.

Add the ground masala paste and mix until the raw taste of coconut, garlic is gone.

Add the raw washed rice, salt and 3 cups of water. Check for seasonings.

Let it come to a boil and then close the pressure cooker. Cook until 2 whistles (depending on the pressure cooker).
  Mix well before serving. Serve hot with pappads, salad or raita.