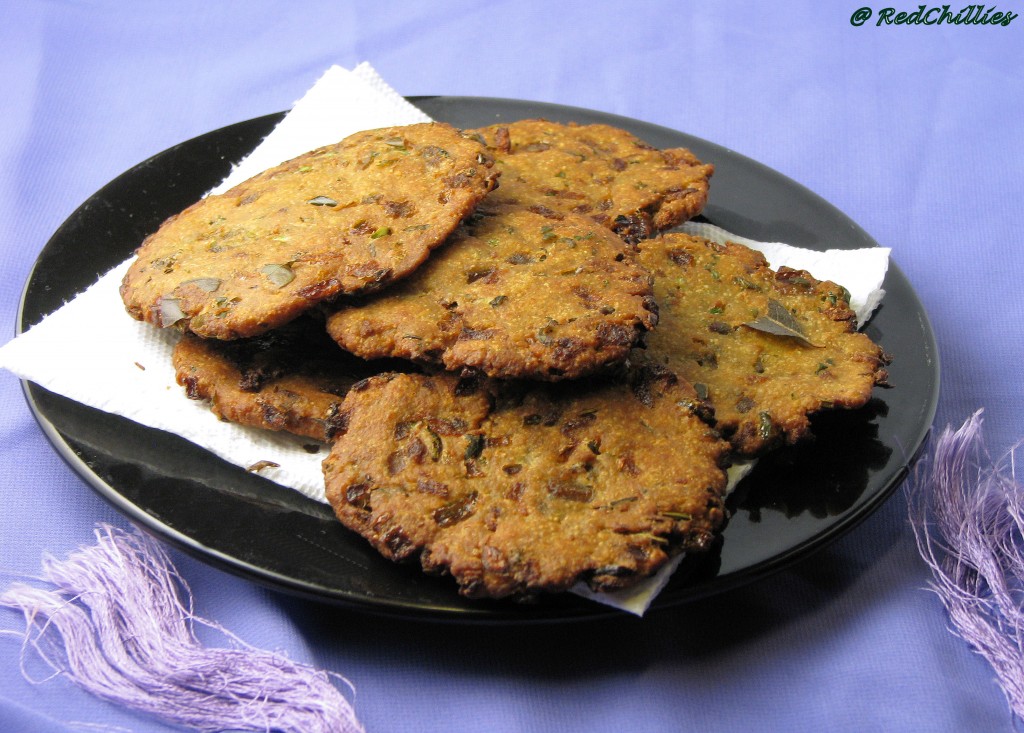 Maddur vade is a popular deep fried snack from the state of Karnataka. This snack originated in the town of Maddur which is situated in between the cities of Bangalore and Mysore. It is not uncommon to find them being sold in bus stations, train stations etc, restaurants (of course) with people flocking to eat those crispy yummy things.
The old traditional restaurants, Darshinis (vegetarian fast food restaurants) in Bangalore serve this as a breakfast/snack item along with Coconut chutney and they are one of the hot sellers. Come to think of it, what could ever be unlikeable about its taste? Crispy on the outside, flaky and flavorful inside, the sweetness of fried onions complemented by the spicy taste of green chilies, aromatic flavor of curry leaves makes this totally delicious and addictive.
Growing up in Bangalore, many a times, my dad used to bring Maddur Vadas home from the Darshinis on his way back from work. The timing could not have been better, we would be starving after school/play etc and we would hungrily gobble them up. They are so filling that dinner would be totally skipped that night. But on the rare occasion when we would patiently wait and have it during dinner along with yogurt rice/daal the wait would be totally worth it. It was a nini feast. My mother would never hear any complaints about food that day and everything on the plate would be wiped clean without a whimper!
Note: The Maddur Vadas are usually thicker than the ones here. It had been a while since I made these. After I was done I realized that I got carried away by the process of Baked Nipattu and made the maddur vada patty bit thin. Never the less they turned out crispy.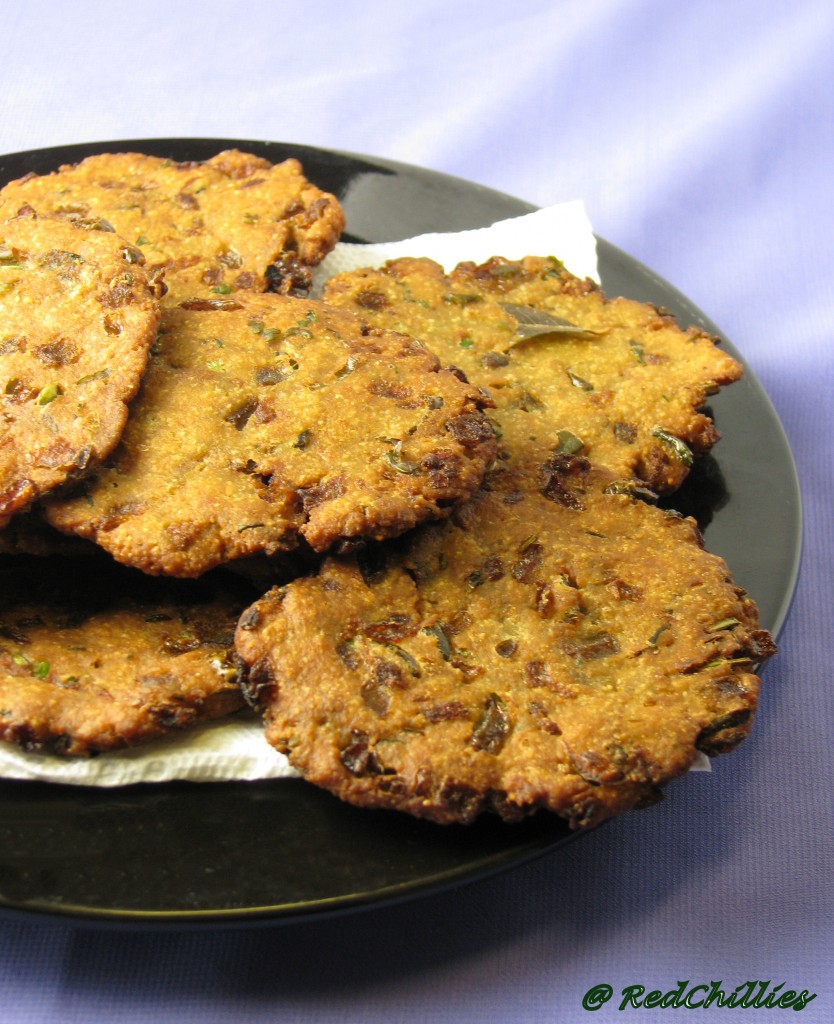 Tips for making the Maddur Vadas crispy:
 Do not add too much water while making the dough. Lesser the better. 
 Knead the dough well and keep it covered in damp cloth.
 While deep frying make sure that the flame is low-medium and that it browns evenly after a long time. 
 If it browns fast, that means that the heat is high. The vadas might taste crispy when they out of the frying pan, but becomes soft after an hour or two.
Ingredients:
 1 big onion chopped finely
 ½ cup fine Rava/semolina/sooji
 ½ cup rice flour
 ½ cup Maida (All Purpose Flour)
 8-10 Curry leaves (chopped)
 3-4 green chillies (cut finely)
 ½ tsp asafetida
 1 tsp baking soda
 handful chopped coriander leaves 
 Oil for deep frying
 Oil, salt
Yields
10 medium vadas
 
Method
 Take a flat bottom pan, heat about 4 Tbsps of oil ad then add the chopped onions. Asafetida, salt and sauté until it becomes soft and transparent. Let it cool.
 Add the flours, soda, chillies, coriander leaves, salt and mix thoroughly. At this point it is almost like dough, but disintegrates on touch as it is not able to hold itself.
 So add little warm water and make thick dough. At this point if you feel there is too much onion, do not worry, the more the better taste. Knead well for about 2-3 minutes and cover this with a damp cloth. Keep it aside for 30 minutes.
 Now we need to make discs out of this dough. Take lemon sized ball of dough and place it in between 2 greased plastic sheets. Apply pressure and make it into flat disc/ like puris. Remove the top cover and with the tip of your hands flatten the rolled dough and even out the edges.
 There is no need to make this thin; the disc needs to be a bit thick. Repeat this process for the remaining dough as well.
 Take a frying pan and heat up oil for deep frying. Deep fry these one at a time on medium flame. Please see the note above.
 Serve hot/warm as is or with spicy coconut chutney.