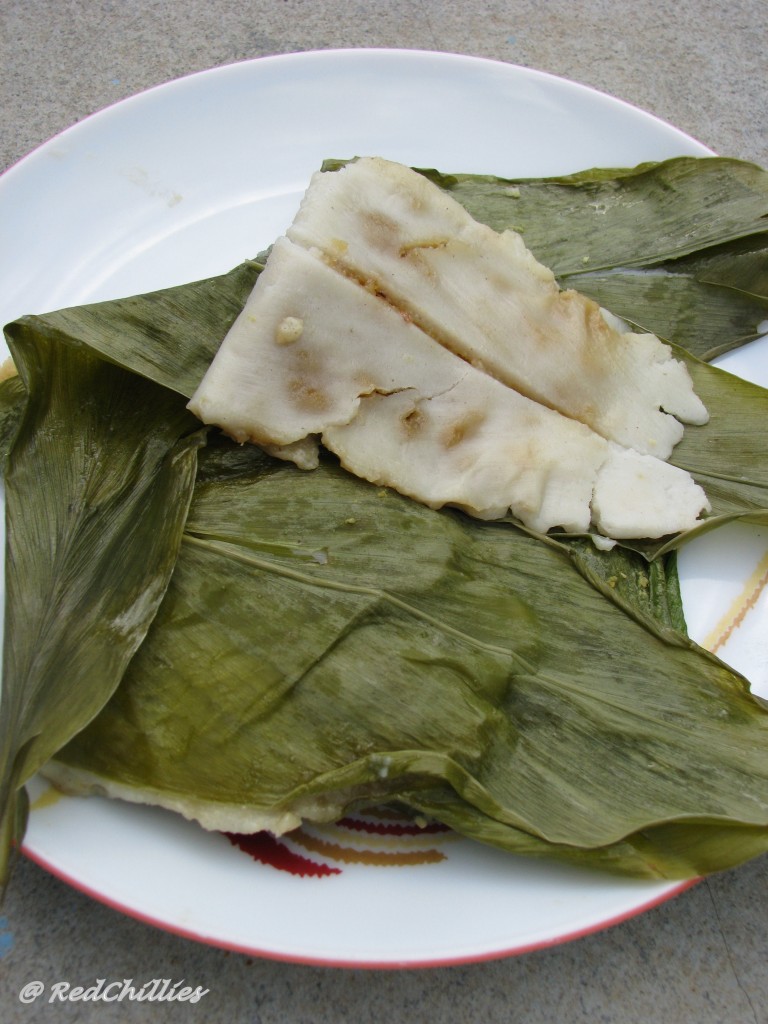 Patholi (in Konkani) is a traditional dessert made during festivals or special occasions. Dumpling made of rice flour is stuffed with coconut jaggery mixture and steamed in turmeric eaves. The key component while making this are the special turmeric leaves. The flavor of the turmeric leaf is infused into the patholi while it is steaming, giving the dish a flavorful aroma.  
As I understand it is referred to as Hoorulu kadabu or Arasina Yele kadabu in Kannada and Ilayada in Malayalam. This is not to be confused with the crumbled daal curry referred to as Patoli or Usli in South Indian homes.
Kadabu/patholi is considered a favorite of Lord Ganapathi and it is therefore prepared that day along with plethora of other delicious traditional items.  
This special dish was prepared when we were in India (of course). We landed on the day of Gowri/ Ganesha Pooja celebrations and got to be part of the festivities. Imagine the joy in our hearts that day! We not only got to see our parents and family, we got to be part of a festival and of course most importantly we got to eat foods that are not available here or difficult to make here.
I know this is a long recipe and the process is time consuming as well. First the coconut mixture needs to be prepared, followed by rice flour dough. This needs to be applied to turmeric leaves and then steamed. But trust me the effort is worth every bit of it. The taste and the heavenly aroma when you bite into it is totally indescribable.
Substitutes for turmeric leaves:
Quite frankly there is no substitute for turmeric leaves, but then they are a specialty and not available in regular stores. Even in Bangalore they are available in select stores known as Mangalore stores. Anyway
Ingredients

Outer covering/wrapper
1 cup rice flour
1 cup water
little salt
1 tsp oil
Jaggery Coconut filling
1 cup shredded coconut (preferably fresh)
1/2 cup powdered jaggery
½ tsp powdered cardamom
Method
Rice flour dough: In another vessel, heat water and bring it to a boil. Add little oil and salt. Now add the rice flour to the water and keep stirring well, ensuring that no lumps are formed. Close a lid and turn off heat. After about 5 minutes, open the lid and use all the steam on the lid to the rice flour mixture and make dough (like a chapathi dough). This will be little sticky.
Coconut Jaggery mixture/ Churna: In a heavy bottomed pan, on medium heat add the coconut and jaggery. Mix until the jaggery blends with coconut and forms a gooey mixture. Add cardamom to this and mix well. Turn off the heat and allow the mixture to cool.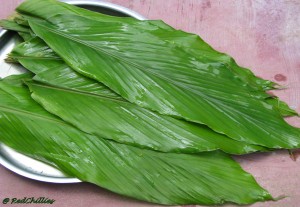 ·         Clean and dry the turmeric leaves. Keep the dough and filling handy. Also keep a small cup of water handy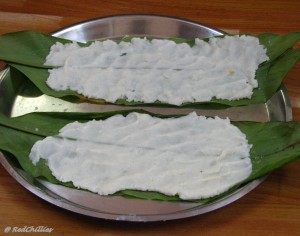 Take a turmeric leaf with vein side facing down. Spread about a tablespoon of dough of the leaf. Use little water to spread it along. Pat as required.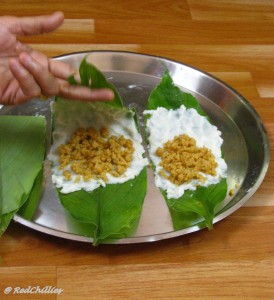 Place about a tablespoon of coconut filling on one side starting from the center to the tip.
Fold the leaf horizontally as shown.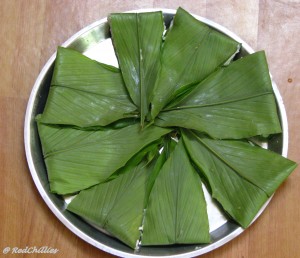 Repeat this procedure with the remaining leaves and place them on a plate.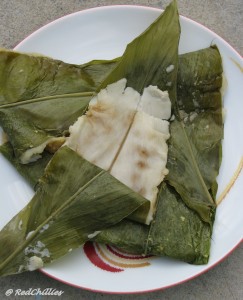 Steam cook the Patholi in the cooker for about 12-15 minutes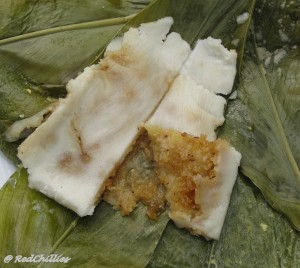 Set them aside for 10 minutes, before peeling off the leaves. ( I peeled them off a bit too soon, hence the dough is sticking to the leaf).
Serve when it is warm along with ghee or as is. The taste and aroma are heavenly!