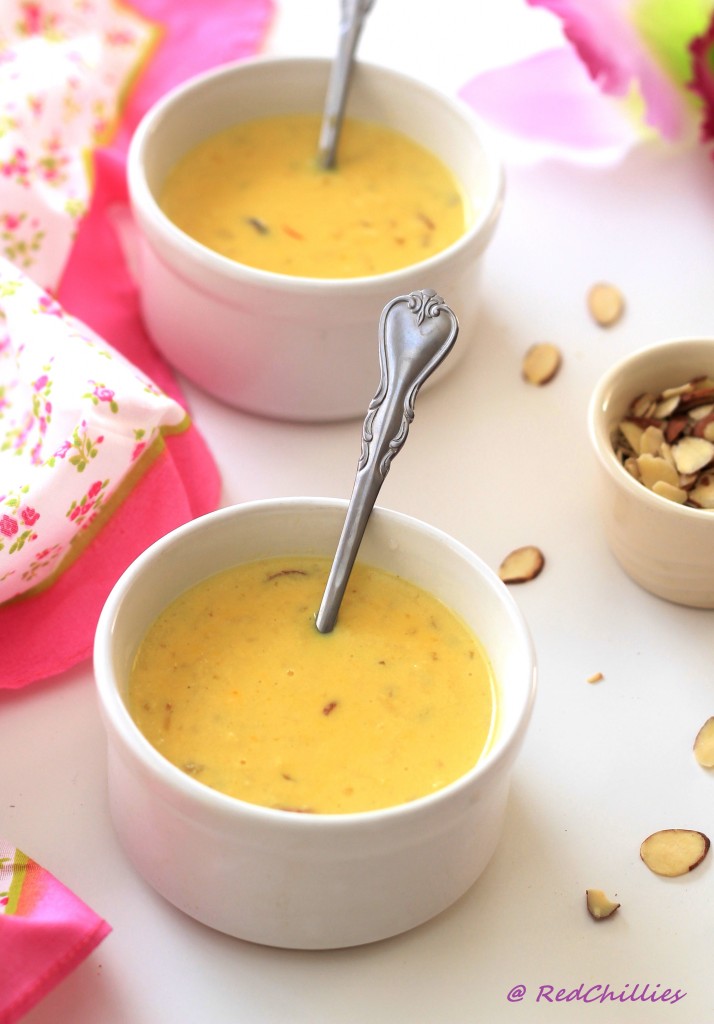 Every time, I visit the produce section in the local grocery, the wide varieties of apples there on display catches my attention. With different sizes and colors they are a treat for the eyes. This time around the grocery had a sale on red delicious apples and I splurged and brought more than necessary. 
I had a good bit of apples left in the pantry and with some I made the easy Apple crisp. And with the remaining ones I had idea of making either apple halwa or apple kheer. I finally settled for the kheer as it seemed much easier than making the halwa. 
I made slight changes to the Sago Kheer and by adding apples, made a fruity kheer.
A change from the usual Rice Kheer and the Sago Kheer, the presence of apple yields a bit of tang to this delicious sweet pudding. Tastes good when it is served chilled and garnished with slivered dry fruits like almonds, pistas.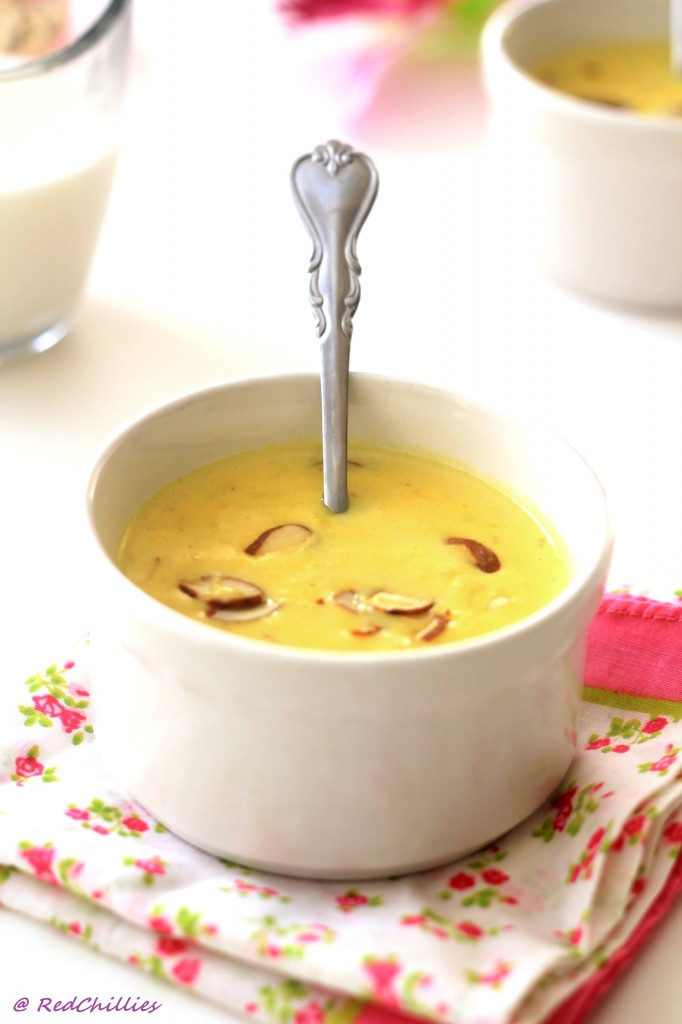 Ingredients  
1 apple  (about 1 cup of grated apple) (peeled & grated)
2 cups milk ( I used 2% milk)
3/4 cup condensed milk
¼ cup soaked sago pearls(sabudana)
Sugar (optional) [ I did not use extra sugar as condensed milk was sweet enough]
¼ tsp cardamom powder
A few strands of saffron
2 tsp ghee/butter
Slivered almonds/pistas/cashews 
Method: 
Soak the sabudana in water for about 1 hour. This gives some thickness to the kheer.
In 1 Tbsp of lukewarm water soak the saffron strands and keep aside.
Note: When you are ready to make the kheer, have everything handy and peel the apple at the last minute, else it will brown up pretty fast. Also make sure the gratings of the apple are thick.
Heat a big sauce pan on medium heat and melt the ghee/butter. Add the grated apples to this and cook until the moisture of the apple has evaporated.
After this add the condensed milk and stir so that it does not stick to the bottom.
Note: If you add milk first, then it might curdle as the apple has mild acidic content. So I add the condensed milk first. (You might still notice little bit of curdling).
Add the milk, soaked sabudana and continue to boil stirring in between.
Add the saffron milk to this and stir well.
Finally add the cardamom powder and give it a good stir. Switch off the heat and let it reach room temperature.
Store it in the refrigerator and garnish with chopped almonds/ pistas before serving. Serve chilled.