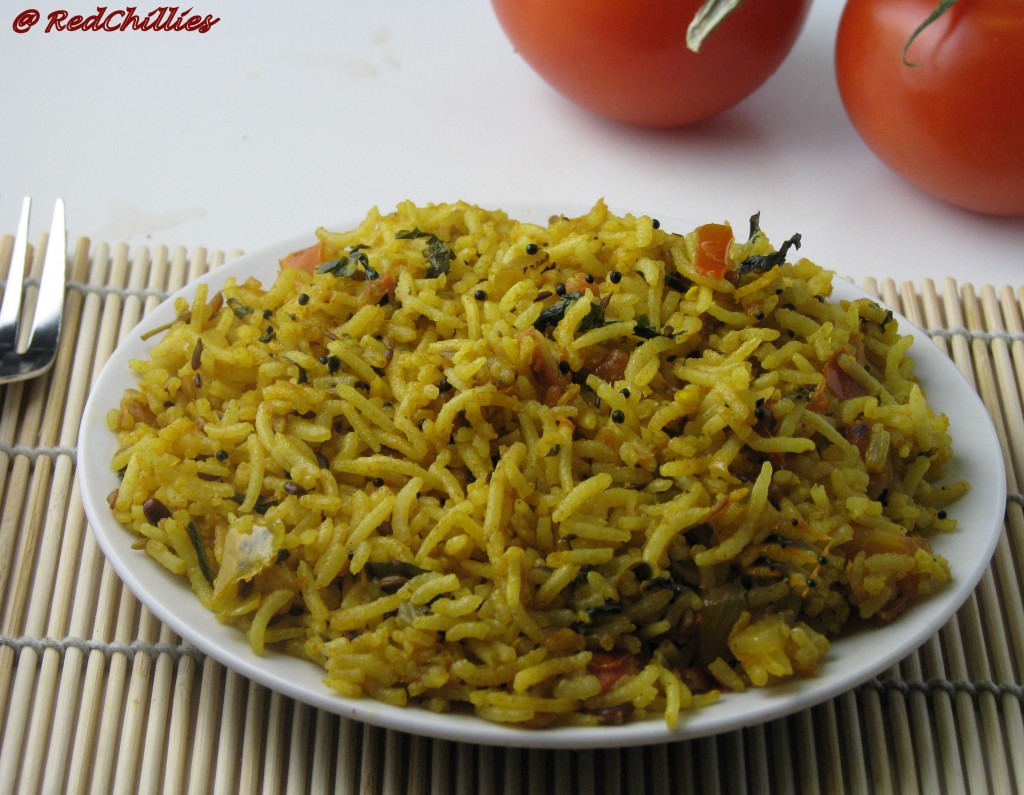 I have to give full credit to DH for this recipe of Tomato Mint Pilaf, as he took over the mantle of chopping, cooking, preparing and even cleaning. Now DH is a talented, but reluctant cook.  In a decade's time that I have known him, it must have been a handful of times; he has done any full fledged cooking. But when he cooks he does it with passion and enthusiasm and that readily shows up in the final outcome. But then for the past few weeks (knock on the wood) DH is on a roll in churning out recipes with keen interest and passion. So I am making good use of the opportunity by remaining 'invisible' as much as possible.
This recipe came out on a need basis. It was one of those lazy Friday nights when we did not have interest to do any full fledged cooking nor did we have interest to order a Pizza. There was some left over rice, almost empty fridge except for some Tomatoes and Mint.  We discussed through some ideas and came up with this recipe; however we did not have any expectations for its taste. But then the rice was actually prepared we were in for a pleasant surprise. The rice jelled very well in combination with Tomatoes, Onion-Garlic, and the daals in the background. Addition of mint enhanced the flavor of tomatoes.
This is a good one to prepare if there is left over rice, just some basic vegetables and when there is no enough time on hand.