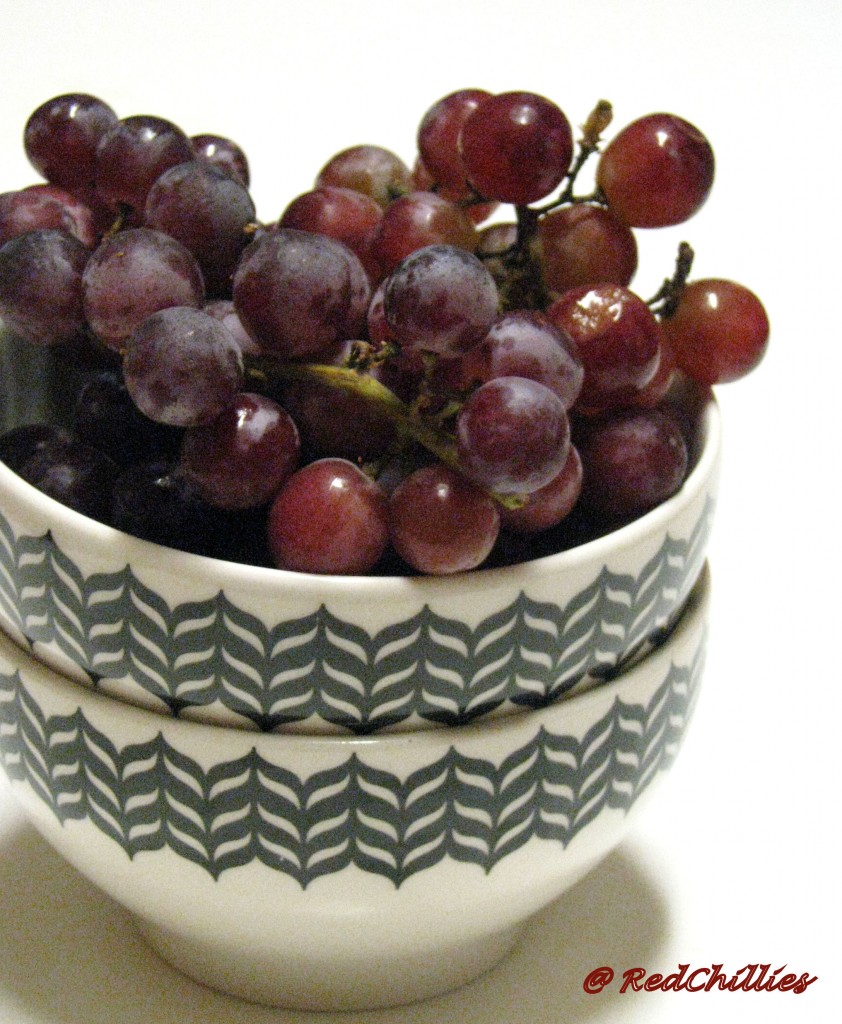 The combination of crunchy texture and sweet, tart flavor have made grapes an ever popular between meal snack as well as a refreshing addition to both fruit and vegetable salads. Grapes contain beneficial compounds called flavonoids, which are phytonutrients that give the vibrant purple color to grapes, grape juice and red wine; the stronger the color, the higher the concentration of flavonoids.  (Source)
Grapes function in different ways in the cardiovascular system. The pigments in red, purple and black grapes protect the cardiovascular system by a number of mechanisms that include the suppression of blood clots, inhibition of LDL cholesterol oxidation, reduced homocysteine levels, and anti-atherosclerotic properties. Grapes stimulate endothelial nitric oxide production which induces relaxation of the blood vessel walls, and a reduction in blood pressure levels. Recently, it was shown that a Concord grape extract lowered LDL cholesterol, raised HDL cholesterol, and decreased plasma inflammatory biomarkers. (Source)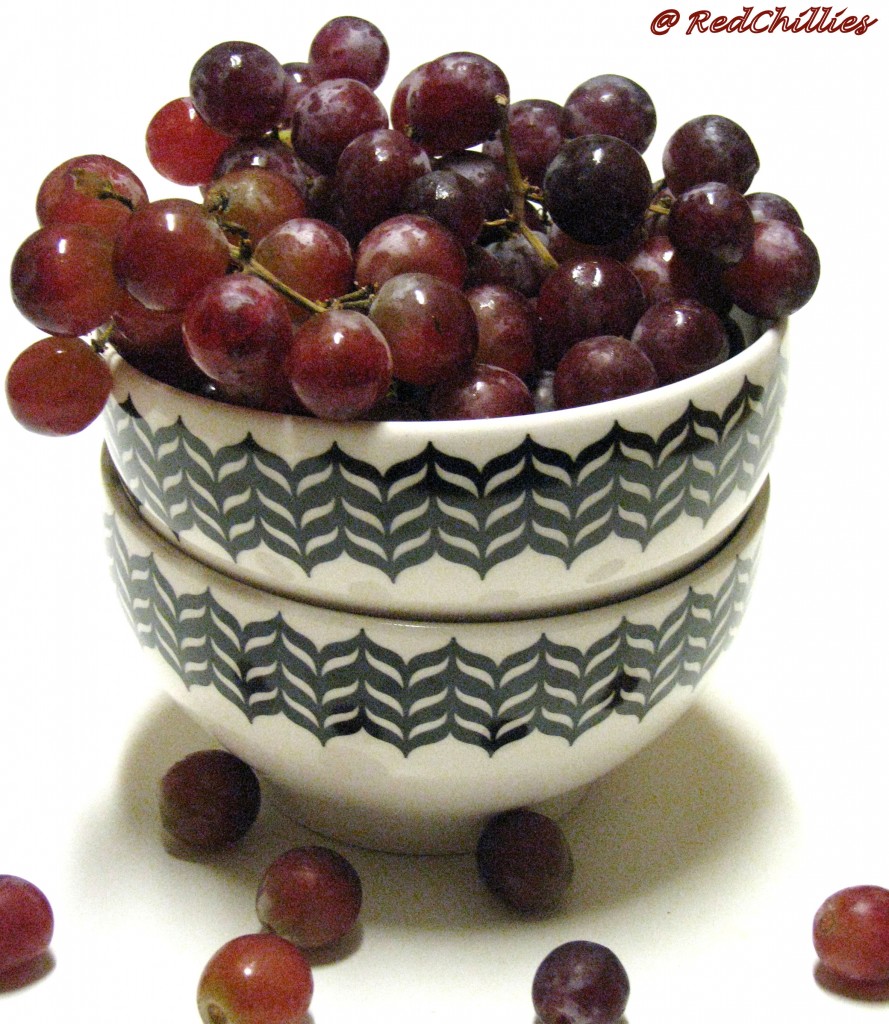 Personally I am very fond of grapes.  Growing up I used to like the green grapes, however now I like the sweet, red seedless variety. Lucky for me they are available in the groceries all the year round. At work, I take red grapes along with carrots and strawberries. I eat them as a mid-afternoon snack along with teaJ. It is not only a guilt free way of snacking but also healthy and nutritious.
Coming back to Seasoned Yogurt Vermicelli, I learnt this recipe quite recently. One of our family friends had prepared this for dinner and we loved the subtle taste. At first we thought it was Vermicelli Kheer seasoned with grapes, but we were pleasantly when the hostess said that it was actually seasoned with yogurt called "Thayir Semia". We are used to eating seasoned Yogurt Rice with pomegranates etc but this made a delightful difference. This is a simple recipe and adding chopped grapes is optional and can be substituted for pomegranates etc or skipped altogether.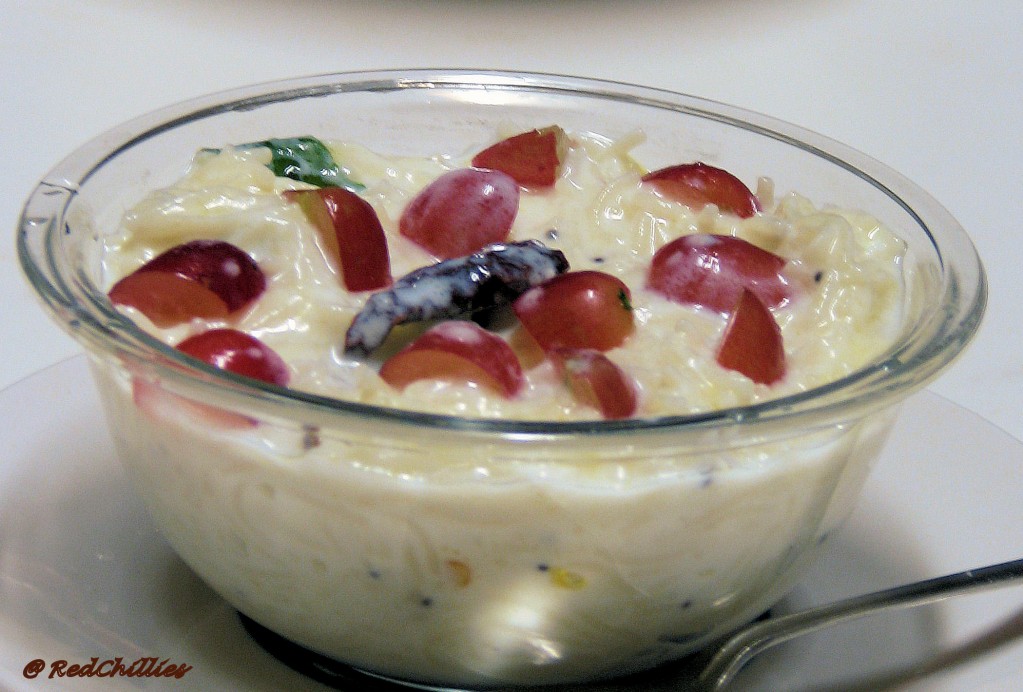 The picture of the vermicelli does not look appetizing. But the taste is light and very similar to Yogurt Rice.
Ingredients:  
 1 cup uncooked vermicelli
 ½ cup milk (if the yogurt/curd is sour)
 2 cups yogurt/curd
 Salt
 Handful of grapes chopped
For seasoning: 
 2 tsp Oil
 Mustard seeds
 Cumin seeds (Jeera)
 2 dry red chillies
 2-3 curry leaves
Method:
 Boil water, add some salt and oil and cook the vermicelli in it. After it is cooked, drain the water.
 Spread out the cooked vermicelli on a big plate trying as best to not make it stick.
 Take a big bowl, add the yogurt, and whisk it well. Add salt and also some milk, if the yogurt is sour. (Add milk/water to thin the yogurt/curd).
Meanwhile prepare a tadka of oil, mustard seeds, jeera, curry leaves, red chillies and add it to the yogurt.
 Add the cooked vermicelli to this and mix well. Be gentle while mixing.
 Add chopped grapes just before serving.