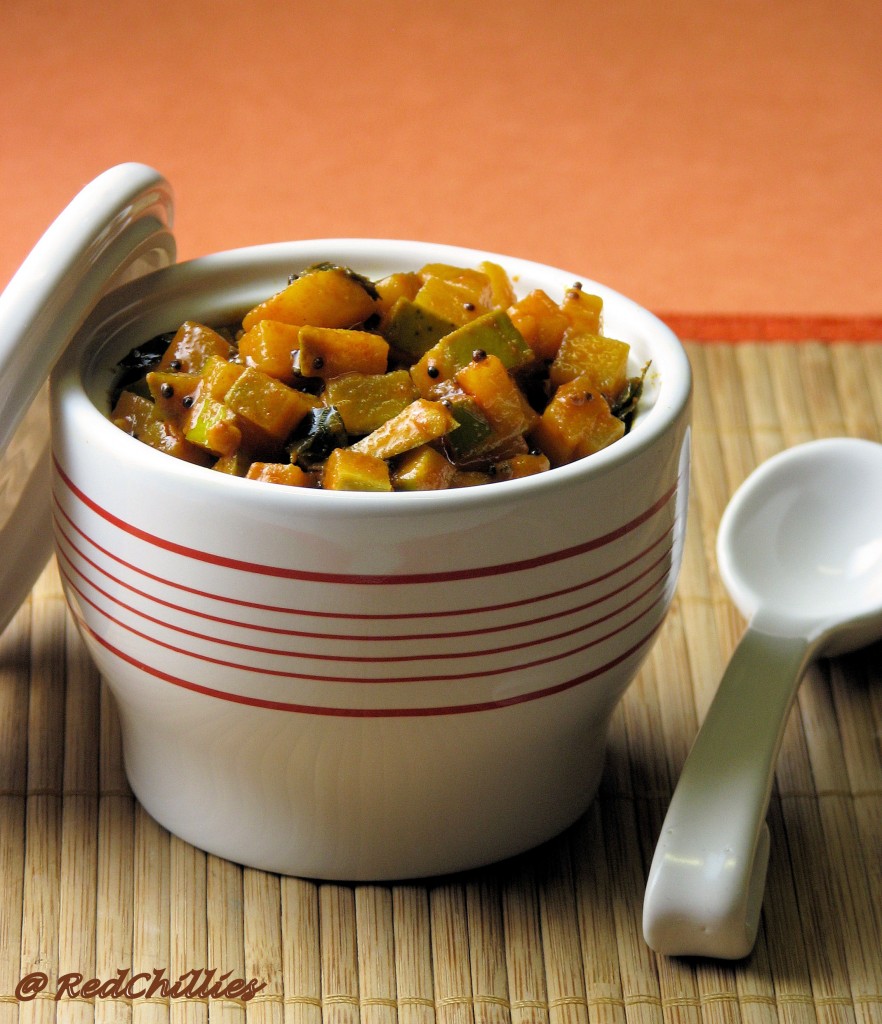 So many factors like food, people, places, special days etc invoke memories in us, but I personally feel that food is the strong catalyst of all. Food is a part of our daily lives; there are so many varieties, different people associated with that food and so it is bound to bring back memories one time or the other. In my case, the reminder of raw mango pickle brought back flood gate of memories.
At the Indian store, we invariably pick up one raw mango each time. I usually use it to make Mango Daal or Udid Methi or raw Mango chutney or the raw Mango Lemon Rice. But this time, thanks to DH's reminder we had a different idea of using this. 
He: (looking at the raw mango)"You know it has been ages since you made that Instant Mango pickle"
Me: (agreeing whole-heartedly for once, with flash bulb exploding)" Thanks for reminding me. I had completely forgotten about it."
On the way back home, I thought more about this mango pickle, the person who taught me this and the good times we had together.
Years ago, I used to work for a travel based company and I had learnt this from my colleague at work then (I will call her P). Now P, along with another colleague R and I had similar thinking, same frequency and we all had passion of trying out and sharing new dishes. Come lunch time and we would huddle together in the office cafeteria sharing food, stories, woes etc. The cafeteria was situated on the 14th floor, had bright windows and offered a great view the city's downtown.
One such day, P had brought this Mango pickle as side dish for lunch. She shared it with us and we were impressed with the taste. I was amazed when she gave the recipe and explained how easy it was to prepare. I think I must have tried it the same weekend and vaguely remember seeing a very impressed husband. 🙂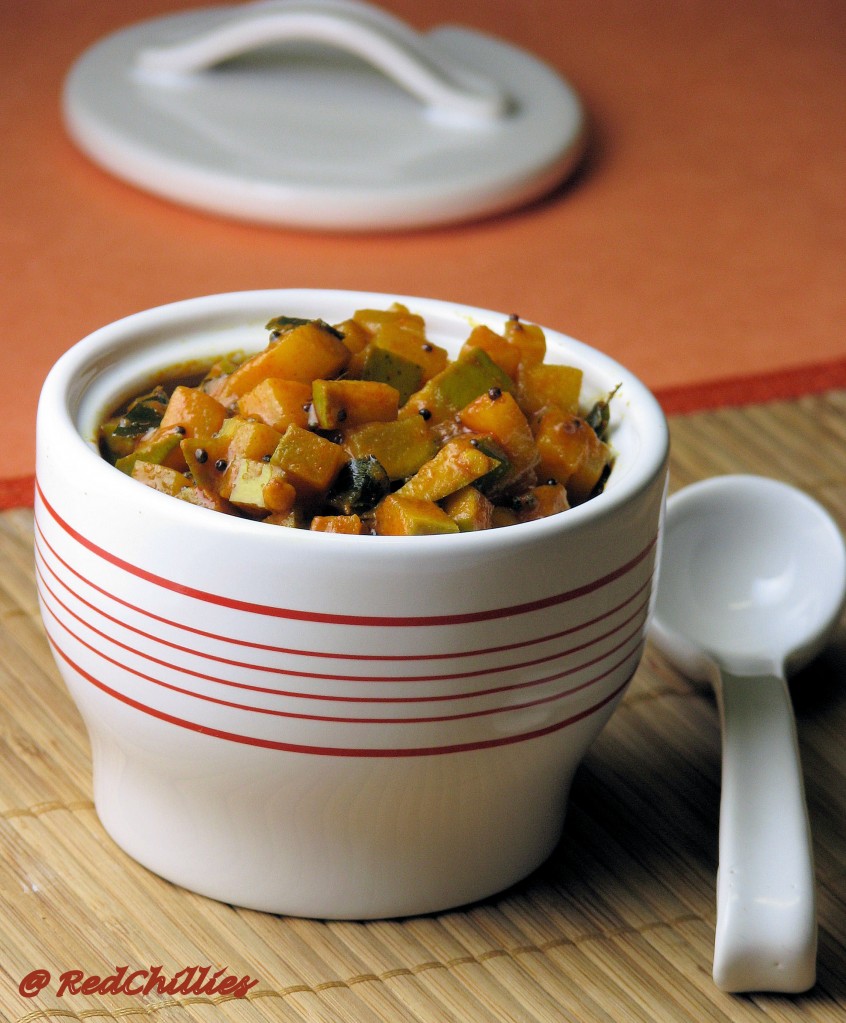 I used to prepare the pickle very often after I had learnt it, but then over the years had lost touch with it until I totally forgot about it. So glad that the Raw Mango was able to revive those old and cherished memories.
Talking of pickles, even though we are very fond of store bought pickles; we avoid it as much as possible mainly because of the sodium, the preservatives, having no idea of the expiry date etc. So this recipe comes in handy, as this has no preservatives and we control the amount of salt, spice and oil in it.
The recipe of Mango Pickle (called MavinaKai Uppinkai in Kannada) is very easy to make; it is as easy as putting a tadka/seasoning to the finely chopped mangoes. There is no need to wait as the pickle can be eaten immediately. This makes a great combination with plain daal rice or Yogurt rice. The only thing to remember is to use Asafetida/hing that has a strong flavor as that imparts the flavor to this pickle.
Ingredients:
 1 big raw mango
 Powdered Asafetida
 3-4 Curry leaves
 2-3 Dried red chilies
 1 tsp Fenugreek seeds
 Mustard seeds
 Turmeric
 2 Tbsp Chilli powder (or even more)
 Salt, Oil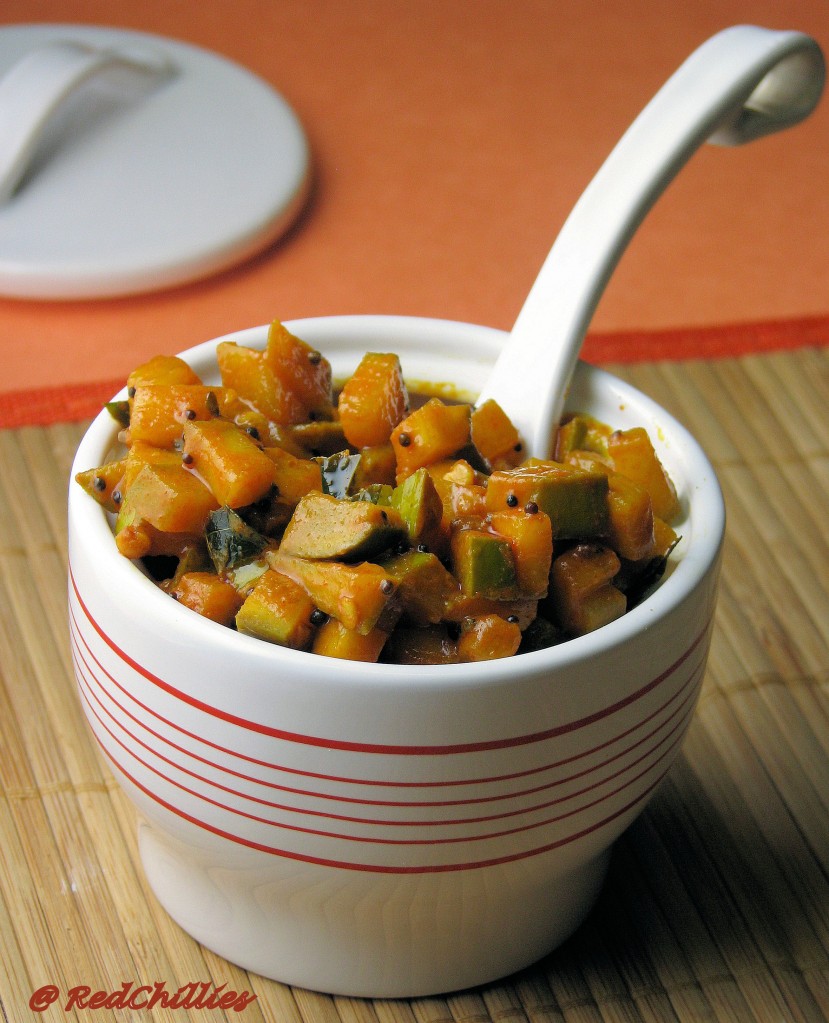 Preparation:
 Wash the mango thoroughly. Chop the raw mango into small pieces along with the skin. Do not peel the skin as it adds crunchiness.
 Sprinkle turmeric, salt and chilli powder over it and mix well. Let it sit for about 15 minutes.
Procedure:
 In a heavy bottom pan, heat some oil on medium heat, add the mustard and when they begin to splutter, add the curry leaves and the red chillies (broken into small pieces).
 NOTE: The amount of oil used in this case is little more than normal. I used about 3 Tbsp of oil for this.
 Add the asafetida and methi/fenugreek seeds and mix until the methi seeds get a light brown color.
 Add the chopped mango pieces and mix until the oil is evenly coated. Mix well for about 30 seconds and that is it.
 Do not cover a lid to cook or cover for long time as the mango cooks very easily and the crunchiness is lost.
 If the mango is cooked then the taste is not as good as compared to a crunchy one.
 This can be stored in the fridge for about 3-4 days.