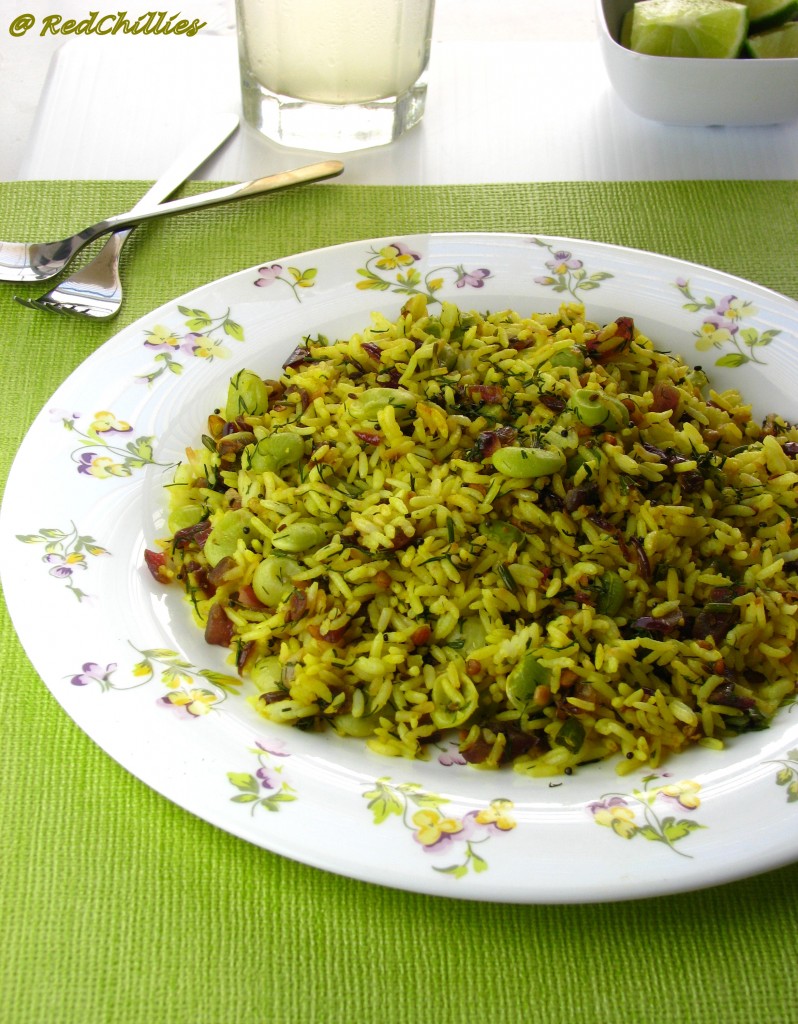 We had eaten a Dill Rice at a Mediterranean restaurant when we were on a vacation far east (no not that far east a little to the westJ), and that taste had stuck onto us for a long time. It was a simple rice recipe, nothing complicated but the way the rice and dill was cooked appealed to our taste buds. It must have been exhaustion, hunger, the timing we are not sure but anyways the taste and memory lingered on for days to come. 
Anyway we found some fresh dill last week and DH remembered the Dill Rice we had at the restaurant. He offered to give it a try and make his own.  So this is DH's recipe that he made last weekend for our lunch. This is more of an Indanised version of the one that we had at the Mediterranean restaurant. This rice had a lemon taste with mild flavor of Dill in the background, spiced with the green chillies balanced by the sweet taste of beans and cooked onion. This is more like an extension of our very own Chitranna with the addition of dill and beans!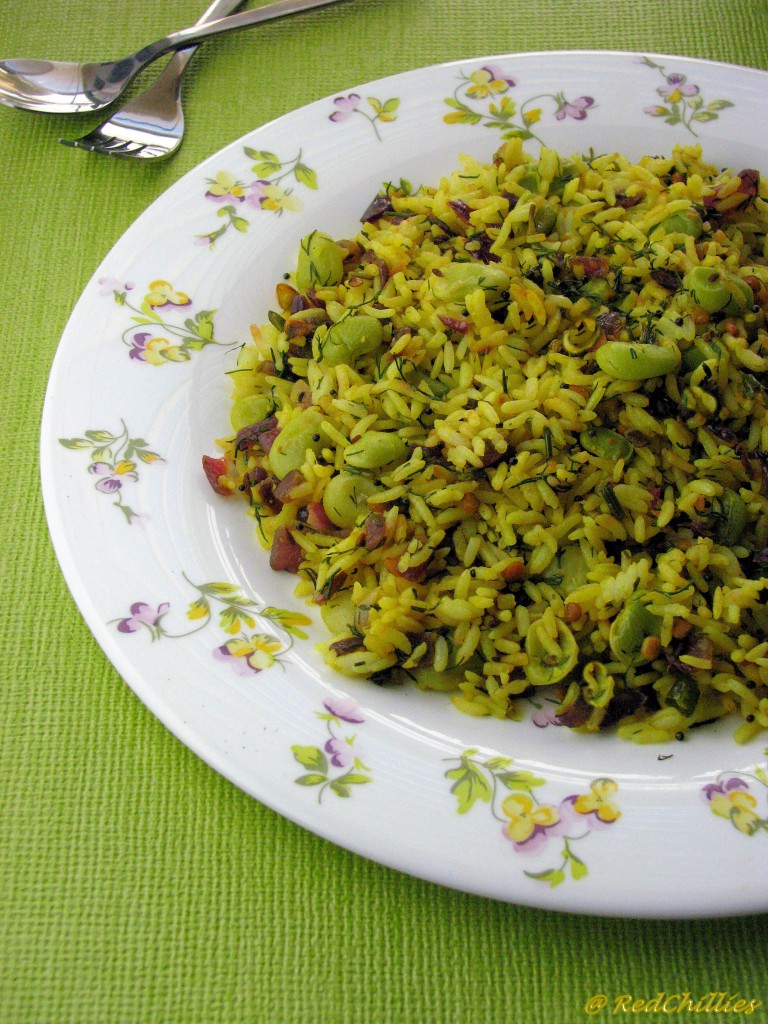 Lemon Dill Rice Recipe
Ingredients:  
 2 cups cooked rice (make sure it is fluffy and grains are separated)
1/2 tsp turmeric (optional)
¾ cup chopped onion (add more)
½-3/4 cup finely chopped dill leaves (stems removed, I used fresh)
2 green chillies (chopped finely)
 3/4 cup lima beans (use any other beans of choice) ( I used frozen)
2-3 garlic pods (grated)
Juice of a lemon
1 tsp urad daal
Mustard seeds
salt
Oil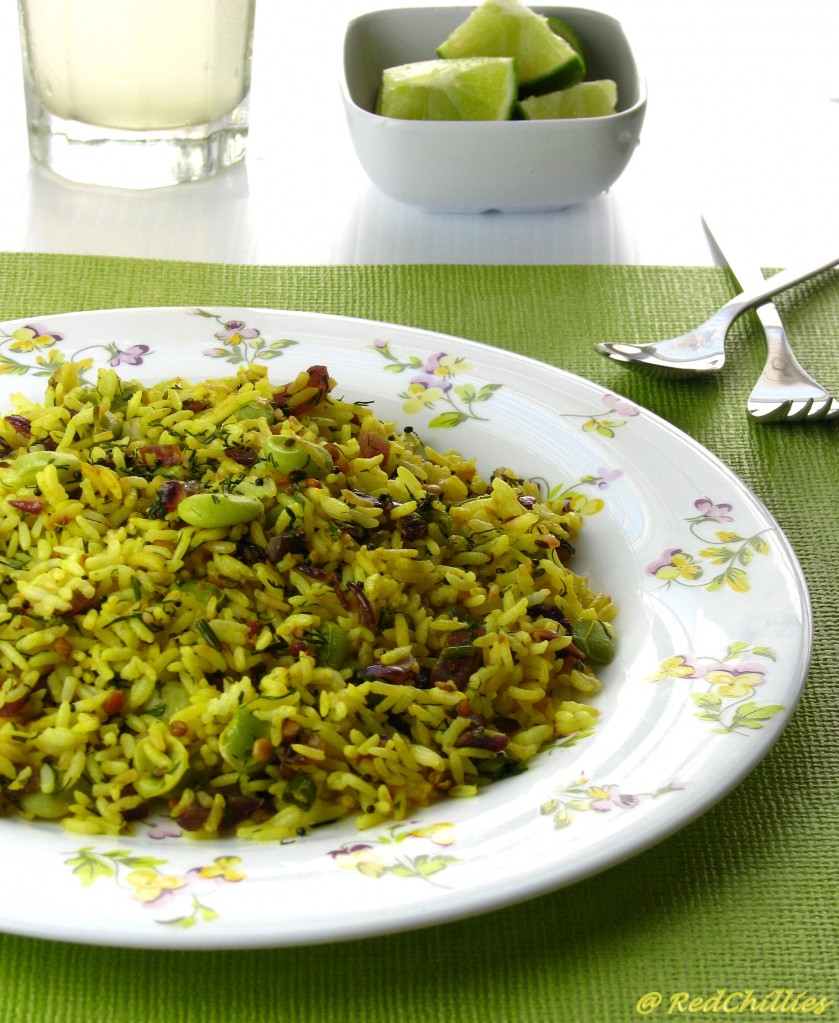 Method:
Boil the lima beans separately in little water, salt drain the water and keep aside.
Take a big plate and spread out the rice making sure there are no lumps. Add salt, turmeric, chopped dill leaves, little oil mix well and keep aside.
Note: The step above is important, mixing the dill to the rice and then adding the combination to the cooked onions. Adding dill directly to heat, removes its flavor. Hence it is best to combine with rice and cook it as this retains its texture and imparts good flavor to the rice.
Take a heavy bottom pan, add oil on medium heat. Add mustard seeds and let it splutter, add the grated garlic and stir until it turns light brown.
Now add the urad daal, green chillies and roast until the daal turn brown and crunchy.
Add the chopped onions (optional) and fry until it gets transparent.
Add the rice mixture and stir it thoroughly. Cover the lid and let it cook for a while.
Finally add the juice of a lemon. Mix well. Serve hot.
Note: Make sure to add the lemon juice when the prepared rice has cooled down a little, else it tends to add sourness to the rice.