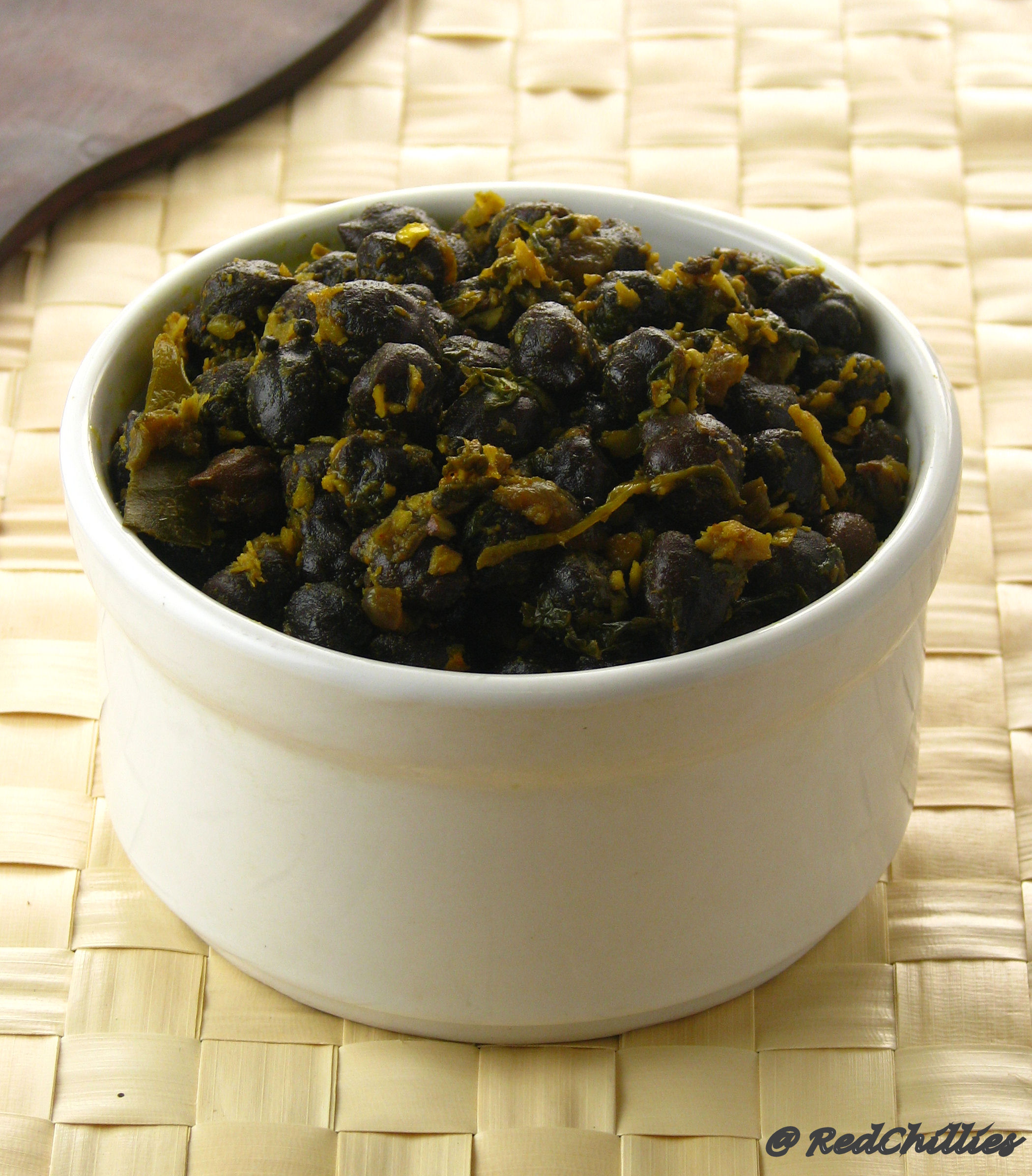 It has only been few years ago when I learnt that even Black Chana/ Kala Chana are referred to as Chickpeas. I had assumed that only Kabuli Chana was referred to as Chickpeas. I make the usual Chana Masala with the Kabuli Chana and Saaru and upkari (Konkani for Curry) using the Black Chana. 
This is a simple dry curry and rasam made with minimal ingredients from the pantry. Kala chana is first soaked, cooked and then finally seasoned. The cooked water is used to make the rasam by flavoring with seasoning of garlic. This is my younger brother's favorite food to have for lunch or dinner. We love this at home too, but we prefer the Lima Beans Curry or the Black Eyed Bean Saar upkari better. 
It is also helpful to note that chickpeas are a helpful source of zinc, folate and protein. They are also very high in dietary fiber and hence a healthy source of carbohydrates for persons with insulin sensitivity or diabetes. (Source).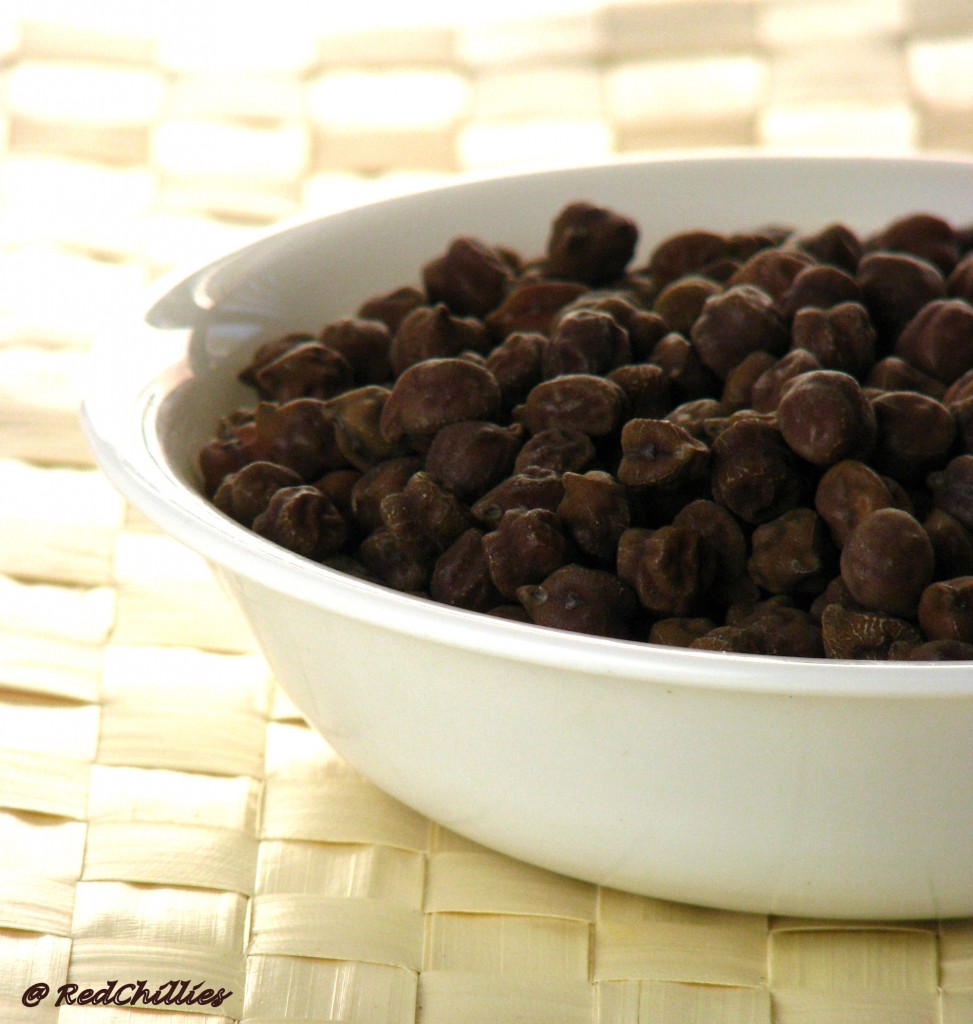 Ingredients: (Kala Chana subzi) 
1 cup dry Kala Chana/ (soaked overnight) [kadle in Kannada]
Mustard seeds
Turmeric
3-4 green chillies
Cumin/ Jeera seeds
¼ cup shredded coconut
1-2 dried red chillies
Asafetida (a pinch)
3-4 curry leaves
1/4 cup chopped coriander leaves
Salt
oil 
Ingredients: (Kala Chana Saaru) 
1 medium tomato, chopped finely
2-3 green chillies, slit into 2
½ cup chopped coriander leaves
2 Tbsp tamarind paste
4-5 garlic cloves, crushed and skin removed
1-2 dried red chillies
3-4 curry leaves
Salt
oil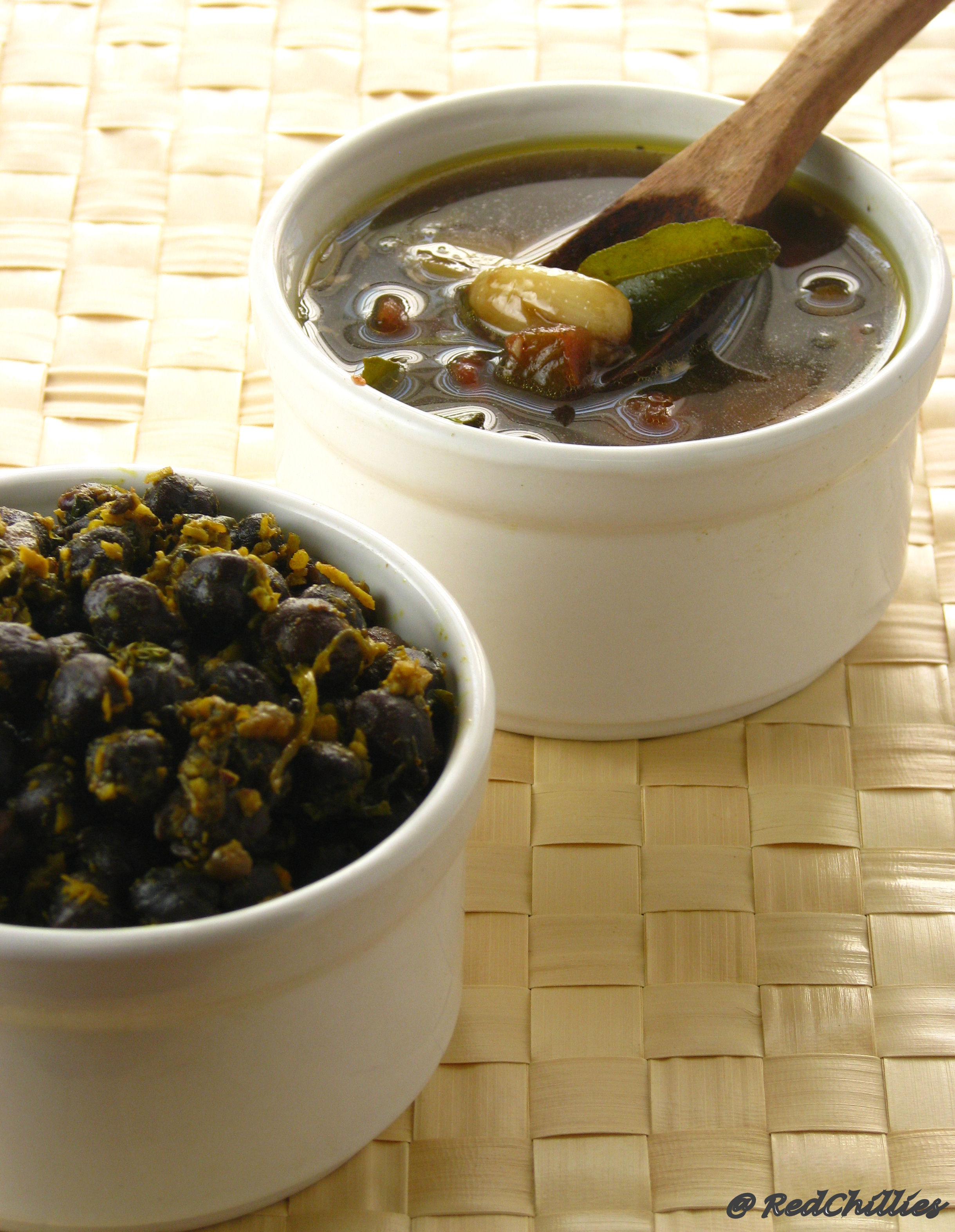 Procedure: (Kala Chana upkari/curry) 
Make sure that the beans are soaked overnight or for about 8-10 hours in enough water.
 Pressure cook the soaked Kala Chana in sufficient water. This takes a long time to cook, I have to let it cook for 6-8 whistles).
 Take a heavy bottom pan. Add oil and prepare the seasoning with mustard, curry leaves, jeera seeds.
 Add the asafetida, red chillies and green chillies and sauté well. Add turmeric, salt and mix well.
Meanwhile open the pressure cooker and drain the cooked water into another vessel completely (do not throw this water away; this is used for making the rasam).
Add the cooked kala chana to the mixture and stir well.
Note: it takes time for the chana to get the salt into it. So add salt and keep sprinkling water and mixing.
Check for taste. Add more salt, chillies, turmeric is required.
Finally add the coconut and garnish with coriander leaves.  
Procedure: (Kala chana Rasam) 
In a separate vessel transfer the pressure cooked water from the beans/kala chana.
Add finely chopped tomatoes, tamarind paste, slit green chillies and salt to this cooked water.
Let this cook on low flame for about 20-25 minutes stirring in between. The liquid will reduce and make it little thick.
 Meanwhile heat a separate pan (for seasoning) add 2 tsp oil. Add all the crushed garlic and stir until it turns light brown. Add curry leaves and red chillies.
Add this garlic seasoning to the boil rasam and close the lid. Garnish with coriander leaves.