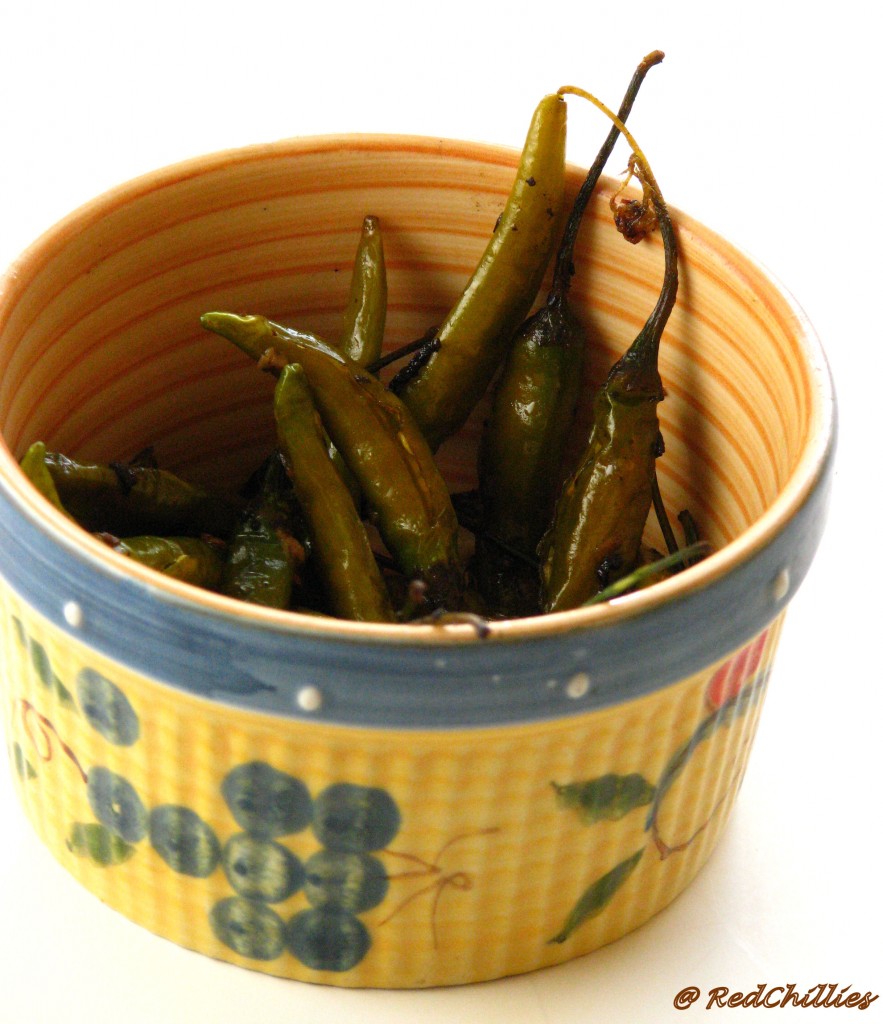 Given a chance, I am sure I would be changing the look of my blog every single month! That is how much I enjoy playing with colors, trying out new looks, experimenting new features etc. But then sanity prevails and then I resort to change only when required.
 So now here I am with a new theme for the blog that caters to features that I had in mind. Even though there are differences, the theme is not very different from the one I had earlier. I am almost done with the changes, but there might be few more in the coming days. I hope you all like the change and would appreciate your frank feedback. If you find some broken links, problems as you go along, please do let me know and I will try to fix it.
Coming back to this recipe, this was something that DH concocted before our trip to India.  That week I had to empty out the fridge and finish off what ever produce was remaining. Out came a small bagful of green chillies and I lamented to DH saying I did not know how to finish them all. DH who loves green chillies (and anything spicy hot food) could not stand the idea of tossing them out and came up with this 'hot' idea.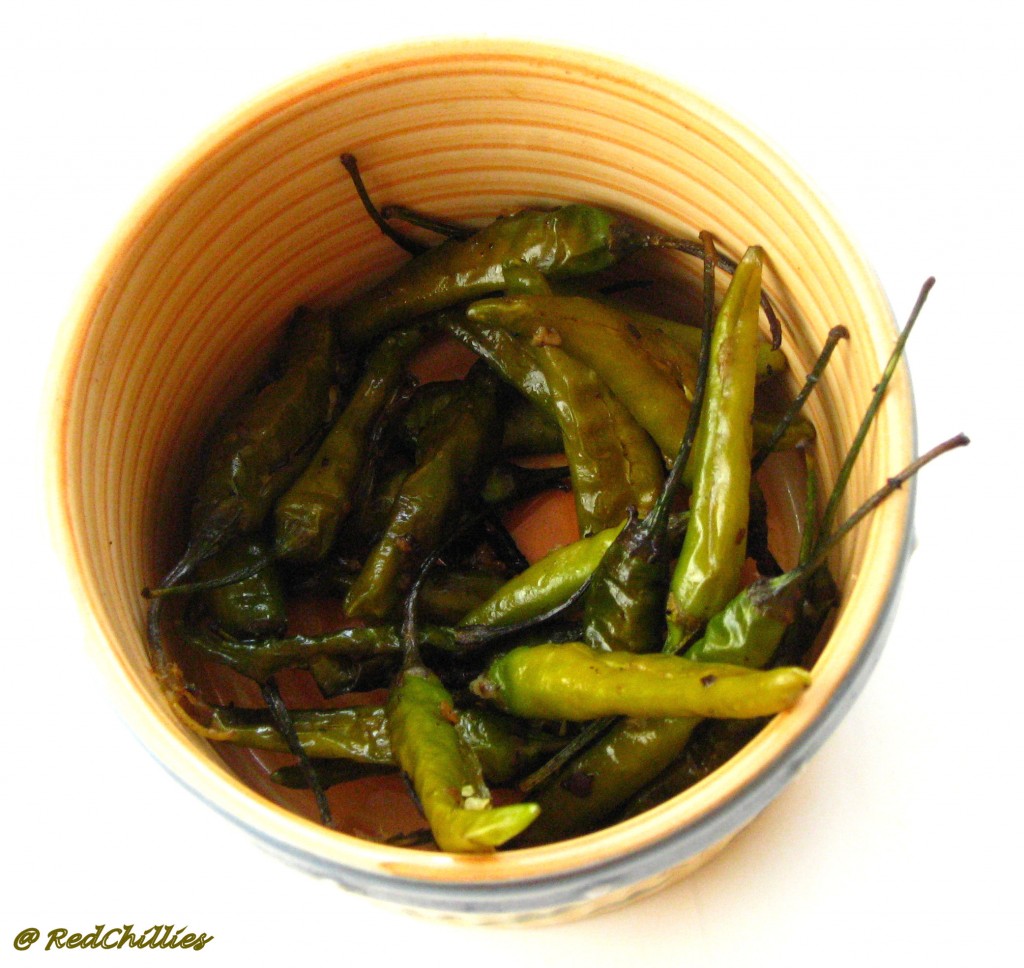 This dish is extremely hot to say the least, so use caution if you plan on preparing this.  I had just one of this and ended up drinking 2 glasses of water to get over it. You can use the milder Anaheim /poblano peppers for experimenting. But if you are still bold enough to try the hotter version (hats off to you), then do not forget to get a packet of antacid! 
Ingredients 
15-20 small green chillies (you can use milder versions like the Anaheim /poblano peppers)
Salt to taste
1 Tbsp Oil
2-3 crushed garlic
Juice of a lemon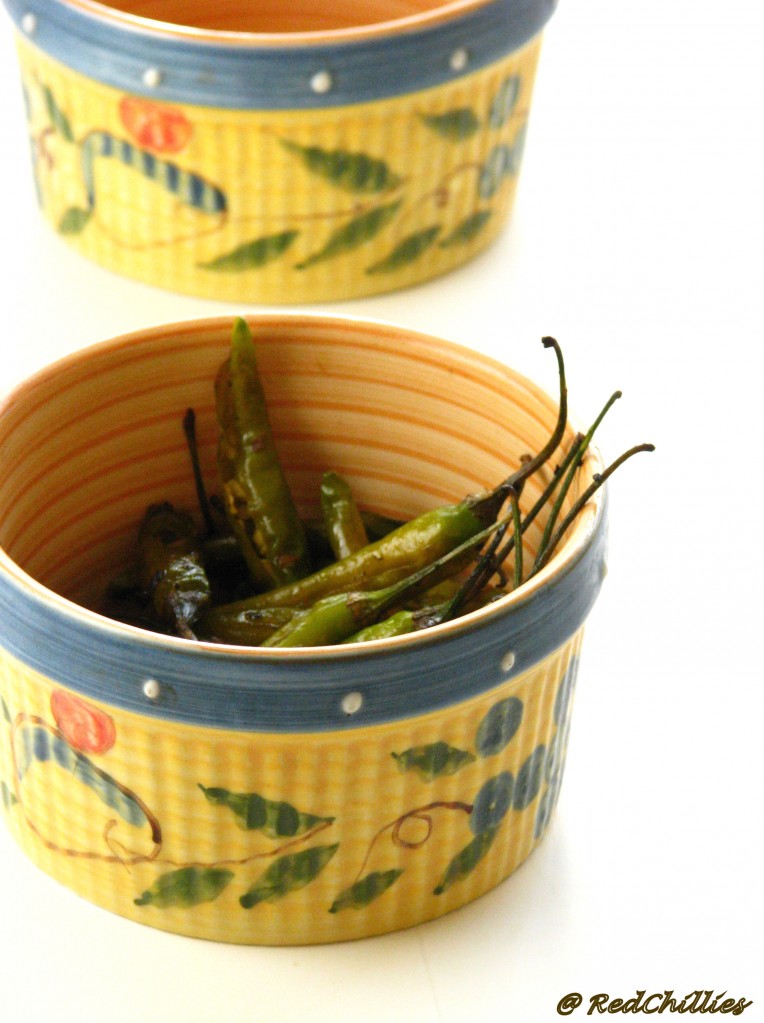 Method:
Wash the green chillies, dry them well and make a slit to it in the middle (the slit does not have to be all way through).
Take a bowl, add the oil, salt, lemon juice, crushed garlic and mix well.
Toss the green chillies in it and marinate for about 30 minutes.
Heat a pan on medium, add little more oil and sauté the marinated green chillies until it cooks a bit, but still has the crunch. (For about 3-4 minutes)
We had this with yogurt rice, daal and chawal.