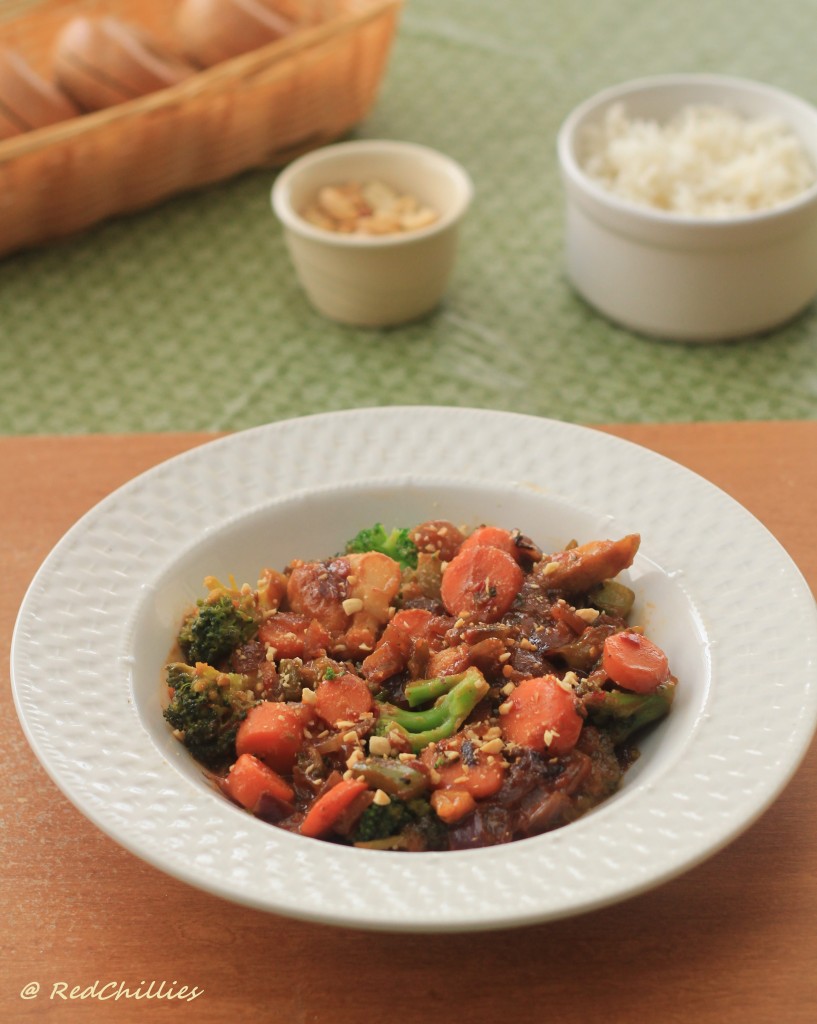 At work, we have ample occasions when we go out for team lunches. It is a good opportunity to get away from work, relax and connect with colleagues. The tricky part is to come up with a place that suits everybody's taste palettes. With people from different nationalities working together; it's a challenge to agree on common cuisine. But then one cuisine that many of us agree upon is the Thai cuisine which has good offering for vegetarians and non-vegetarians alike. 
Luckily there is no dearth of Thai restaurants in our area and we have taken it upon ourselves to explore as many restaurants as possible. Each restaurant has its specialty, be it Pad Thai, Yellow Curry, Green Curry, basil noodles etc all Thai specialties. There is one restaurant that makes the best peanut sauce dressing (for Thai salad) and a sweet sour vegetable dish which I enjoy the most. 
I love this combination of sweet, spicy sauce cooked along with bounty of veggies. First of all you feel good eating all the veggies and then by the time you are done eating 3-4 spoonfuls of rice you start feeling filled. Well, it is a good way to restrict the amount of rice if you counting the carbohydrates in your diet. 
This is a good side dish, suitable for accompanying plain steamed rice. For this dish the sour comes from vinegar and the sweet from the sugar and chilli sauce. I like making this sauce little spicy compared to the ones we get at the restaurants. But this is balanced by the combination of sweet and sour.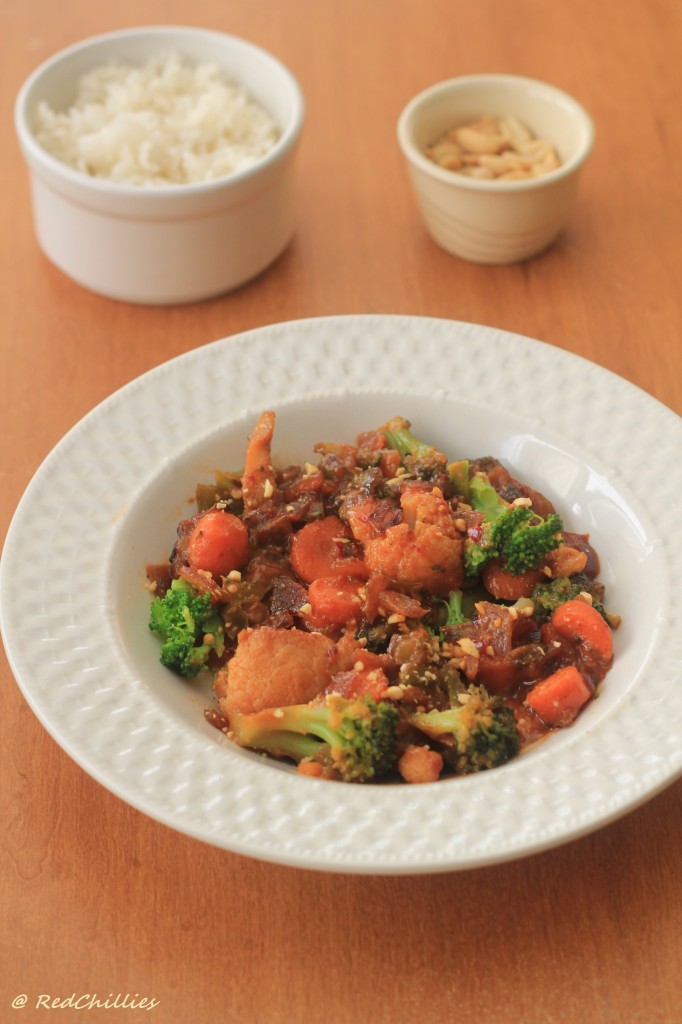 Ingredients:
1 medium onion, diced
¼ cup thinly rounded carrots
1 small bell pepper, diced
¼ cup chopped chestnuts
¼ cup broccoli
1 Tbsp ketchup
2 Tbsp soy sauce
3/4 cup vegetable broth
1/2 tsp ground ginger
1  tsp cayenne pepper
1 tsp sriracha sauce
2 cloves garlic (peeled and minced)
1 Tbsp cornstarch
2 Tbsp white wine vinegar
1 Tbsp brown sugar
3-5 basil leaves
Oil
 Method: 
In a large bowl, mix together the cornstarch and vegetable broth until the corn starch dissolves.
 To the same add vinegar, sugar, ketchup, and cayenne pepper until well mixed. Keep aside.
Heat a large skillet or wok, add oil and then garlic, onion, and pepper.
After a minute add the soy sauce, broccoli, chestnuts, carrots stir fry for about 5 minutes, until carrots begin to soften.
Now add the vegetable broth mix to the veggies and cook until mixture thickens (about 4-5 minutes).
Serve with warm rice, sprinkle some crushed peanuts and enjoy!