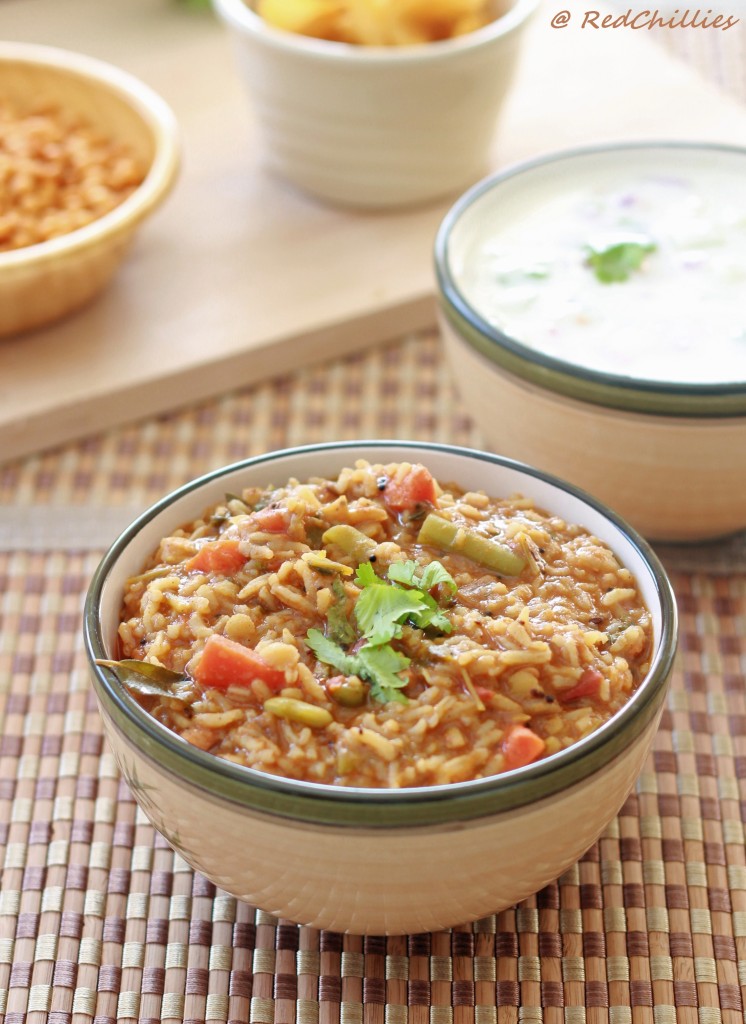 As I looked through my old recipes on this blog, I was surprised to find that I have not posted the recipe for Bisi Bele Bhat yet. It is a famous and a classic dish of Karnataka, Bisi-bele-bhaath literally translates to hot-lentil-rice in Kannada. Having grown up in Bangalore this dish was common in the restaurants, homes, functions, festivals, temples tec. It is a warm comforting food and the one that is very close to our hearts. 
 It is also known as Bisi bele huliyanna.It is a wholesome dish laden with lentils (proteins), rice (carbs), vegetables along with plethora of spices. Pair this with raita and it makes it even more nutritious. A one post dish and a quick one this can be put together in no time. 
The traditional preparation of this dish is quite elaborate and involves preparing the powder from scratch using various lentils and spices. However I use the store brought powder MTR brand (boy, do I love taking shortcuts) which eliminates this step making the cooking easier. Also add any vegetables of choice.
 A good raita (yogurt based condiment) along with potato chips/boondi makes a great accompaniment to this dish. Yogurt is not only nutritious, but it cools down any kind of heat from the effect of the spices/powder in the dish. Finally do not forget a dollop of ghee while serving!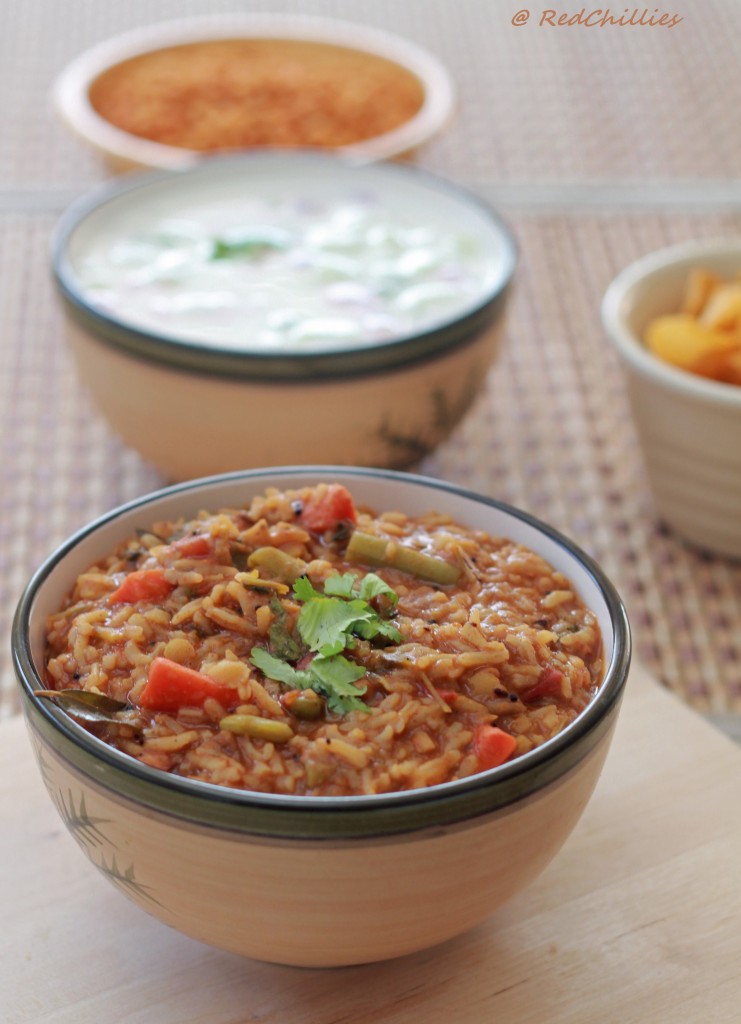 Ingredients
1 cup rice (raw)
½ cup Toor daal
1 medium onion
2 medium tomatoes
1/4 cup shelled peas
½ cup carrot  (peeled & chopped)
½ cup beans (stringed and chopped)
Tamarind  juice (size of a small lime)
2 tsp mustard seeds
5-10 curry leaves
A pinch asafetida
Oil
salt
8-10 Cashew nuts
Powder:
2 Tbsp MTR brand Bisi Bele bhath powder
Method:
Soak tamarind in a little warm water and extract juice and keep it aside.
Heat water in a vessel and add the chopped vegetables along with little salt and cook. Keep aside.
Wash rice and daal separately and place them in pressure cooker in separate containers until cooked. Note: The rice needs to be soft and not separate unlike for the rice dishes. After the daal is cooked, mash it well.
Take a heavy bottom pan and then heat oil.
Do the seasoning of mustard seeds, curry leaves, asafetida, and broken cashew pieces.
Add the chopped onions, after it turn light brown add the tomatoes and stir until the tomatoes are cooked.
Add the cooked vegetables and give it a good stir.
Add the Bisi bele bhat powder, tamarind juice, salt and continue to cook.
Add rice and daal  mix well. Let this simmer on the stove for about 15- 20 minutes.
Keep stirring in between so that the daal does not get stuck at the bottom.
Serve hot with raita, chips/boondi. Add a small spoon of ghee, just before serving.