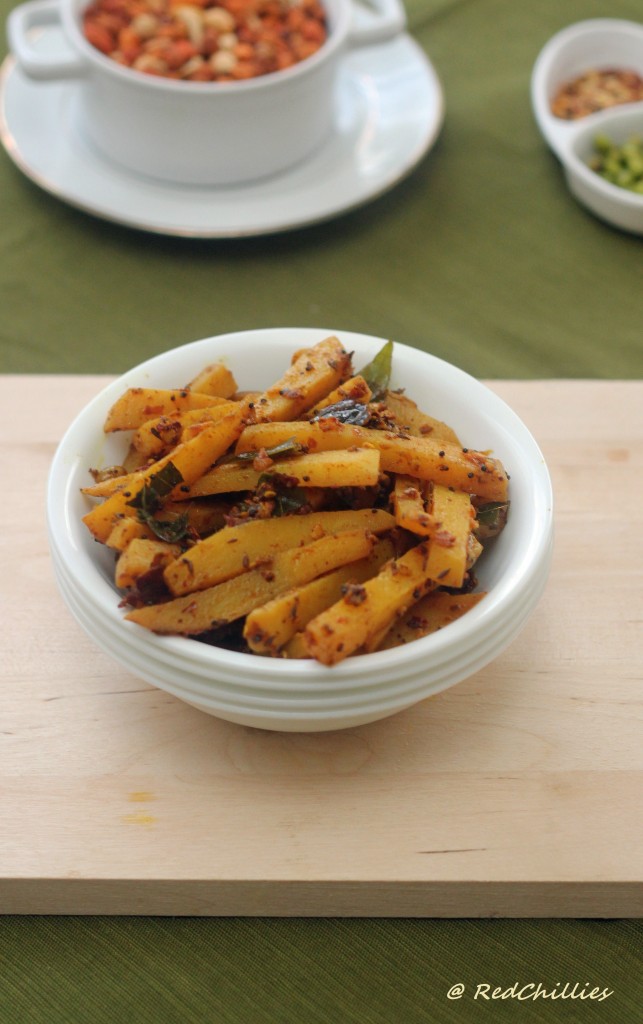 The one vegetable that comes to mind when I think of comfort food is potato. I crave for some potato dishes when I am hungry; a simple potato curry along with rasam not only satisfies the taste buds but chases away the blues.
 No wonder this dish made its presence when I was hungry and wanted to eat some potatoes. I love the simplicity of this dish and reminds me of the baked potato fries, mainly because of the way the potatoes are cut. This dish uses lots of garlic and so has a prominent garlicky flavor and the hotness comes from using red chilli paste.
Ingredients  
2 large potatoes
5-10 garlic pods (peeled and finely chopped)
5-10 curry leaves
1 tsp mustard seeds
1 tsp jeera seeds
2 Tbsp red Chilli paste (recipe below)
A pinch turmeric
1 Tbsp Oil
Salt to taste 
 Method: 
To make red Chilli paste: Take 10-15 dried red chillies and soak it in little water for 2 hours. Grind the soaked chillies and make a thick paste without adding water. This can be stored in container for other uses.
Heat water in a sauce pan (this is to parboil the chopped potatoes).
Peel the potato and cut into strips just like you would do for fries. [The way I do this, is to chop the potato into circular discs 1/2 inch each and then cut through the discs and make long strips.]
Drop the chopped potato strips in the boiling water along with salt and continue to cook. Make sure there is a bite to it and that it is not over cooked. Drain water completely and keep aside.
Heat a heavy bottom pan and add about 1 Tbsp of oil. Add the mustard seeds, jeera/cumin and curry leaves.
Add chopped garlic and stir until it turns light brown,  followed by chilli paste
Now add turmeric and mix well and after the raw smell is gone, the boiled drained potatoes.
Stir well, so that all the mixture coats over the potatoes. Add little oil in intervals if the mixture turns dry and sticks to the bottom.
Alternately sprinkle little water over the potato mixture and mix thoroughly.  
This tastes good with Rotis, Phulkas, Puri or Rice.