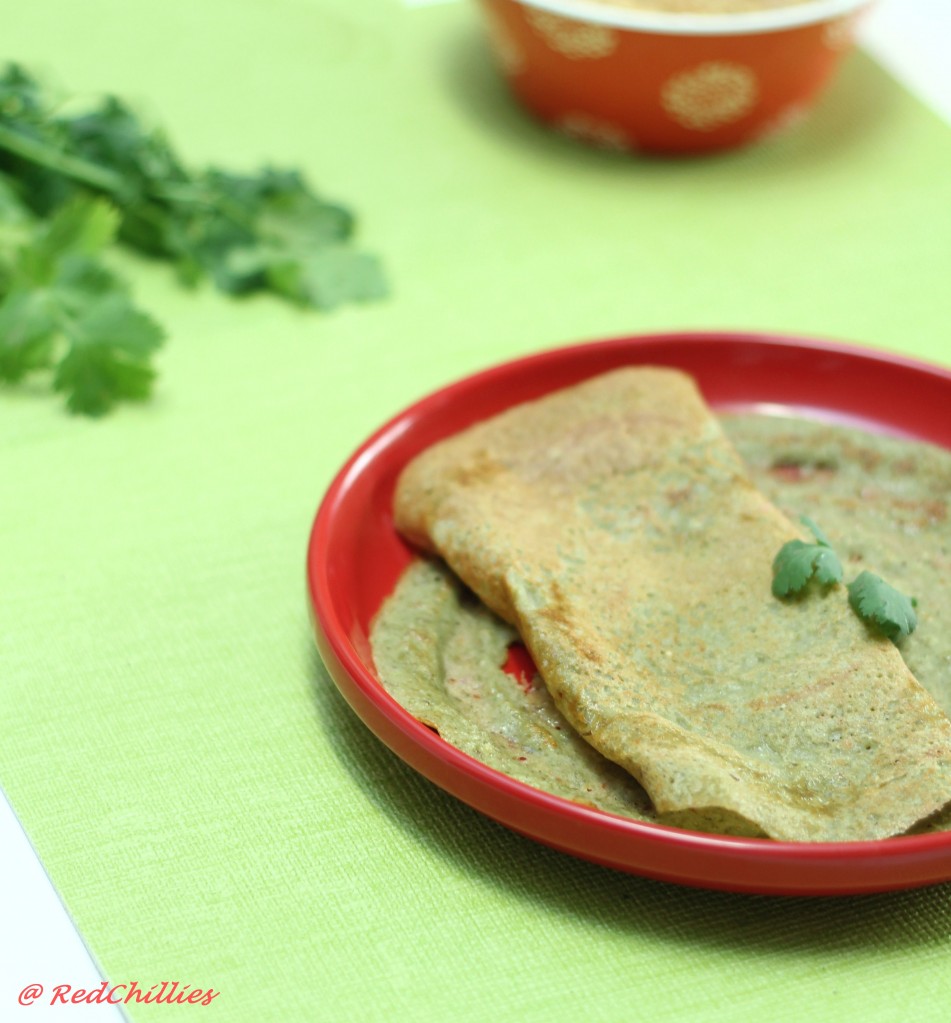 I learnt making this Dosa only after coming to the US. I had not tasted or heard of this Dosa while I was in Bangalore. But now I understand that this Dosa is referred to as Pesarattu in Telegu. 
The procedure for this is pretty similar to making Adai. You can use the split moong daal instead of the whole moong bean if you prefer. Also you can sprout the whole moong bean and that makes this Dosa even more nutritious. Adding soaked almonds is optional.
Category: Requires Soaking, Grinding but no fermenting.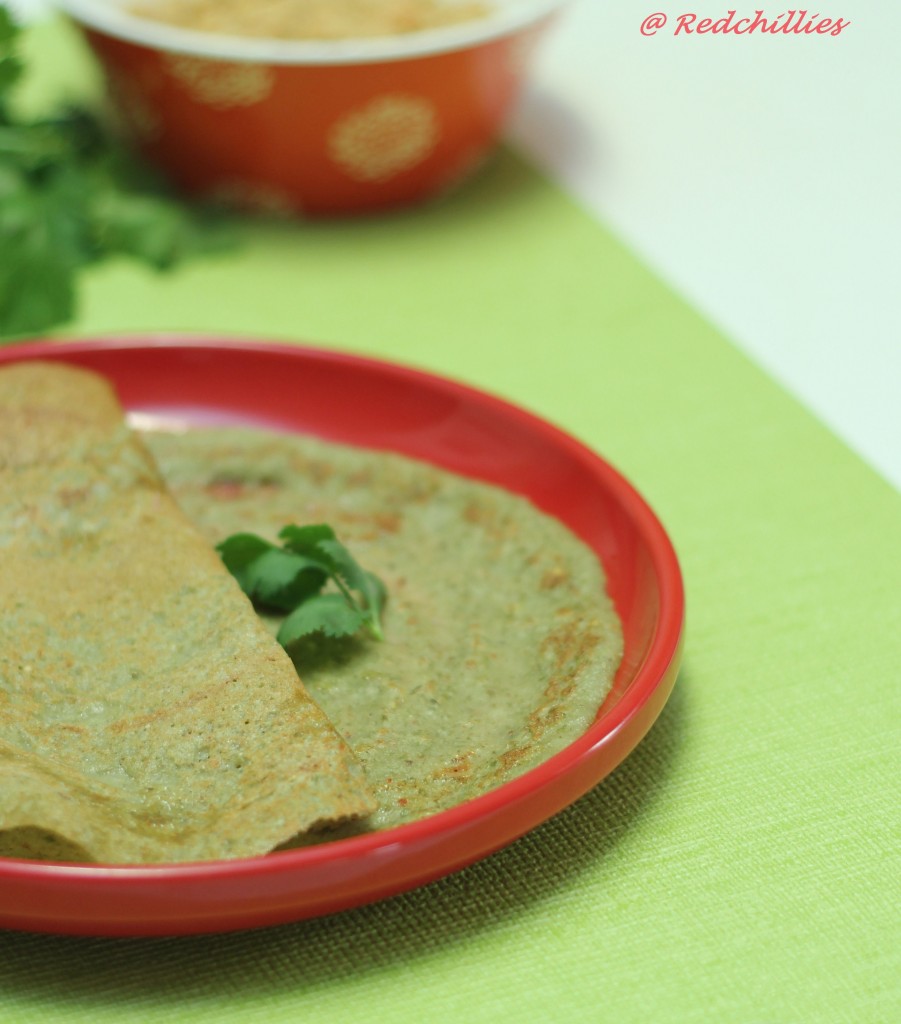 Ingredients
1 cup whole moong bean (sprouting is optional)
¼ cup raw rice (Use regular rice/ I use Sona masuri)
1-2 green chillies
3-4 almonds (optional)
1 inch ginger piece
1 tsp Jeera/ cumin seeds
Salt to taste
oil
Soaking and Grinding:
Soak the moong bean, almonds (optional) and rice in enough water for about 6-8 hours.
When ready to grind, first grind Jeera (cumin seeds) along with green chillies, ginger and salt.  Do not add any water.
Now drain the water completely from the soaked moong and add this to the ground mixture on step 1 and grind it again. Add water and salt (if required)
The batter should be little coarse and not fine like a regular urad dosa. The trick for this is not grinding for a long time, zip through the different levels of motor in quick succession.
Pour the batter in a container, add water and keep aside for 10 minutes. The batter is ready! (there is no need to ferment the batter) 
Making Dosas: 
When ready to make the dosas, check for the consistency of the batter. It should not be too thick or thin. Add water if necessary and mix well.
Heat the iron griddle/flat pan or non-stick tava on high heat. Sprinkle some water on it to make sure it is hot.
 Pour a ladle full of batter in the centre, spread with the back of the ladle from the centre, spreading the batter to form a circle.
Pour a tsp. of oil over and around it and after a minute or so, check to see if the back of the Dosa is cooked.
 Turn with a spatula when crisp and flip onto the other side. Let this side cook for about 20-30 seconds.
Note: This is not a crispy dosa, so do not cook on the griddle for a long time.
Proceed to make dosas similar way with the remaining batter.
Serve with chutney or subzi or podi-oil or with ketchup. The last option is simply yummy!