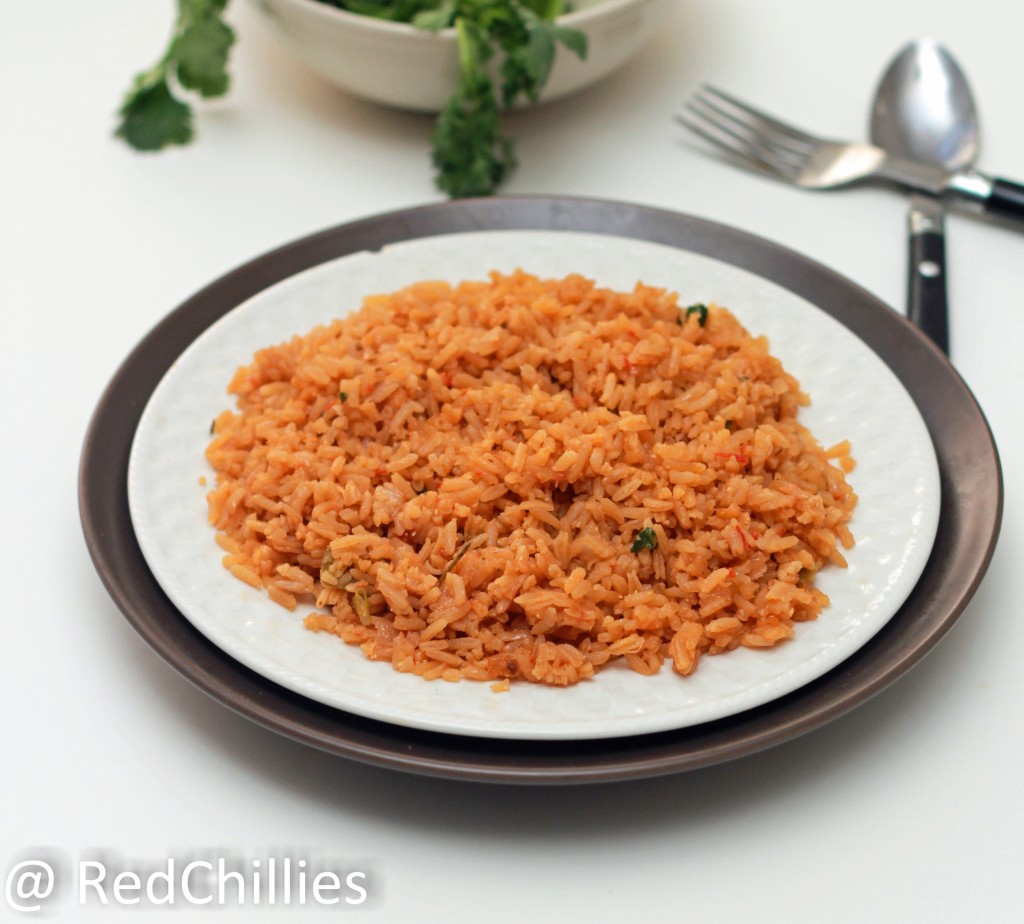 I had briefly mentioned about our picnic at the park in my earlier post in which few families got together and did a potluck. With heat looming, it was a weekend well spent, as the kids spent hours together splashing in the water, while the adults stayed in the shade chatting and enjoying the assortment of delicious food.
The theme was chosen as Mexican cuisine and everybody pitched in food ideas. Some criteria to keep in mind was that the food had to be kid friendly, easily transportable and would not perish soon.
I prepared this Mexican Rice along with Corn Salsa and Guacamole. This Mexican rice turned out to be a hit among the kids. Colorful and not too spicy, it has a mild flavor with a tangy taste. It formed a good accompaniment with topping of shredded cheese, some nachos and corn salsa on the side.
Here is a menu list of what we came up with for the potluck.
Appetizers: Nachos with Salsa, Corn Salsa and Guacamole, juices.
Salad: Lettuce, cooked black beans, corn with Catalina dressing topped with crushed nachos for crunch.
Tostadas: Charras with topping of refried beans, salsa, lettuce and sour cream. Somewhat similar to what is in here.
Tacos: Hard taco shell, topped with refried beans, salsa and lettuce.
Mexican Rice, Corn Salsa and Guacamole
Dessert: Pound cake, fresh fruits, cookies for kids.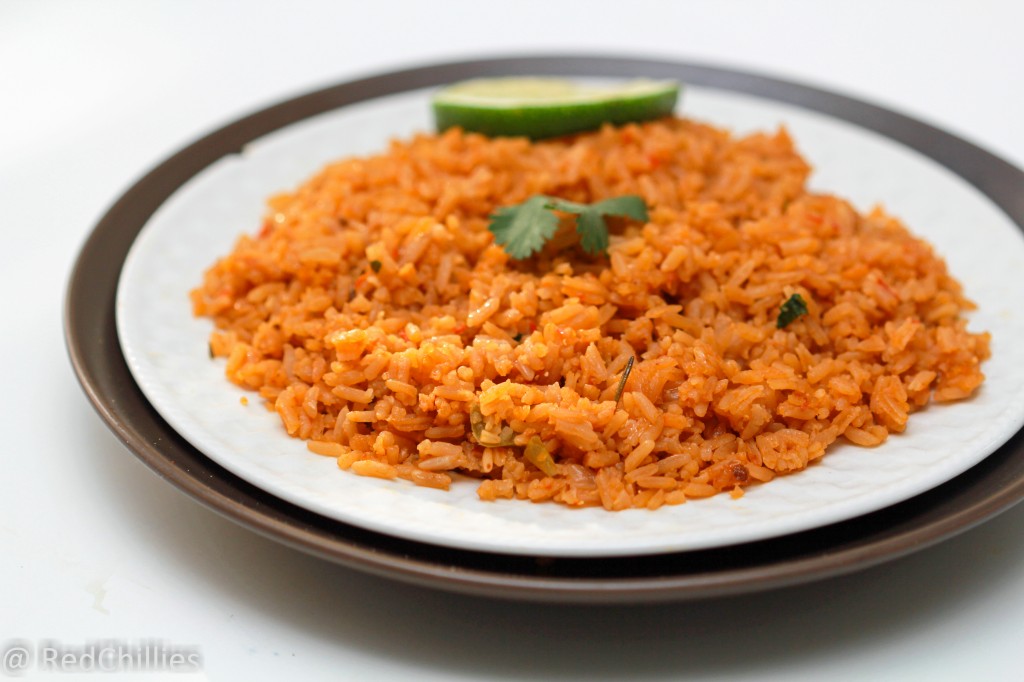 Ingredients
1 cup long grain rice
2 cups broth ( I used vegetarian )
1/2 green bell pepper (chopped )
1/2 onion (chopped ) + ¼ cup chopped onion
1 jalapeno pepper( chopped )
1 tomato (chopped into quarters)
1/2 tsp oregano
1/2 cup chopped fresh cilantro
1 clove garlic (chopped)
salt
Oil
Method:
Blend the tomato along with ¼ cup chopped onion and oregano. Keep aside.
In a medium sauce pan, add oil over medium heat. Add in the chopped onion. Sauté for 1-2 minutes and then add the bell pepper and chopped jalapeno mix until softened.
Add dry rice and stir for about 5 minutes until the rice becomes a golden brown color and gets the nutty flavor.
Add in the chopped garlic to the rice and sauté for one more minute.
Next add in broth and tomato sauce, mix well and bring it to a boil.
After it starts boiling, turn the heat to medium and cover with lid. Do not touch for the next 10-15 minutes.
After it is cooked, add the chopped cilantro and fluff it up with a fork.