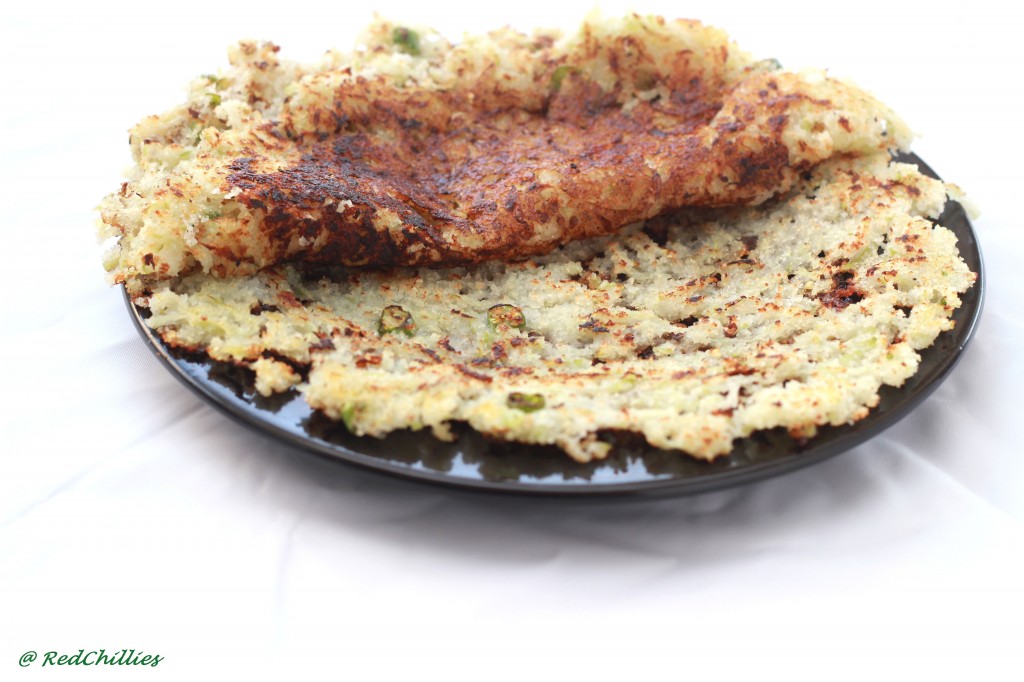 After getting married, I was introduced to many new, delicious and interesting dishes hitherto unknown to me. Even though both of us are Konkanis, vegetarians, share the same background and culture yet each of our families have different style and combination of cooking. My MIL has over the years graciously taught me their style of cooking.
One such new, easy and tasty dish is the Cucumber dosa (savory Indian pancake)  . This has only 2 ingredients cucumber, idli rava and can be made in a jiffy. The end product is truly amazing, crispy on the outside and soft on the inside with golden hue to it. Unlike a regular urad dosa tears easily and simply melts in the mouth. And this does not need any fermentation!
Please note that even though this is caleld Dosa, the prepared batter is patted on the stove directly like a Thalipeeth.
 Ingredients:
2 medium size cucmbers

1.5 cups of idli rava

4-5 green chillies

oil, salt

coriander leaves chopped (optional)

1/2 cup shredded coconut(optional)
 Preparation:
Peel the cucumbers and grate them. Retain the seeds of the cucumber but drain the cucumber water as much as possible.

Chop up the green chilies very finely.

Add the idli rava, green chilies, shredded coconut, coriander leaves to grated cucumber and mix well. Add salt as required

Let this whole thing rest for about 30 minutes. Note that the mixture in this case will be coarse and not "gooey" or watery like a dosa batter.

Note: Even if it becomes watery, do not discard the water but retain it and mix it well.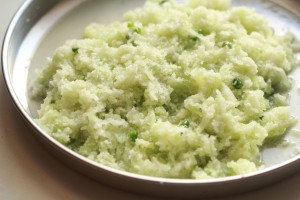 Procedure:
Heat a tava and grease it a little bit. When the tava is hot, take a handful of the cucumber mixture and place at the center.

 

Pat the mixture using finger tips and spread it around starting from the center to form a circle.

 

Use little water to spread this out if it becomes hot to handle.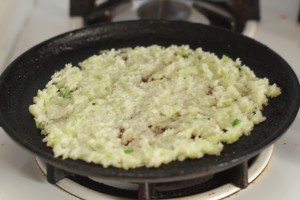 This spreading should not be either too thick or thin, make it as even as possible.

 

Make about 4-5 small holes around the periphery and center of the circle using a spatula.

 

Put about 1 tsp of oil around the dosa and also 1 tsp into the small holes.

 

Cover this with a lid and let it stay for a minute or so on high heat.

After a minute take a peek and check to see if the backside of the dosa has a brown color.

 

If it has not, then let it stay for a while or the dosa will break when trying to turn it around.

 

If it has browned then, turn the dosa around, put some more oil around it and let it cook for a while.
 This can be eaten as is or with little ghee or coconut oil.