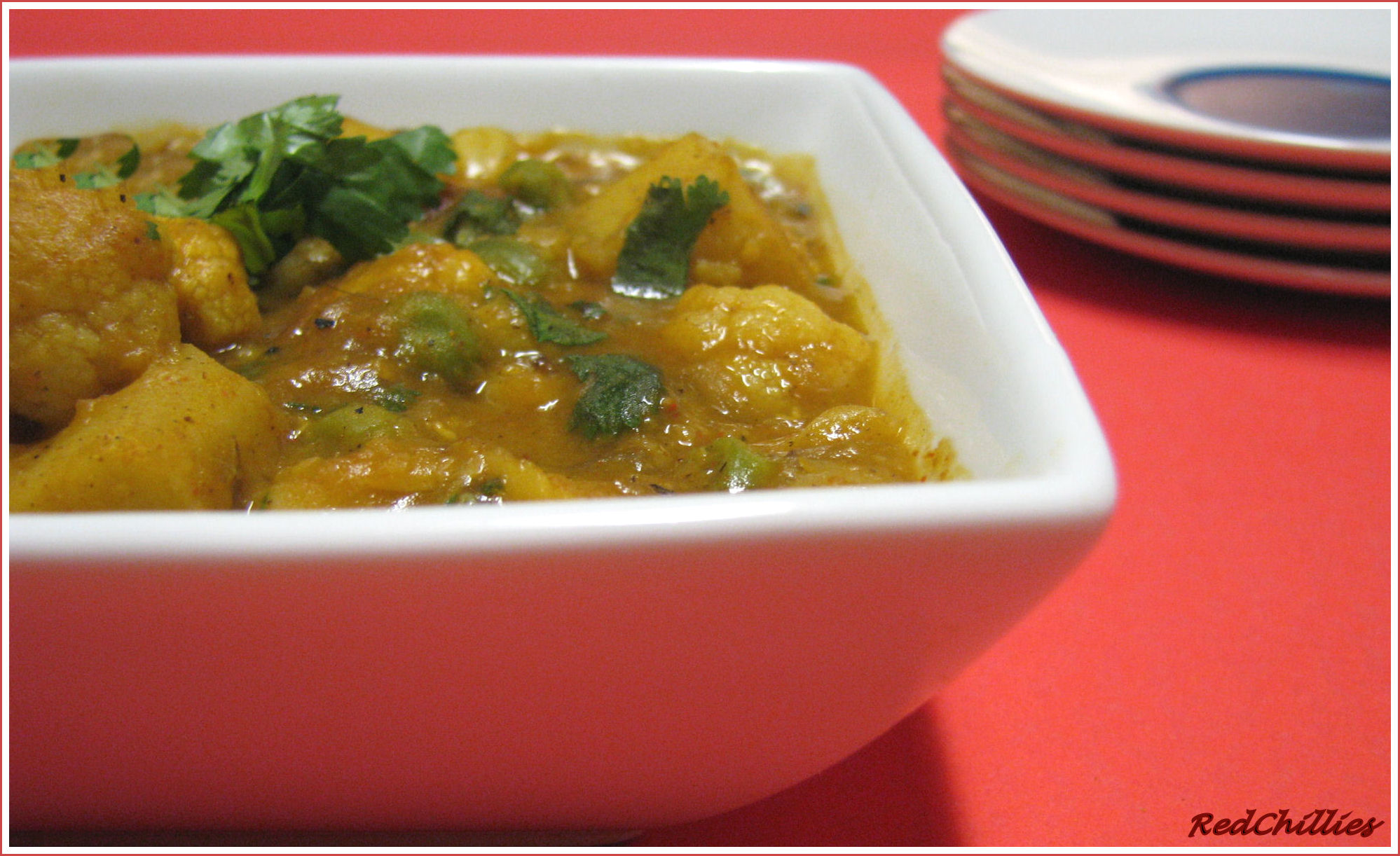 Now that I have managed to grab your attention with the title, let me explain what this dish it all about. This is a curry in which cooked split moong daal and vegetables of choice are simmered in tomato, onion based gravy and flavored with Chole Masala. This is a one pot dish which has goodness of lentils and vegetables. This is also a good deviation to try from the usual Chana Masala.
I learnt this recipe from a friend and colleague Ro. Now both Ro and me work in the same office but in different groups. Both of us are from the state of Karnataka and so we have some commonalities in terms of food and language.  We share food ideas and exchange recipes many times.
At the office we do not take lunch break and work through lunch.  Lunch times are loony for me and that is when my belly rules my mind. With stomach rumbling and aroma of other people's food waffling through I cannot think clearly. It is one of those times during which even steamed cabbage and boiled broccoli seems delectable and appetizing.
Anyway, on one such muggy afternoon there was this flavorful, aroma from Ro's cubicle that I could not take it any longer and just had to walk by and find out what she had got for lunch.  She told me that she had brought this daal curry flavored with Chole masala, her own creation and gladly passed on the recipe to me. Ro has a knack for explaining recipes; it has an element of enthusiasm and suspense. So when she told me this one pot recipe the first time I wept………. With joy that isJ. Thanks Ro for sharing this recipe.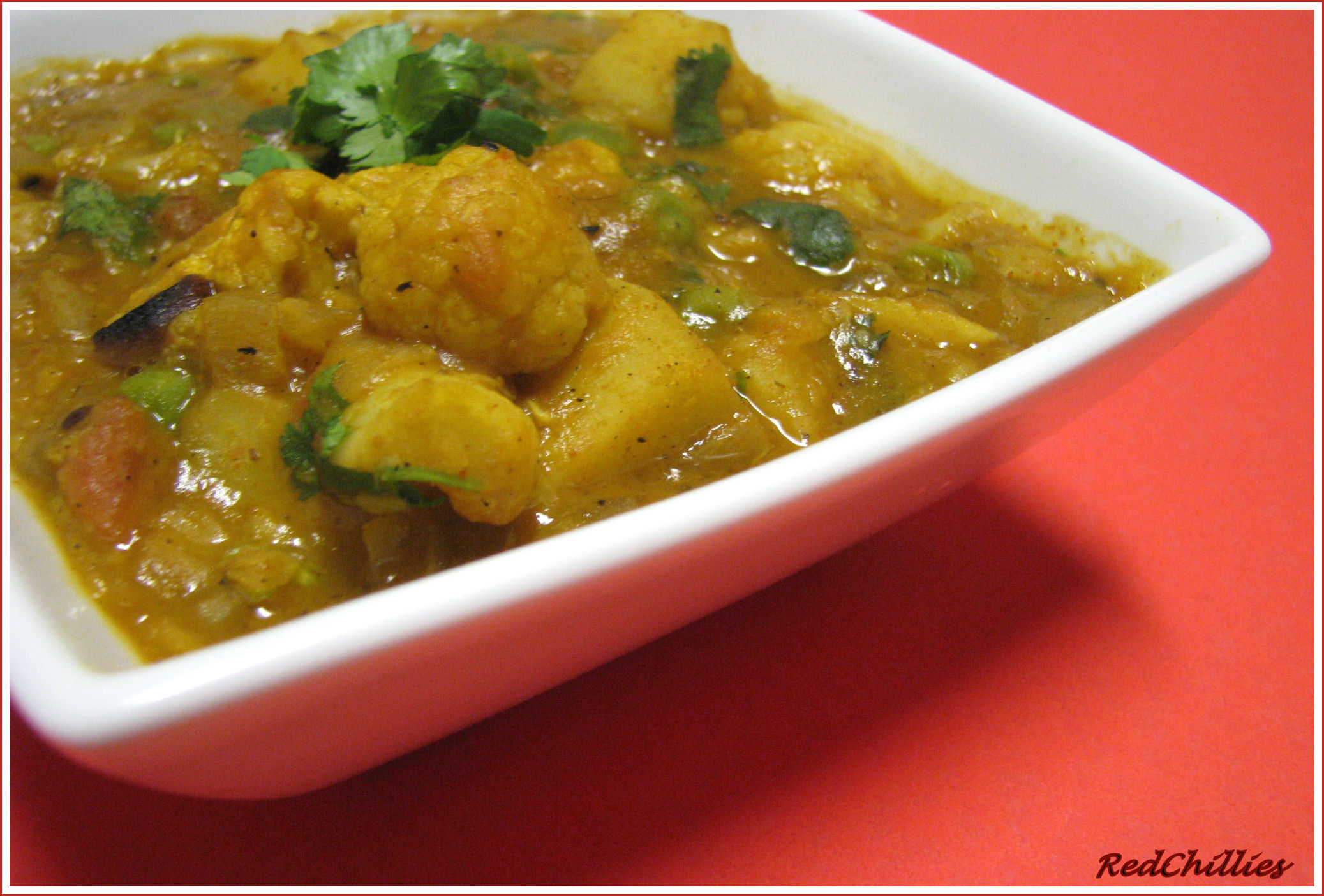 When I went home that day, I did not waste any time in trying out the recipe. Hard pressed for times, I usually look for such simple, delicious and nutritious recipe. This is a one pot meal and the clean up is also a breeze. This forms a great accompaniment with Rotis/Chapathis and also rice. 
Any type of daal or vegetables can be added to this, Moong daal, masoor daal etc. I added cauliflower, peas and potato while Ro added Brinjal(Eggplant) and potato. Either way the taste is wonderful.
Ingredients 
1 cup vegetable of choice ( I used cauliflower, peas, potato)

¾ cup moong daal

¾ cup chopped onion

2 medium tomatoes chopped

1 tbsp grated ginger

1 tbsp grated garlic

Chilli powder

Turmeric powder

Chana masala/ chole masala (powder per taste, any brand)

Cumin seeds

Coriander leaves for garnishing

Oil, salt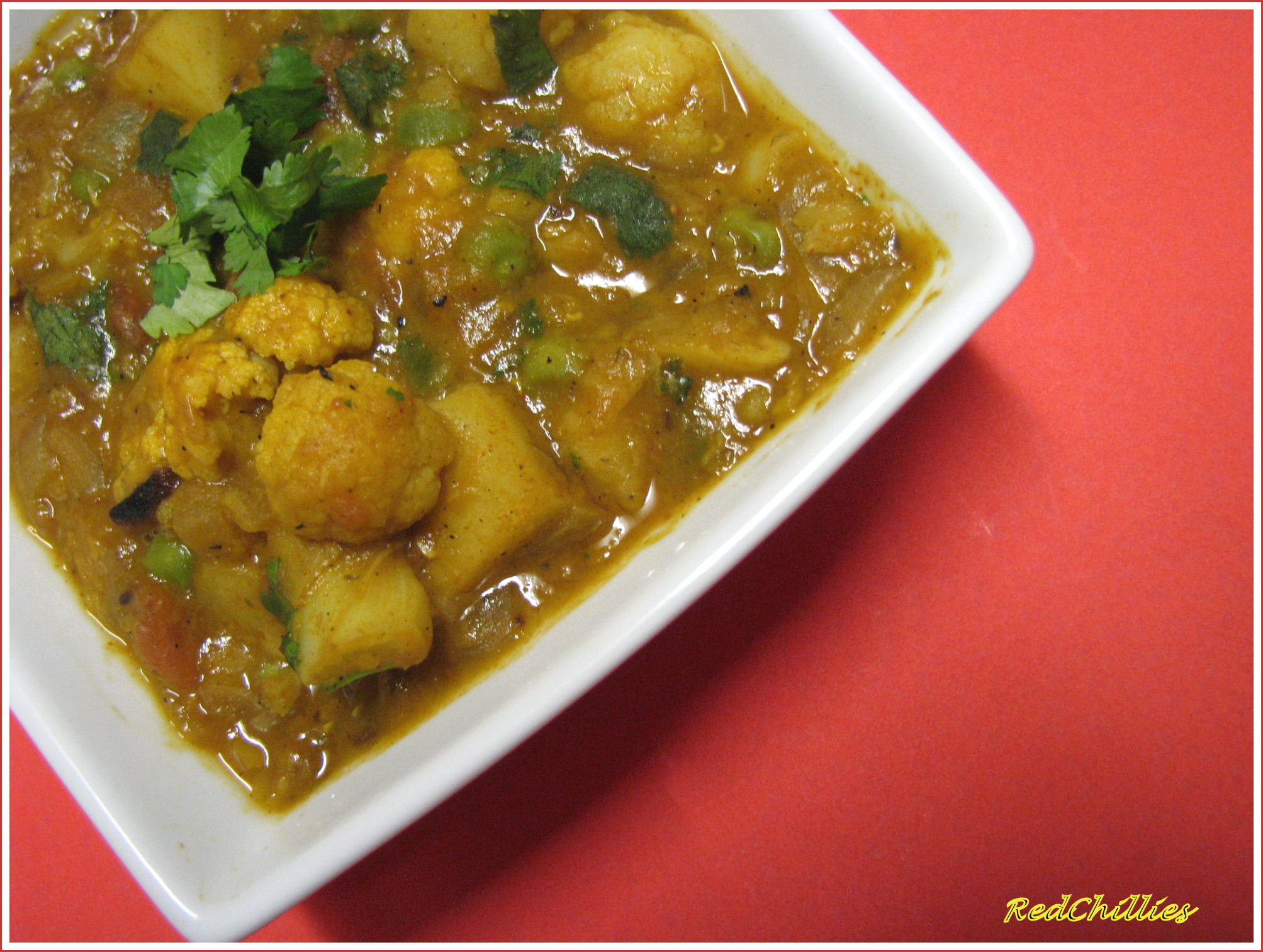 Preparation:
Grate the ginger and garlic and keep aside.

Pressure cook the moong daal using sufficient water until soft and mushy.

Cook the vegetables in water separately as well.
Method:
Take a heavy bottom pan, add the oil. Add cumin seeds, next add the ginger and garlic and sauté until the garlic turns light brown.

Now add the onions and stir until it turns transparent.

Add the chopped tomatoes, salt and cook until the raw smell of tomato is gone.

Add chilli powder, chana masala powder, and mix well. Add more oil at this time if dry.

Add the cooked vegetables along with the water and continue to cook covered. Mash the cooked daal, so that there are no lumps and add to this.

Simmer for a while until the gravy blends with the daal. Check for seasonings.
Finally garnish with coriander leaves before serving.