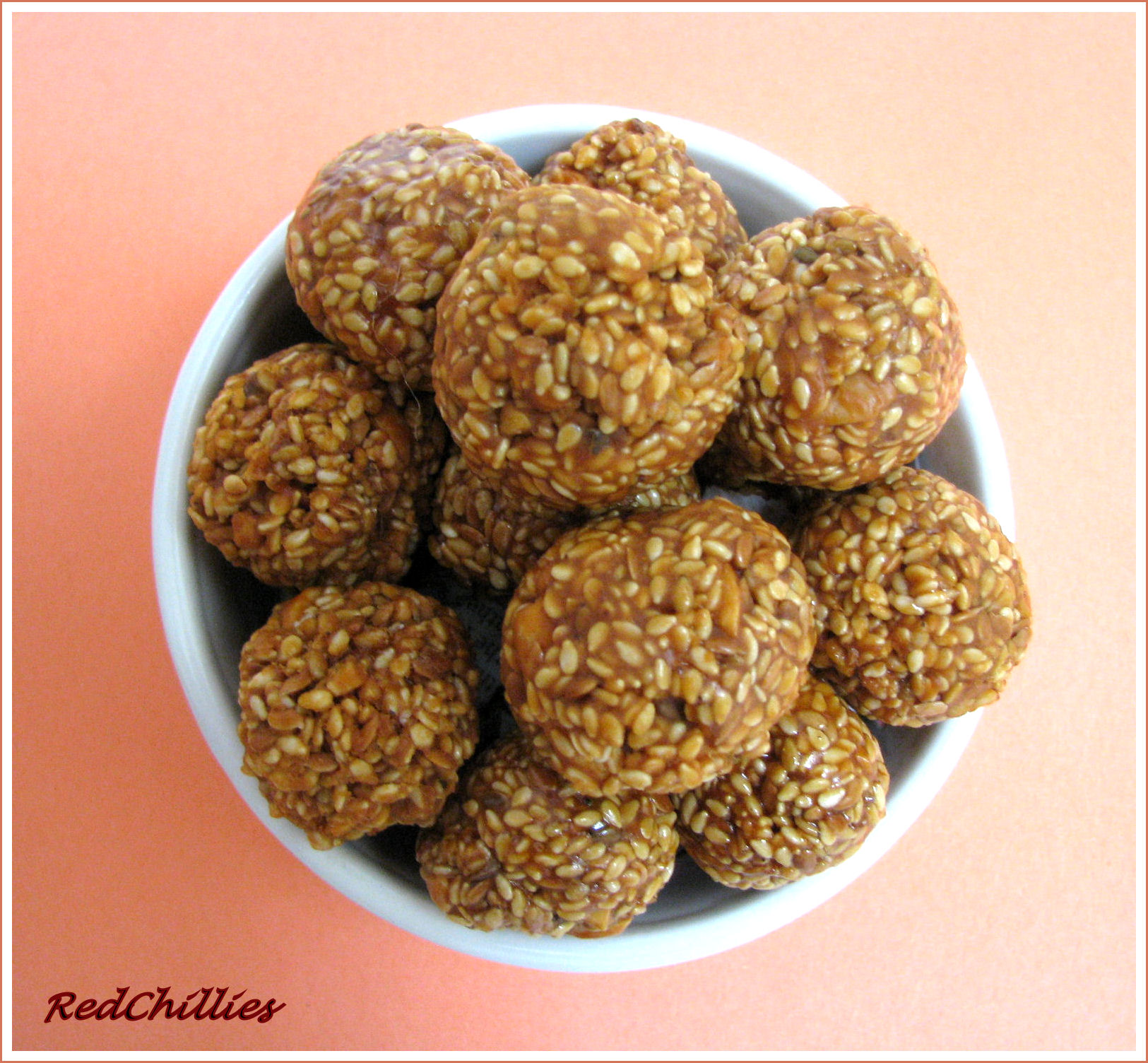 Sesame Seeds and jaggery balls are traditionally prepared in India during Makara Sankranti.
Sankranthi, or Sankranti is a festival that signifies the beginning of the harvest season for the farmers of Indian Sub-Continent. This is a harvest festival celebrated not only all over India but other South East Asian Countries as well.
In Maharashtra people exchange multi-colored tilguls made from til (sesame seeds) and sugar and til-laddus made from til and jaggery. While exchanging tilguls as tokens of goodwill people greet each other saying – 'til-gul ghya, god god bola' meaning 'accept these tilguls and speak sweet words'. The under-lying thought in the exchange of tilguls is to forget the past ill-feelings and hostilities and resolve to speak sweetly and remain friends. (Source:Wiki)
Jaggery is a rich source of iron due to the process involved, using iron utensils. It is considered by some to be a particularly wholesome sugar and, unlike refined sugar, it retains more mineral salts. Moreover, the process does not involve chemical agents. Indian Ayurvedic medicine considers jaggery to be beneficial in treating throat and lung infections (Source:Wiki).
Indira has a wonderful article about Jaggery here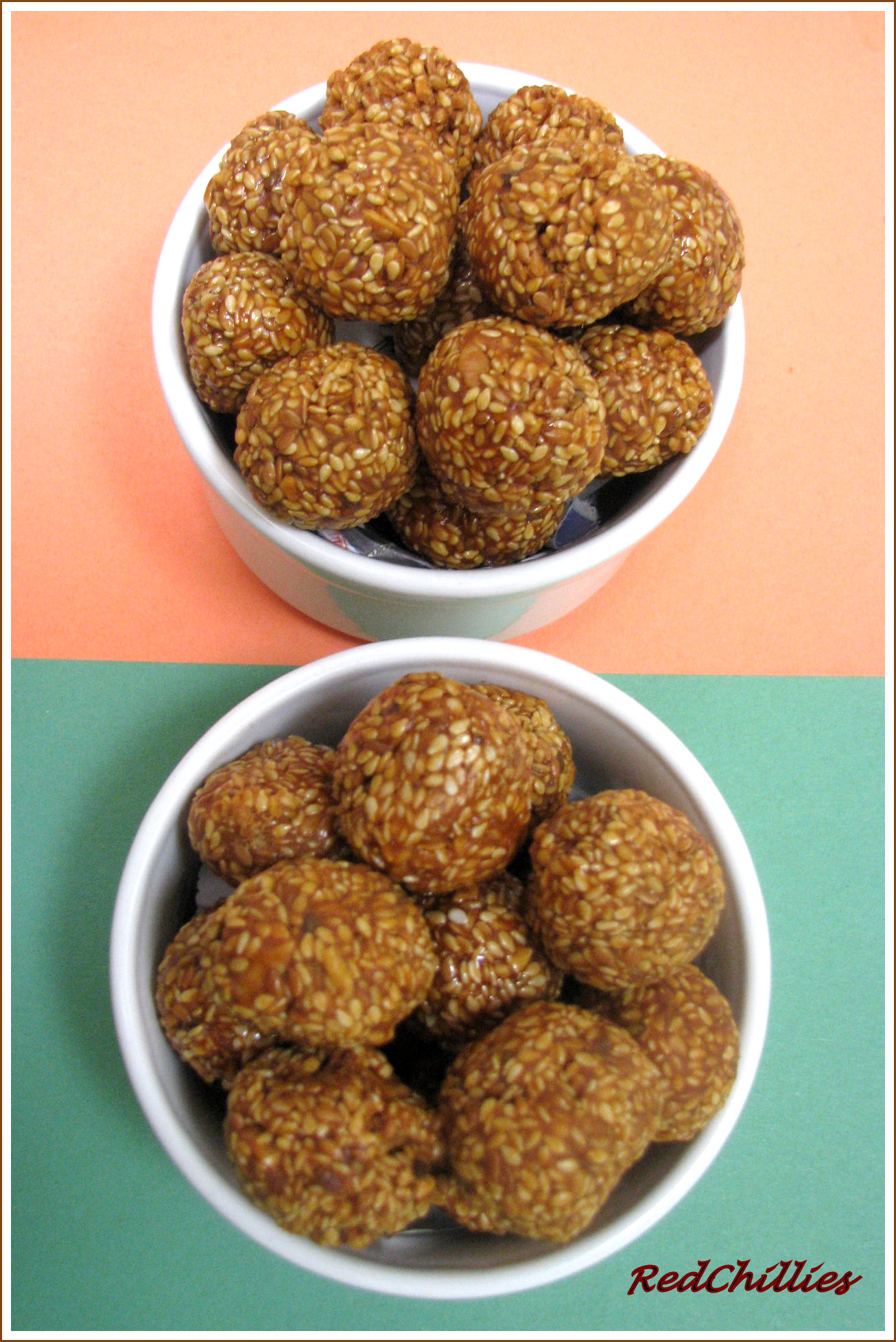 The traditional Til laddoo has jaggery, peanuts and sesame seeds. Addition of flax seeds and nuts is optional.  I added it to incorporate more nutrition and power to the traditional laddoo. Also this is a good way to sneak in flax seeds to a laddoo. The taste or flavor does not change by adding any of these ingredients.
The taste of the sesame seeds laddoo is flavorful, but preparing it requires little bit of practice. Please read the Notes (below) before proceeding and take extra caution while making this. The hot jaggery is like a bubbling volcano and any oversight in handling can lead to mishap.
Notes:
Some people use a special type of sticky jaggery called "Chikki gul" for making these. But I used the regular jaggery found in the Indian stores.

Even if you require more than 15 laddoos, it is recommended to prepare the laddos in batches. Main reason being that it is difficult to handle a big batch of laddos.

When the jaggery becomes hot and bubbly (depending on the quality), it behaves like a volcano and a bottom less pit

J

. So be prepared to add more sesame seeds or peanuts as required.

The mixture is very hot to handle, so gather as many people as possible to make the balls. The more the better

J

. Do not forget to grease your palms.

If the mixture cools down then it is not possible to make it into balls. So reheat the mixture on low flame. The mixture begins to melt and then proceed to make the balls.

Re-heating the mixture tends to change the sweet taste of jaggery to bitter taste. Hence make this in small batches and do not reheat as far as possible.

Do not skip the ghee, as it adds flavor and also a shine to the laddoos.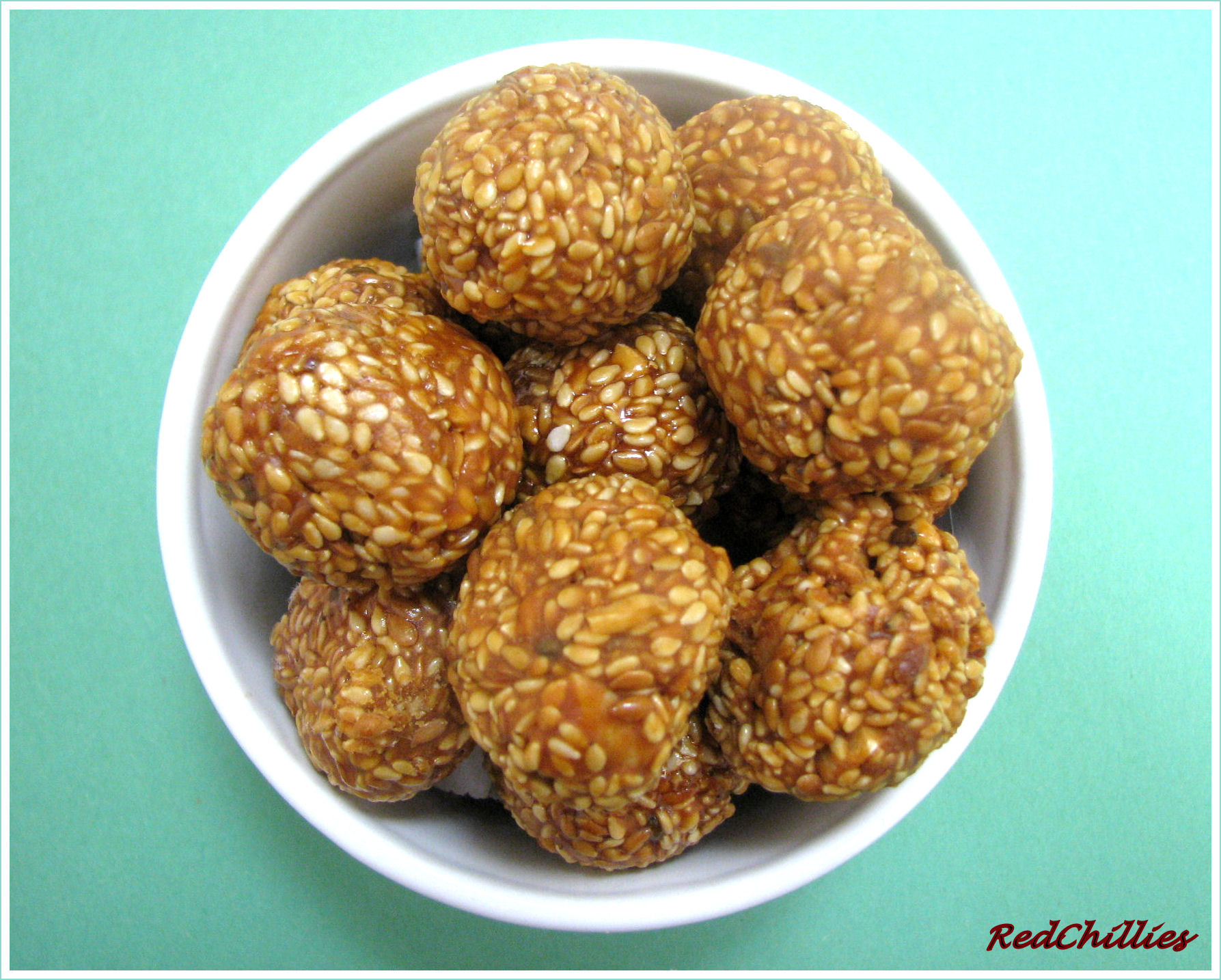 Ingredients:
1 ½ cup sesame seeds (white/brown) (be prepared to add more)

1 cup jaggery powdered ( I used the regular one not the sticky one)

1/2 cup skinned peanuts

½ tsp powdered cardamom

¼ cup water

1 Tbsp ghee (clarified butter)

½ cup flax seeds(optional)
¼ cup powdered walnut, almonds (optional)

 
Yields:
·         15 medium size laddoos 
Method:
Take a heavy bottom pan and roast the sesame seeds over medium heat. Keep mixing well and when it turns light brown, remove and keep aside.

Roast peanuts and crush into small pieces (slightly powdered texture).

 

Keep aside.
In that same heavy bottomed pan, boil the water.

 

Then add the jaggery over medium heat and stir.

After about 5-8 minutes the jaggery dissolves and blends to form a paste.

After a while, it begins to bubble up and when you pull it up with a ladle (wooden) it forms syrup like consistency.

Make sure the jaggery does not get burnt. Now add the sesame seeds in small batches, mixing in between.

Only after the batch is dissolved, add more of the sesame seeds, flax seeds (optional), peanuts, nuts etc. Keep stirring as you go along.

Add the ghee into it, the mixture at this point is sticky and thick. Finally add the cardamom power.

Making balls

: The mixture is extremely hot. So rub some ghee/oil to the palm of your hands. When the mixture is still hot, take some in the palm of your hands. Roll into ball.

If it is too hot to handle, pour a ladle full onto a plate, spread it a bit and then take bits of it and roll into a ball

.

Similarly make the laddoos from the remaining mixture and let them cool. Store in an airtight container.

 

If the mixture cools down then it is not possible to make it into balls. So reheat the mixture on low flame. The mixture begins to melt and then proceed to make the balls.