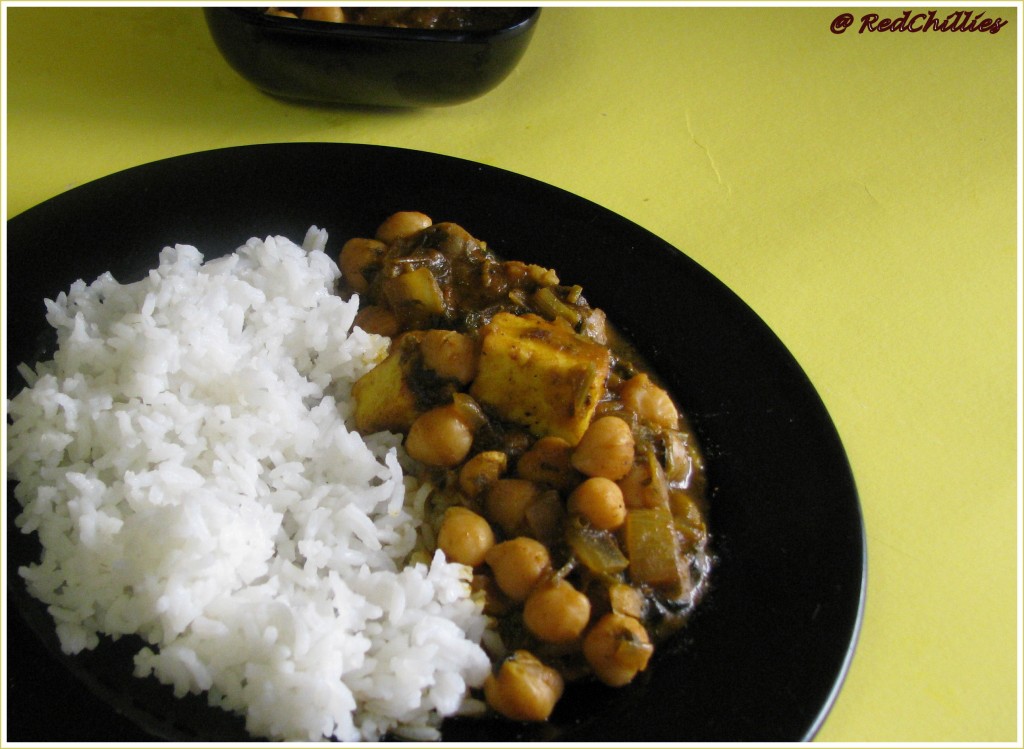 One look at the Palak Chole on Indira's website and I had been craving for it ever since. I was looking at it during my lunch time, and that appetizing did not help matters in any way, it made my stomach rumble even moreJ.
Luckily I had soaked some garbanzo beans to make a dry fry for the dinner. Garbanzo beans are my favorite amongst beans and love it in combination with any greens.
I did not have Palak(Spinach), so went ahead and used Methi (Fenugreek). We do not get fresh Methi leaves during summer here so I used frozen Methi leaves for this.
Our little one likes Paneer and also cooked Chickpeas, so I used that also in the curry. This goes very well with Rotis and or Yogurt Rice.
Chana masala (also known as Chole) is a North Indian/Punjabi dish which consists of chickpeas. It is fairly dry and spicy with a sour taste and pairs well with Rotis/ Phulkas, Baturas or even Rice. This tastes good when it is cooked ahead of time at least 4-5 hours or even more before serving.
You can find the regular version of Chana Masala/Chole here.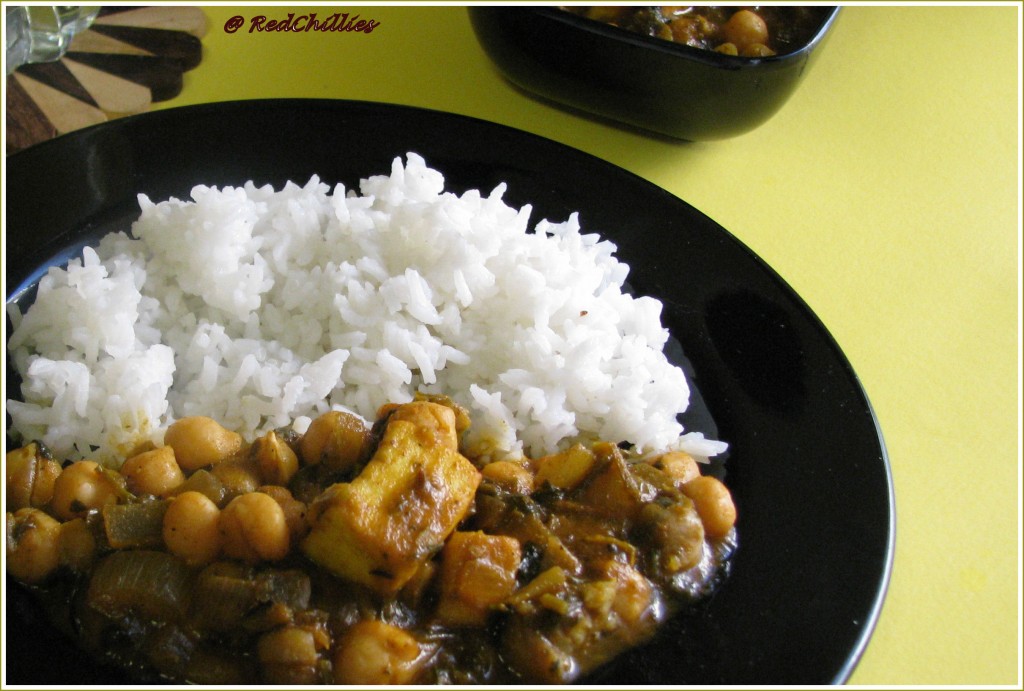 Ingredients: up1/1.1.5
2 cups chickpeas/ garbanzo beans(dry or canned)

2 cups of packed cleaned methi leaves (Fenugreek) fresh/frozen (If frozen use about 2 cubes)

Chilli powder as per taste

2-3 tsp chole masala (any brand)
Method:
I have used

Indira's method

for thickening the gravy. Take a handful of cooked beans and blend it in a mixer. Keep it aside.

Grate the ginger and garlic and keep aside.

 

If using the dry variety, make sure to soak the beans overnight or for about 8-10 hours in enough water.

 

Pressure cook the garbanzo beans using sufficient water. Retain the water.

Now take a heavy bottom pan, add the oil. Next add the ginger and garlic and sauté until the garlic turns light brown.

Add the cloves and cinnamon and stir for a while. Now add the onions and stir until it turns transparent.

Add the chopped tomatoes, salt and cook until the raw smell of tomato is gone. Add more oil at this time.

Add the chopped methi leaves, beans paste and stir it well. The aroma of it is just heavenly.

Add chilli powder, chana masala powder, and mix well. Add more oil at this time if dry.

Add the cooked beans, paneer cubes along with the some of the water and continue to cook covered. Simmer for a while until the gravy blends with the beans.
Goes well with Rotis/Chapatis and or Rice.