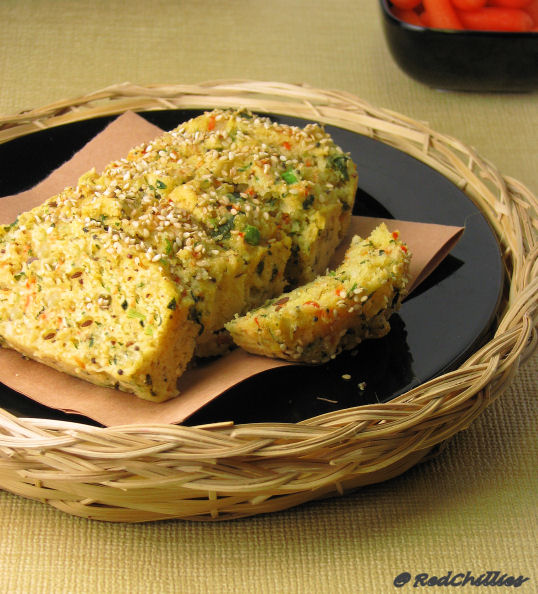 I had bookmarked this recipe for Savory Semolina Cake from TBC long time ago and had since been in my to-do list. She had adapted this recipe from Anjum Anand's website from Here.  So last Friday evening when I had some time I decided to give this a try. I involved DS in this as he likes mixing, measuring etc and it is a good way to keep him busy. At the end of it all he feels proud and happy that he is a big boy and that he can bake a cake.
It did not take much time to put this together; let me warn you that the batter by itself tastes delicious and is addictive. I was not hungry at that time; otherwise I am sure I would have finished eating the batter as is.:-)
Don't be bothered by the long list of ingredients below. The process of making this is simple and straight forward. It is versatile too and you can substitute any vegetable of choice instead of the ones that I have listed like cabbage, beans etc or skip some ingredients, make it spicy and probably add more greens like spinach, Methi etc.
Taste Test: It is a light tasting savory cake; the inside tastes like vegetable Upma/Rava Idli but with lightly crusted outside. As an added bonus, it is healthy, low fat and guilt free snack too. Good one to snack on as is or as an accompaniment with afternoon tea/coffee. I am glad I found this and I am sure I will make this often.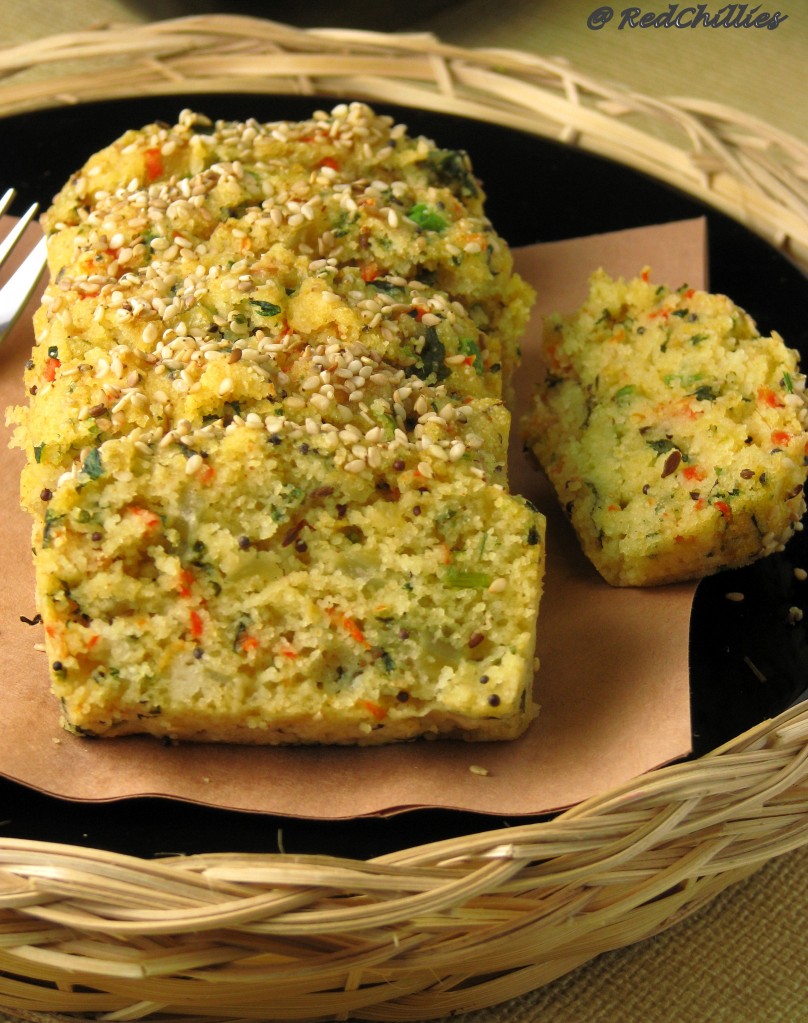 Recipe Source: Adapted from Here
Ingredients:
1 cup semolina/rava/sooji/cream of wheat [I used the fine variety, no need to roast the rava]
1 cup plain yogurt (I used low fat)
Turmeric a pinch
1 tsp baking soda
1/4 cup water
1 tsp Salt
1/2 tsp sugar
Sesame seeds (for topping)
For Seasoning:
 1.5 Tbsp oil
 1/2 tsp mustard seeds
 ½ cup onion, finely chopped
 ½ cup chopped coriander leaves
 1/3 cup frozen peas
 1 finely chopped green chillies
 ½ tsp grated ginger
 ½ cup shredded carrots
 Pinch asafetida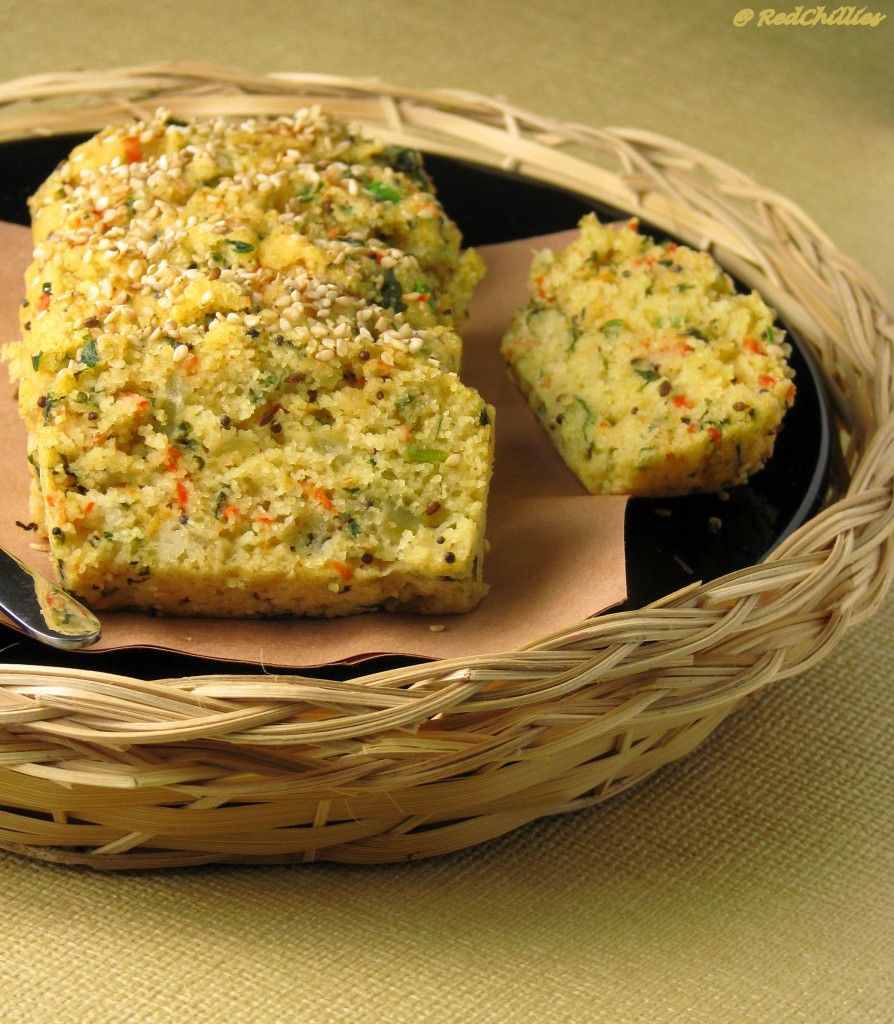 Method: 
Preheat the oven to 375 F and grease a baking pan. 
 Take a large bowl and mix together the semolina, yogurt, salt, sugar until incorporated. Let it sit aside. 
 Heat the oil in a pan. Add the mustard seeds, onions, asafetida green chillies, ginger until the onions have sautéed. Add the carrot, coriander leaves, and peas and cook for a minute or two.
 Add this to semolina mixture and mix well. Add little water if the mixture is thick.
 Add in the baking soda; mix in pour the batter into the greased pan.
 Garnish the top with sesame seeds and place it in the oven.
 Bake for 35-40 minutes, or until a knife/toothpick inserted in the centre comes out clean.
Remove from the oven and allow to cool Slice into bits and serve as is or along with spicy chutney.