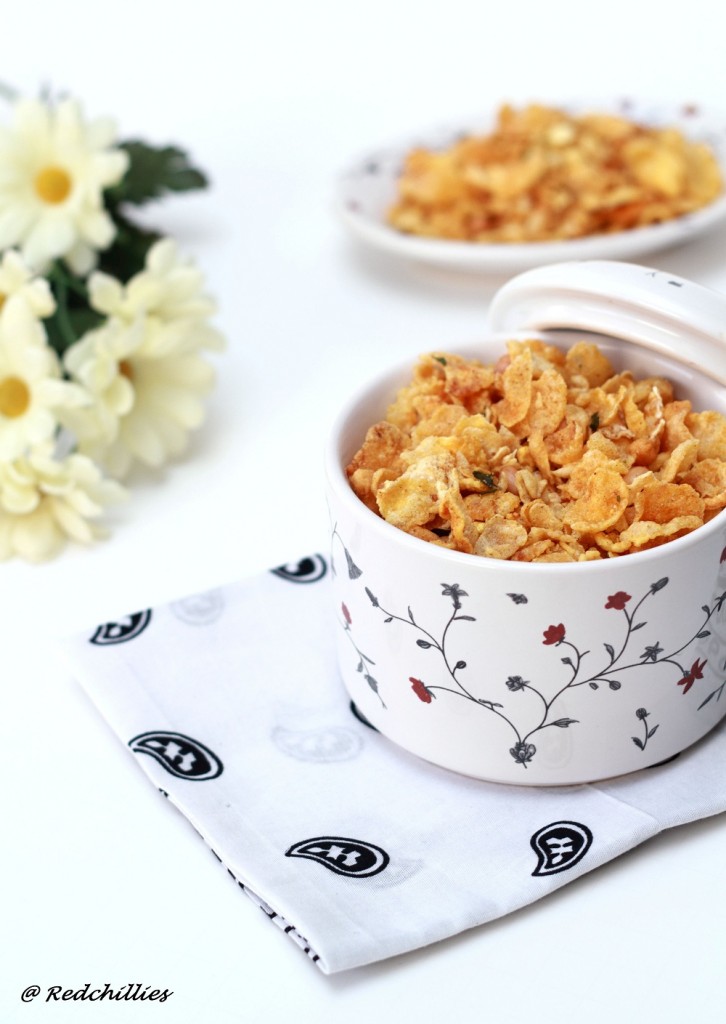 Chivda is a popular snack of Maharashtra and North Karnataka usually made of flattened rice/poha. It is then spiced with masala and jazzed up with other ingredients like peanuts, raisins, cashews etc.
When we talk about chivda, usually the picture of poha chivda comes to mind. But this chivda/mixture is made of Corn Poha. Please note that I am not referring either to the frozen corn or corn flakes (cereal). This Corn Poha is available in the Indian stores right and is usually placed next to the regular poha. It is yellow in color and is bigger, puffed than the regular poha.
This corn poha does not absorb oil like the regular poha chivda. I prefer this over the regular poha chivda.  I also prefer the deep fried version rather than the toasted or the micro wave version and it does not have the real taste. There are tons of ways of making it, but this is how my Mom makes it and I usually follow this method.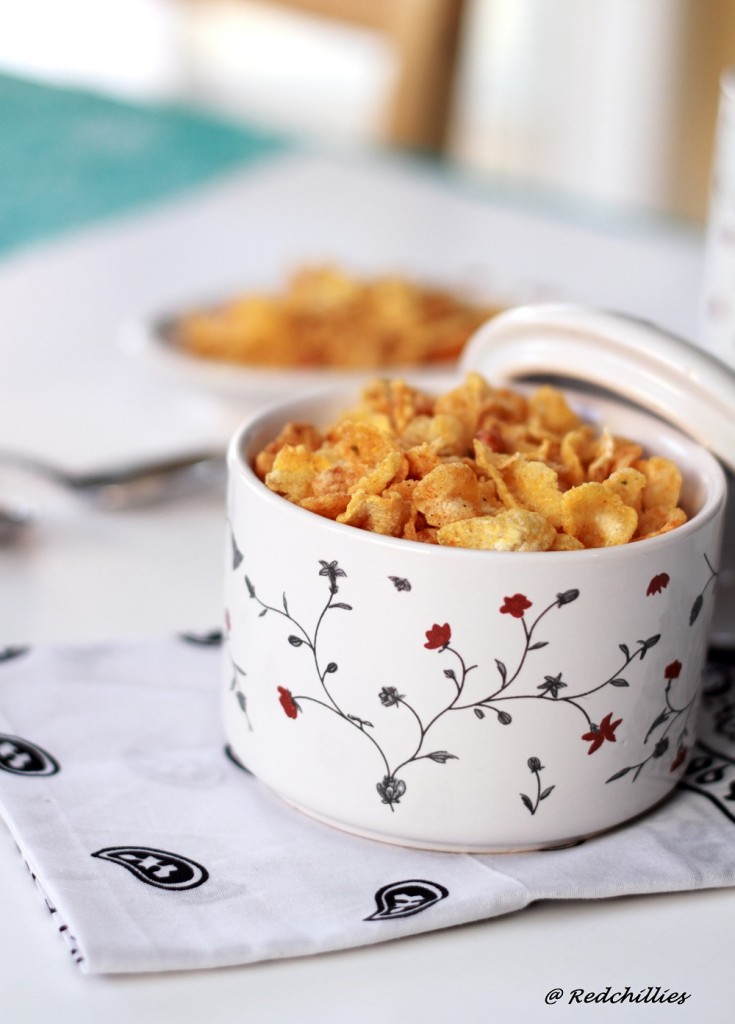 The credit for these pictures goes to DH. He is an avid photographer but thanks to some pestering from certain somebody he has been showing interest in food photography. 🙂
Ingredients
2 cups Corn Poha/Pressed Maize
½ cup Peanuts/ Groundnuts
2 tsp Fennel seeds
Cashews/raisins (optional)
Oil for Deep frying
Masala Powder
1 tsp Red Chili Powder
1/4 tsp Turmeric Powder
A pinch citric acid (optional)
1 tsp Sugar
Salt to taste
Method:
Masala Powder: In a small bowl mix together the ingredients for the Masala Powder. Check taste and adjust ingredients as needed. This has to be strong as this will be spread over the fried poha.
Note: I prefer not to deep fry the cashews, raisins and fennel seeds. So for this take a small pan, heat about 1 Tbsp of oil and fry peanuts until light brown and crispy. Keep side. Then fry the curry leaves, cashews, raisins and fennel seeds. Mix them all together and keep aside.
Now deep fry the corn poha. Heat oil in a big deep frying pan over medium heat. Keep all the things needed for deep frying handy. Also keep a big plate covered with paper towel.
Divide the Corn Poha so that it can be fried in 3-4 batches.  First put in about 4-5 of them and see if they puff up, if it does then it has reached the right temperature.
Deep fry the first batch and transfer to the plate. Use more papers as required to drain the oil.
Take about 1 tsp of the masala powder and sprinkle over the fried corn poha and mix well. The masala should be added to poha when it is hot as it sticks better.
Next deep fry the next batch of corn poha, transfer to the plate and sprinkle another spoon of masala and mix well. Repeat until the poha is finished and mix well.
Add the fried cashews, raisins, curry leaves, fennel seeds to this. Add the masala powder more as needed and mix.
Note: You can also add some readymade savory sev and savory boondi to this.
Let this cool and then store in dry airtight containers.