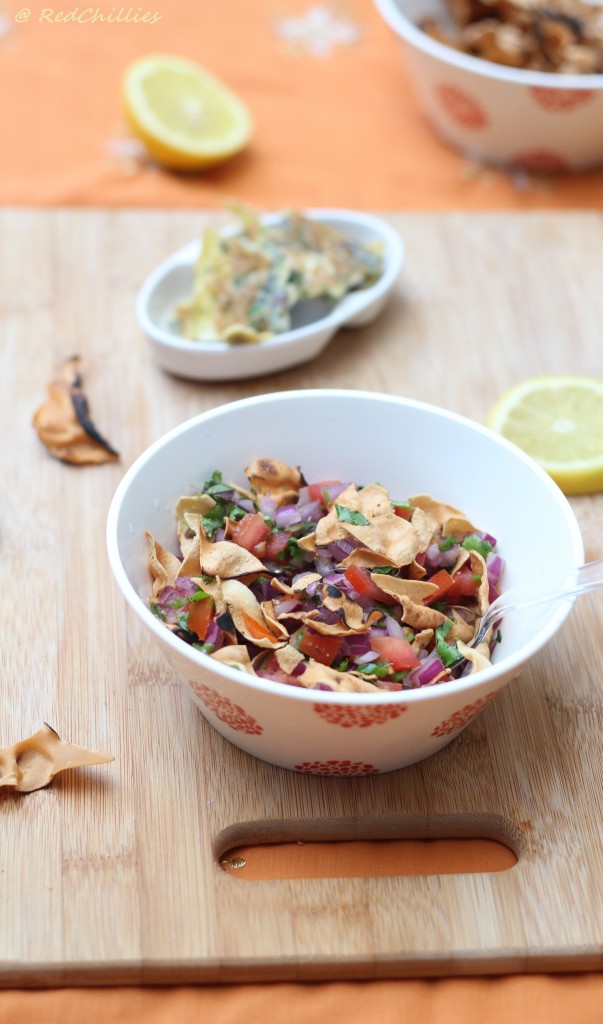 You know what Masala Papads are? Crispy papads topped with spicy tomato onion salad that makes a refreshing starter/appetizer? The one's you find on the top of a restaurant menu, right? 
Well, I tweaked it a bit and crushed the papads and mixed it with the salad. The reason for this is that I misplaced the wire mesh which I use to roast papads. Now this wire mesh has a handle, which is used as a barrier from touching the gas flame directly. 
Like I said, I misplaced the mesh and when I roasted them directly on the flame, they began to curl at the edges and formed an un-even cup. A big no-no if you want to make masala papads, which calls for flat roasted papads. 
Now, I am not too fond of roasting the pappads in the microwave or on the Tava. I like to do it the old fashioned way, which is roasting it on the gas flame and seeing it lightly charred. My mom roasts them directly on flames without using a wire mesh or the tongs, but I get intimidated and have to use a wire mesh. 
Anyway, all this lead me to make an unintended tweak to the original recipe. But we enjoyed it anyway as a side dish with our meal. 
I would love to hear, how you generally roast the papads? 
Hope you enjoy this quick fix, tasty snack or a side dish for lunches.
 Have a great weekend, yall!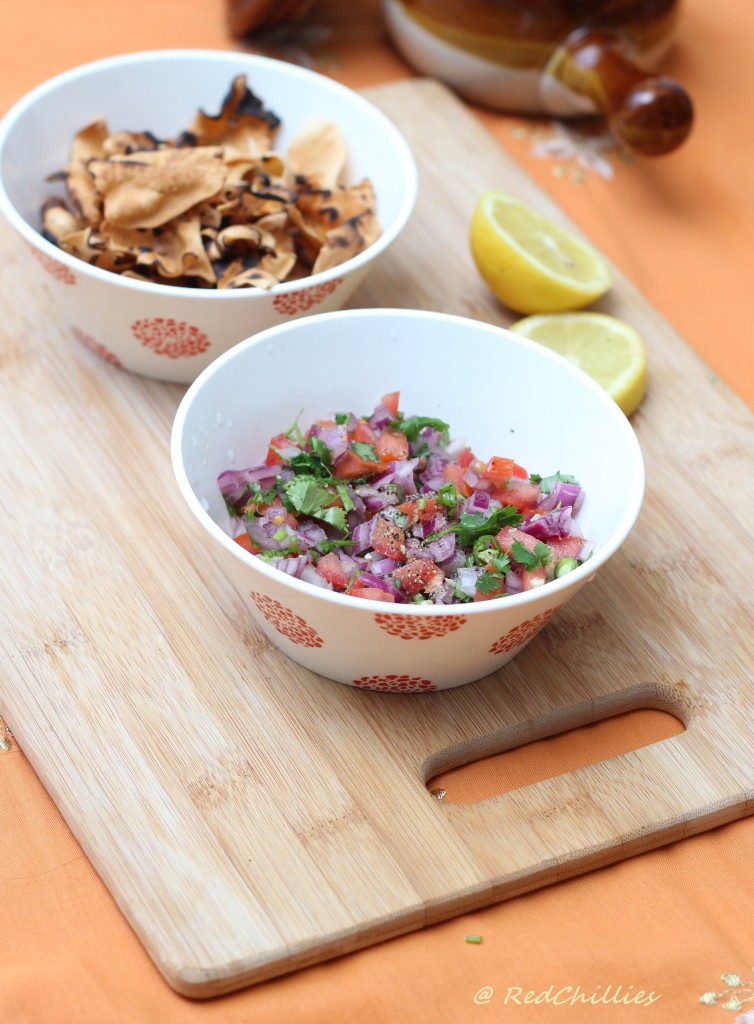 Ingredients 
5-6 pappads
1/2 cup finely chopped onions
1/4 cup finely chopped tomatoes
1 green chillis (finely chopped)
½ tsp pepper powder
Juice of a lemon
salt to taste
2 tbsp chopped coriander (dhania) for garnishing 
Method 
Roast the papads on a medium flame and keep aside. Crush them into medium pieces.
In a bowl, combine the onions, tomatoes, lemon juice, pepper powder and salt and mix well. Check for taste.
Add the crushed pappads to this, gently stir one or twice.
Serve immediately garnished with coriander.