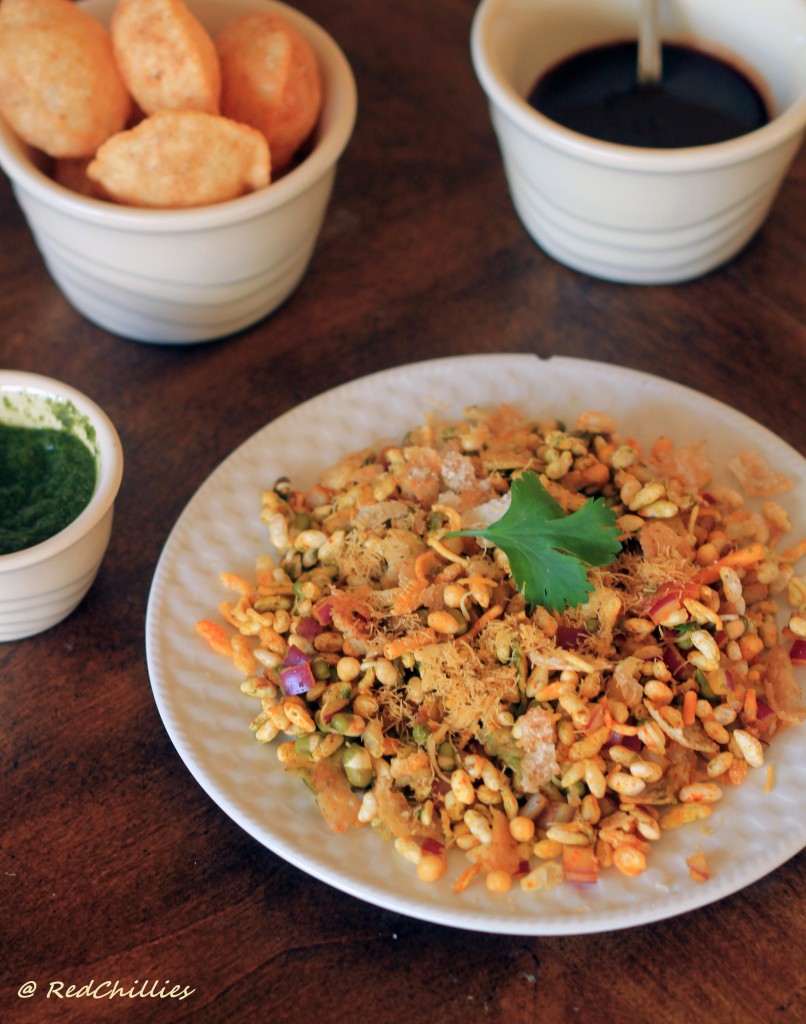 Bhel Puri is a combination of puffed rice along with vegetables and spicy, tangy chutney/auce. This is the most commonly sold chaat/fast food in many places in India. It is a snack with an iconic status in Western India. Bhelpuri is low-fat, delicious and eay to make! 
After a long day at work, or on days when I have no mood to cook, we have Bhel Puri for dinner. I store all the dry ingredients in the pantry, the chutney in the fridge and we just combine all these to whip up a delectable "khatta-meetha-theeka" light dinner. On the last road trip we took, I packed all the ingredients required to make bhel puri and we had it many times as snack or even as dinner. 
You can get creative and add or remove things you like to make it unique. The ingredients listed below are pretty much the standard. You can add like cooked black chana, cooked kabuli chana garbanzo bean, grated carrots, raw mango, and cucumber to cater to your taste. You can reduce the amount of sev and crushed puri to reduce the amount of fat as they are the only fattening ingredients.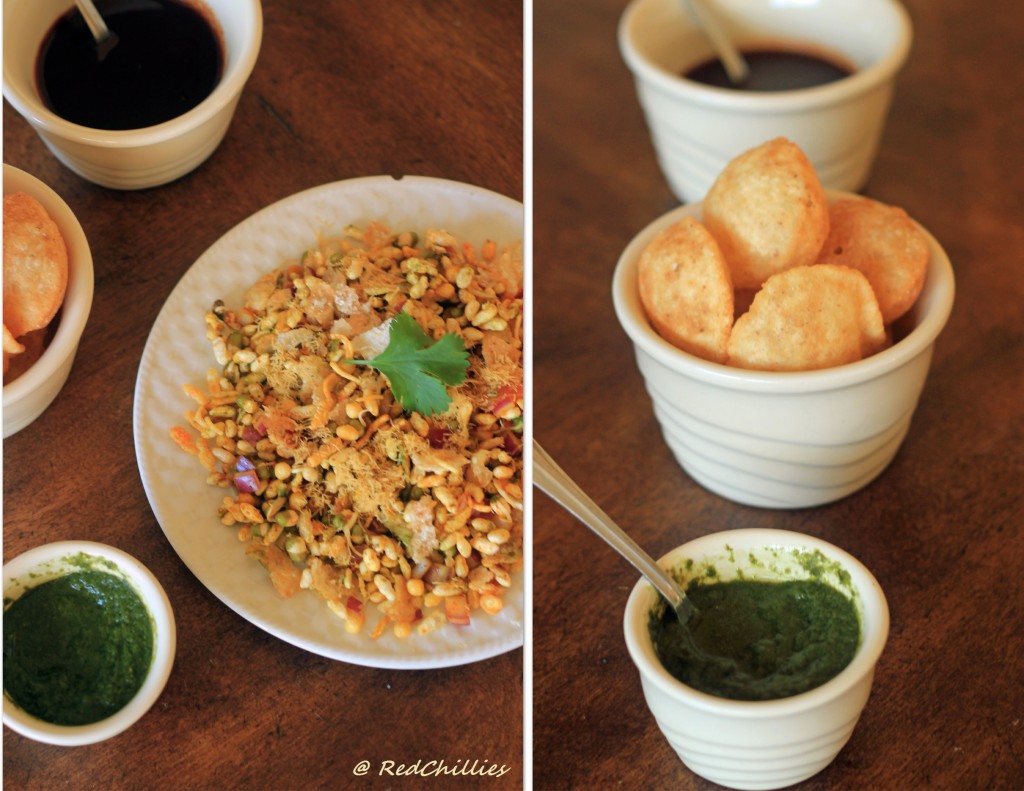 Adjust the amount of chutney depending on your taste. I love the 'khatta' and sweet taste of the tamarind chutney while DH loves the spicy coriander chutney.
The key to remember is to assemble the bhel puri few minutes before eating; otherwise if kept for a while it becomes soggy and looses taste.
Ingredients:
3 cups puffed rice/murmura (available at Indian stores)
2 small potatoes (peeled , boiled and mashed)
½ cup of sprouted moong
½ cup of roasted peanuts
1 onion (chopped)
1 large tomato (chopped)
½ tsp red chilli powder
A handful of coarsely crushed crispy papdi/puri
Sev (as required for the topping)
Chopped coriander for garnish
Tamarind chutney (per taste)
Spicy coriander chutney (per taste)
Spicy chutney :
1 cup corriander leaves
2 to 4 green chilies (based on taste)
3 tablespoons lemon juice
1 tsp roasted cumin seed powder (optional)
salt per taste
Method:
Blend everything to a smooth paste adding water (1/4 cup). This should be spicy (hot). Do not worry about the taste as this will be compensated by the sweet taste of tamarind chutney.
Bhel Puri Method:
Take a dry big bowl. Add the puffed rice, moong sprouts, red chilli powder, peanuts, mashed potato, onion, tomato together in a large bowl.
Add the Tamarind chutney and coriander chutney as per your taste.
Mix well and garnish with coriander leaves, sev and papdi. Serve immediately.