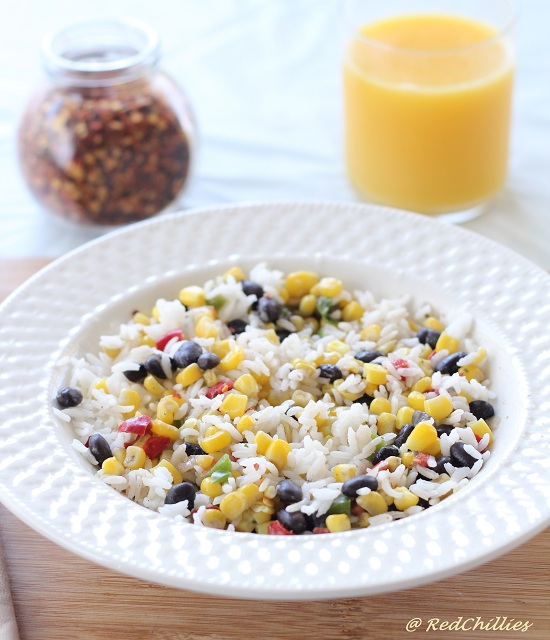 I am thrilled to kick start the Light Lunches event here with one of our favorite rice salads; South west inspired corn, black bean rice salad. We eat this regularly at Chipotle (chain of fast casual restaurant) and its enticing taste has prompted me to try this at home.
With stuff like corn, black beans, peppers, cilantro and lime it is not only eye catching but bursting with flavors as well. It is light on the stomach but delicious and pleases the taste palette easily.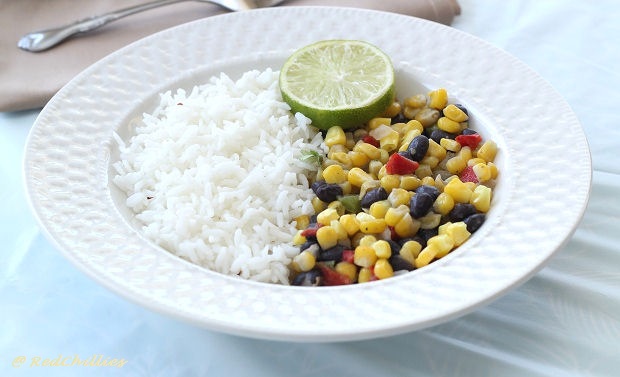 The quantity mentioned in the ingredients is for reference. You may change the quantity as per your taste. For example, I like more of corn and less of black beans while DH is the other way around and adds lots of lemon and jalapeno. 
As you go along eating this salad, you might find it to be a little dry mainly because of the presence of black beans. So I suggest gulping this down with a healthy juice or a shake as that evens out the dryness.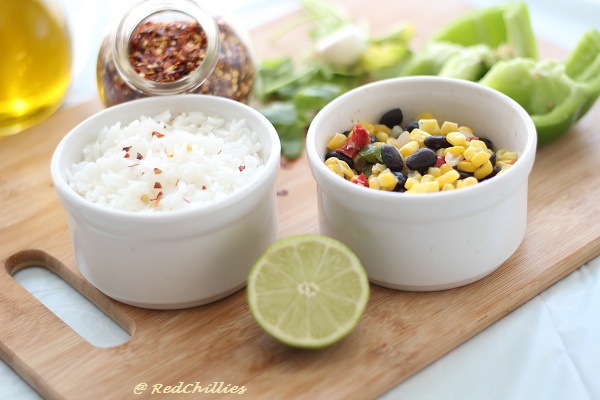 On a final note, don't forget to leave your comment on the Event page (if you have not done so) and win that cool Taste of Home cookbook. The event ends on June 20th and there are only 14 days left.
Ingredients
1 cup white rice (already cooked)
1/4 cup black beans ( rinsed and drained )
1/4 cup corn kernels (fresh/frozen)
1 small bell pepper/capsicum (any color diced)
1 small onion chopped (optional)
1 Tbsp of cilantro (chopped)
1 medium jalapeno 
Dressing
Juice of 1 lemon/lime
1 garlic clove (peeled and pressed)
1 tsp chilli flakes
1-2 Tbsp oil (divided)
Salt per taste
Crushed pepper 
Method 
First prepare the dressing by mixing, lemon juice (only half), chopped garlic, chili flakes, salt, 1 Tbsp oil and pepper in a bowl. Keep aside.
In another bowl, add warm rice and mix it along with juice of remaining part of lemon, 0.5 Tbsp oil, salt, cilantro and mix well.
Take the beans, corn, jalapeno, onion and pepper in large serving bowl. Add rice after it has cooled.
Whisk the dressing slowly over this. Stir gently to combine.
Serve with juice or with tortilla chips.