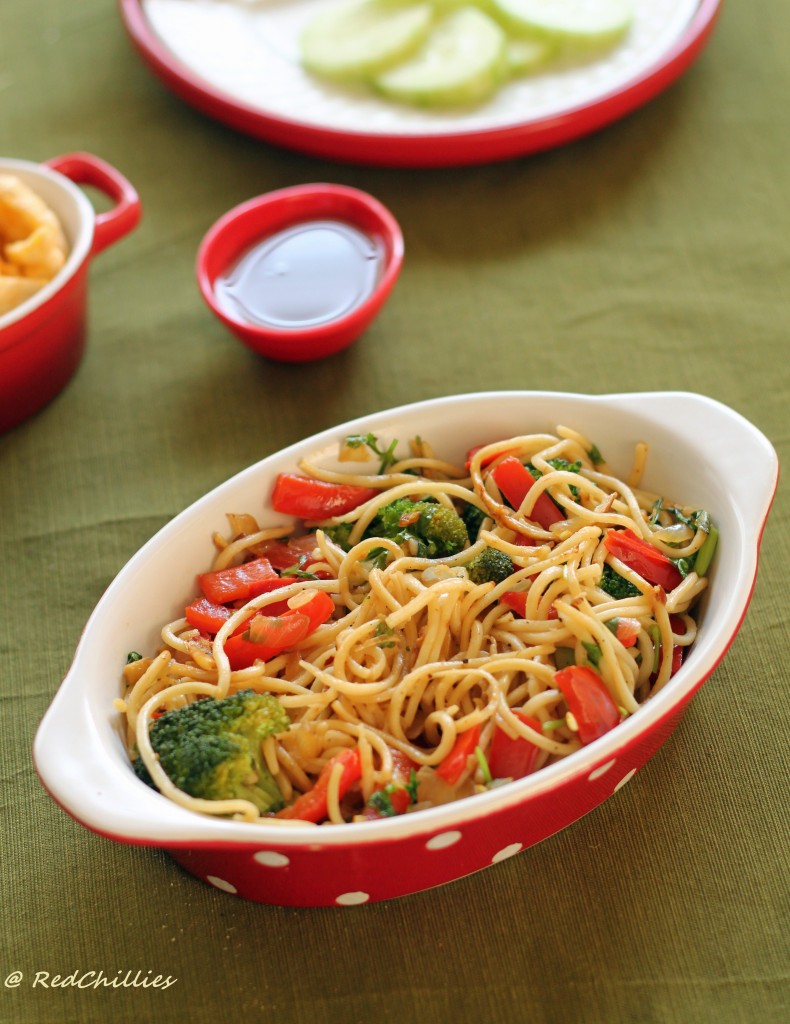 The other day a friend of mine asked me as to why I have not been posting Kids' recipes often. She said it is helpful for moms like her with picky eaters to get some ideas for lunch boxes or otherwise. Well, I agreed and told her that I have not been posting as I intended, which was once a month but it is just not happening.
 It is not that I don't try some new stuff on the kiddo, but it is just the lack of time to post the recipes. Juggling between work, kiddos activities, his homework, household stuff sometimes I feel there is just not enough time. Thankfully it is not the lack of enthusiasm to post or cook so I am pretty sure that once I find time I will be posting often.
Noodles are an all time favorite of the kids and so I prepare it often. I don't add any type of sauce in this; it is just noodles tossed with toasted garlic and vegetables. You can add or subtract vegetables of your choice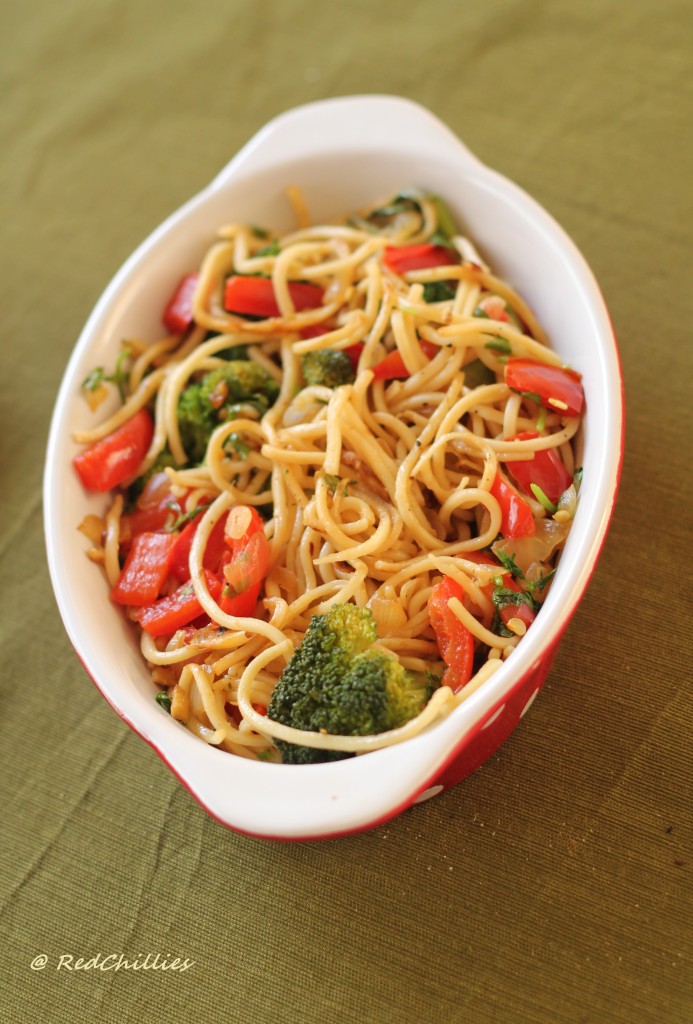 Ingredients:
3 cups noodles (cooked, it is hard to give this measurement, so this is approximate)
½ cup broccoli + ½ cup capsicum (any veggies of choice)
2-3 spring onion finely chopped (top and white part discarded)
1 small onion (chopped lengthwise)
2 tsp ginger + garlic paste
A pinch of red chilli flakes
½ tsp Crushed black pepper/pepper powder
1 Tbsp Oil
salt to taste
Method: 
Boil the noodles (as per the instructions on the package) along with salt. Add 1-2 drops of oil while boiling.
Toward the end I add the broccoli florets and let it cook for a minute. Drain the water and keep aside.
 Take a big heavy bottom pan, and add oil on medium to high heat, put in the ginger garlic paste and cook until brown.
Start adding the vegetables, onion first sauté and then add the chopped capsicum and cook.
 Add the cooked noodles (along with broccoli) and mix well with the vegetables. Drizzle little oil if necessary.
Add the chopped spring onion. Finally add the crushed/freshly milled white or black pepper and red chilli flakes.