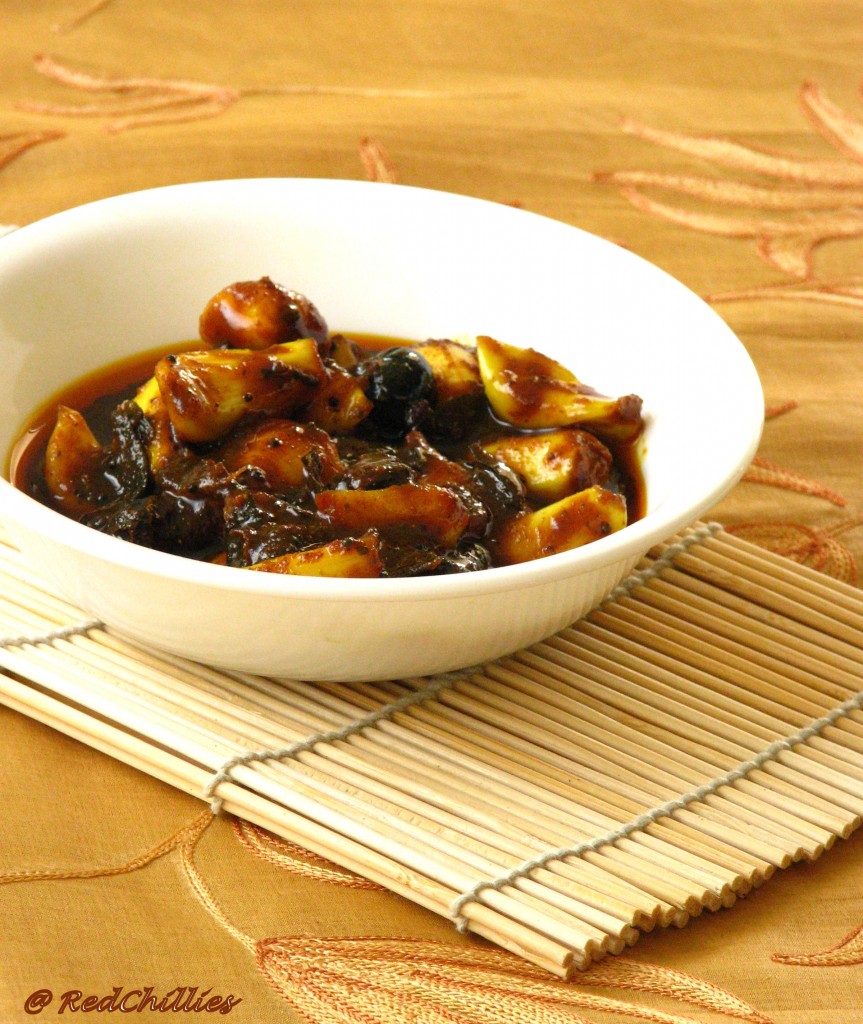 For folks here in the United States hope you are having a pleasant thanksgiving long weekend. Unlike the hectic weekends we have been having over the past few weeks, we have been taking it easy and relaxing most of the time at home. The weather also has drastically changed, with temperatures sometimes reaching close to 0 C during nights and early mornings. Most of the time all I want to do is curl up with a book or a movie and sip on hot tea all day.
 So that is what I did on the first day of the holiday when I just took it easy, cooked some   pongal and watched some old sappy movies. The husband decided to spice up the food a bit and decided to make some spicy pickle. After looking for some recipes on the net, we finally settled for this one here. We were sure that the combination would tickle our taste buds and also provide from respite from the cold. We tried it and were pleased with the recipe; I am sure we will try it again soon.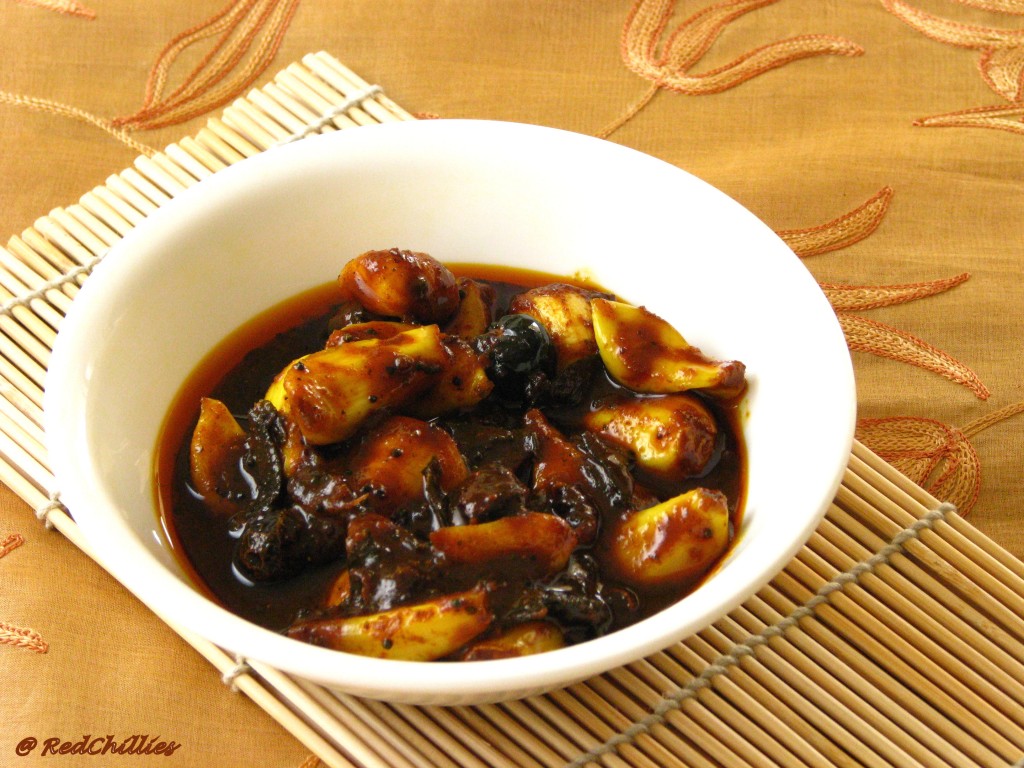 This pickle has a nice combination of sweet, spicy and tangy; all the essentials to make it a lip smacking recipe. Even if you do not like raw garlic, the taste of the pickle juice/sauce (sorry, I am not getting the right word for this) makes it worthwhile. Substitute garlic with other veggies like cauliflower, raw mango (skip lemon) or even cauliflower. This pickle tastes deadly with pongal or with just plain daal rice. 
Recipe: Adapted from Vah chef
Ingredients:
20-25 small/medium garlic cloves (peeled)
2 tsp mustard seeds
1 tsp cumin seeds
5-10 curry leaves
Asafetida a pinch.
1 Tbsp finely chopped ginger
½ tsp Turmeric
¼- ½ cup powdered Jaggery
1 tsp mustard powder
3-4 fenugreek seeds
Juice of 2 lemons
2-3 tsp chilli powder
Salt per taste
1/3 cup Oil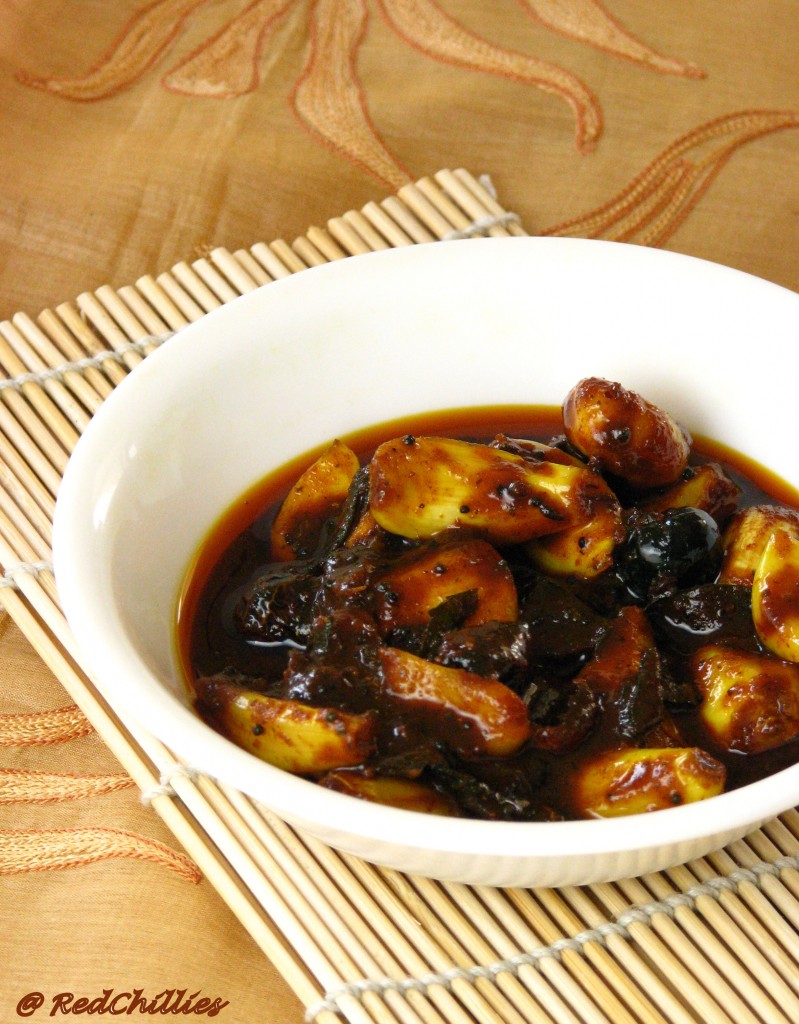 Method: 
Peel the garlic and take about 20-15 medium sized individual pods.
In a bowl, squeeze the lemon juice and add some salt in it. Put the peeled garlic in it and let it marinade for about a day.
The next day heat a medium pan and add the oil. Add the mustard seeds, cumin seeds, asafetida, fenugreek seeds and curry leaves.
Add the powdered jaggery and stir well. Continue to stir until it dissolves and becomes frothy.
Next add the turmeric, ginger, chilli powder, mustard powder and mix well.
Finally add the garlic pods, salt (as needed) and the lemon juice used for the marinade. Cook for about 5 minutes and switch off the gas.
The pickle tastes better after 2-3 days when everything blends and marinades well.