Indian style stuffed vegetable dishes that I know of are notorious for being complicated and time consuming. What with the roasting of spices, grinding, stuffing and cooking it can take up a better part of the day. I have this experience while making the stuffed brinjal, a traditional coconut based stuffed dish. 
But this stuffed bell pepper dish on the other hand is quite easy to dish out and looks elegant too. There is no roasting of spices or grinding and since the capsicums are baked, they do not require the baby sitting. I am really excited about this recipe, so without much talk let's get started and make the potato stuffing shall we?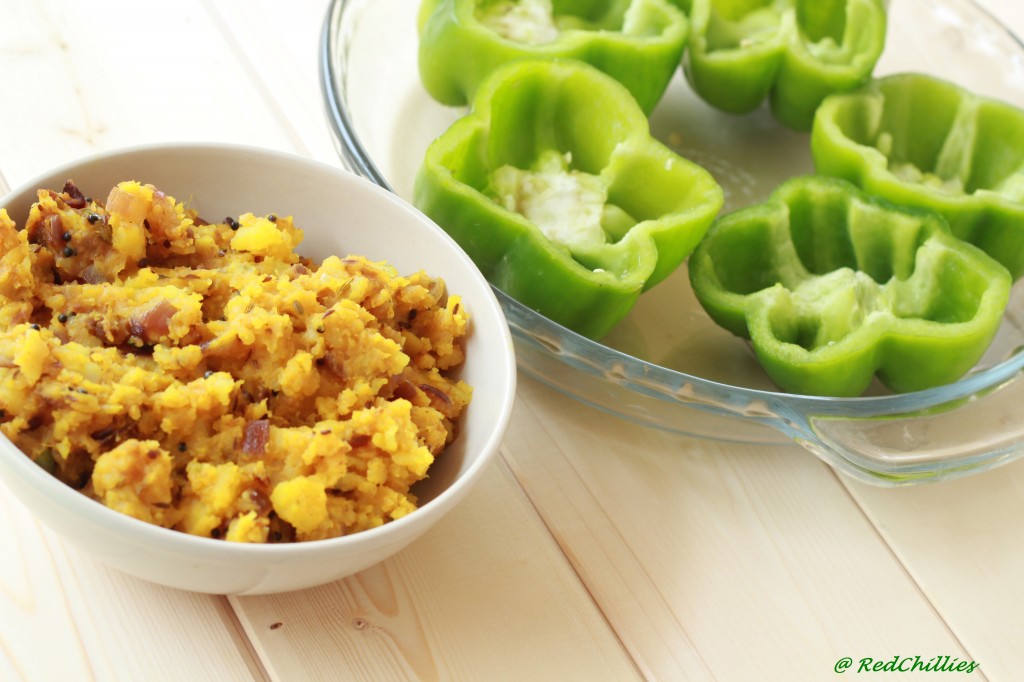 Ingredients for the filling/stuffing – potato bhaji:  
1 big potato (peeled and boiled)
3/4 cup of chopped onion
2-3 green chillies  paste
 2-3 grated garlic (optional)
1 tsp fennel seeds (finely crushed)
½ tsp coriander seeds powder
½ tsp turmeric powder
Juice of a lemon
½ tsp Mustard seeds
 ½ tsp cumin seeds
Salt to taste
Oil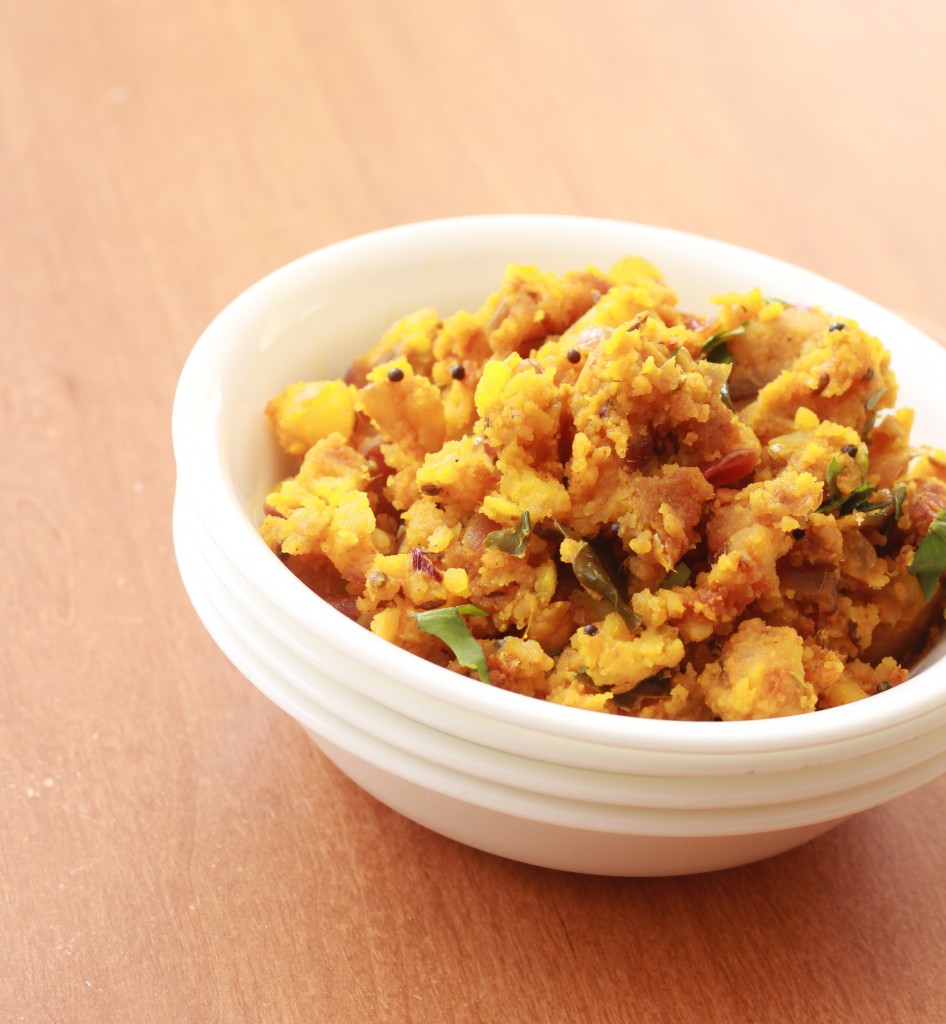 Method: 
Mash the potato using a potato masher or the back of a spoon. If there are small lumps that is fine. Keep aside.
Heat a heavy bottom pan, add oil. Then add mustard seeds, jeera seeds and allow it to splutter.
Next add grated garlic and mix well. Add the chopped onions along with green chilli paste, salt and sauté until the onions have turned transparent.
Add turmeric, salt and crushed fennel seeds, coriander seeds powder and give it a quick toss. Add the mashed potato and mix thoroughly.
Keep covered for a minute or so. Check for seasonings and adjust taste accordingly.
Note: This bhaji/filling should be spicy, hot in taste.
Finally add the juice of lemon and add some chopped coriander leaves.
Now that the filling is done, let us proceed with stuffing into the capsicum and baking
 Ingredients: 
3 big capsicums/bell pepper (any color)
Oil
Salt
Stuffing(potato bhaji) see above 
Preparation: 
Pre-heat oven to 400 F. Grease a baking sheet and keep aside.
Wash the capsicum/green peppers well and pat dry with paper towel.
Take one capsicum and cut into two nearly equal halves. Remove all the seeds and pith from the inside and discard.
Brush each of the pepper inside out with generous coating of oil and also sprinkle very little salt on the inside.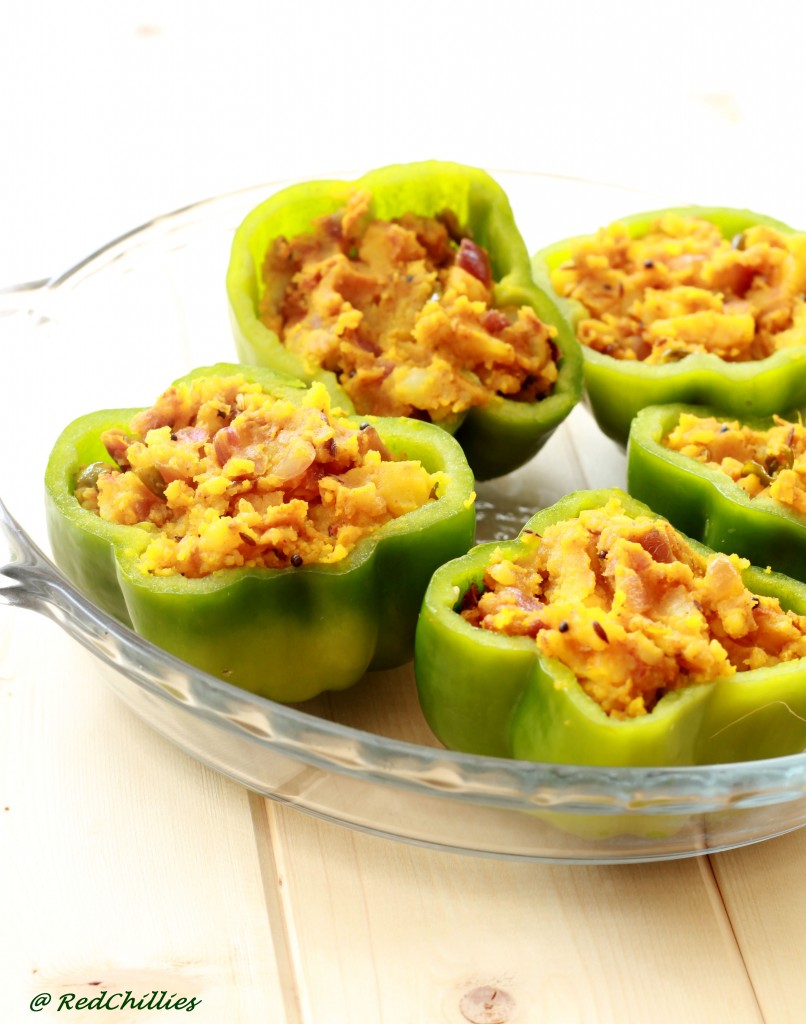 Fill each green pepper with the potato bhaji. Press down so that they are well filled.
Put these to the baking sheet and transfer it to the pre-heated oven.
Bake for about 35-40 minutes until the skin of the bell pepper looks pale and cooked.
Optional: You can additionally broil it on high for 1 minute until the tops are crisp and brown. 
Note: You can fill these peppers with filling of your choice like rice, paneer stuffing, coconut stuffing etc.