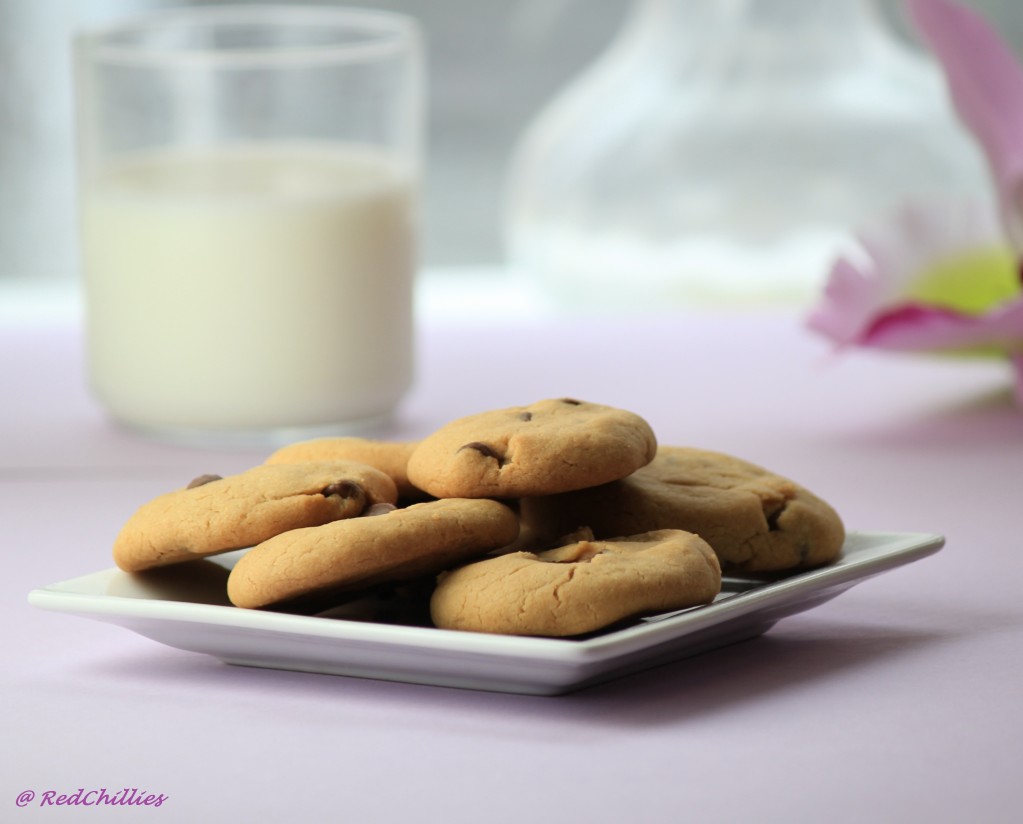 Chocolate chip cookies are a staple in America and represent half of the cookies baked in each year. They sure are a delight for young and old alike with their soft cores, crispy edges and rich chocolate taste.
 The Holiday week last month gave me opportunity to do some baking experiments. I had a packet of Ener-G egg replacer that needed to be used and among many others I tried these Chocolate Chip Cookies.
 These are kiddo's favorite cookie and as far as I know this is the only cookie he likes (What does a mom know, anyway). He was all excited when I decided to make these and was there to 'help' me to make his favorite 'Chlocate' cookies. His non-stop chatter and funny questions like "Amma, what is the secret Indian in this cookie" had me in splits and made the baking process fun.
 Nevertheless we prevailed and I am so glad I made them. There was no trace of the replacer while tasting the cookies. When I had first used the Ener-G replacer and made Cinnamon Coffee cake, I was skeptical with the results especially the taste, but with practice I now feel confident with the outcome. The egg replacer works best with cookies in my opinion, more than in cakes. If you are trying with egg replacer for the first time then this is definitely worth a try.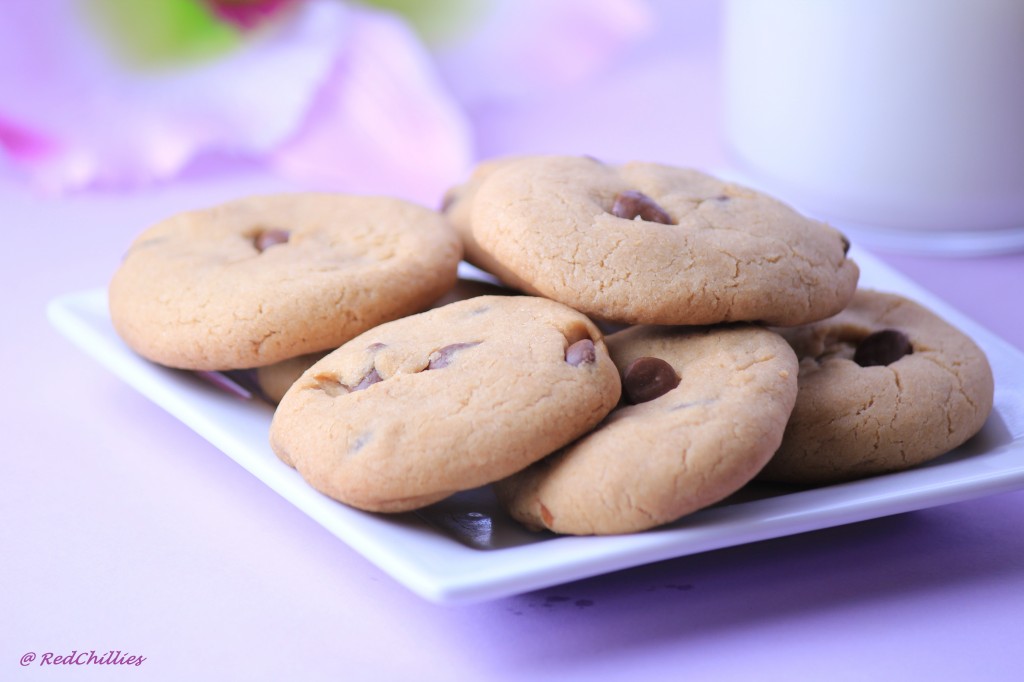 Recipe Source: Joy of Vegan Cooking
 Yields: 30 medium cookies
 Ingredients 
2 ¼ cups All purpose flour/maida
¾ cup white granulated sugar
¾ cup brown sugar
1 cup butter (softened, 2 sticks)
1 tsp baking soda
1/2 tsp salt
2 tsp vanilla essence
4 and 1/2 tsp Ener-G egg replacer/3 eggs
6 Tbsp water
1 cup chocolate chips
1 cup walnuts (optional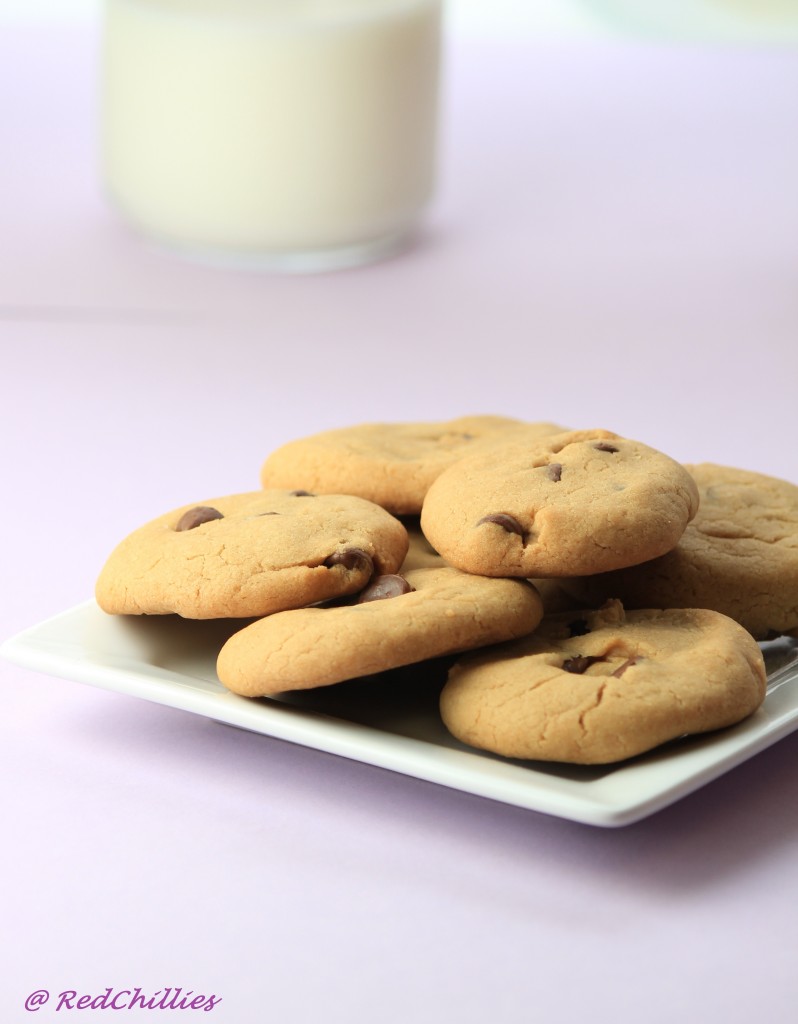 Notes:  
Use food processor for making the egg replacer.
Bake these cookies only for 10 minutes.
Use the suggested quantity of chocolate chips (I had used less)
Method: 
Pre-heat oven to 375 F (190 C), grease a cookie sheet and keep it ready.
Note: This is an important step. In a food processor mix together the egg replacer powder and water until it is thick and creamy. (I found that mixing in food processor does a good job compared to mixing with hands).
Take a large bowl and cream together softened butter, brown sugar, white sugar and vanilla. Add the prepared egg mixture to creamed butter and mix thoroughly.
On a paper or in a bowl, sift together flour, baking soda and salt.
In intervals add the flour mixture to the wet mixture and beat it until it begins to form dough. At this stage it becomes thick dough.
Add chocolate chips and nuts (optional) at this stage and mix.
Bake for about 8-10 minutes. (Mine were done in 10 minutes, even though they did not have that baked appearance they were done and it is best to remove from oven).
After 2 minutes or so transfer them onto wire racks and allow to cool.