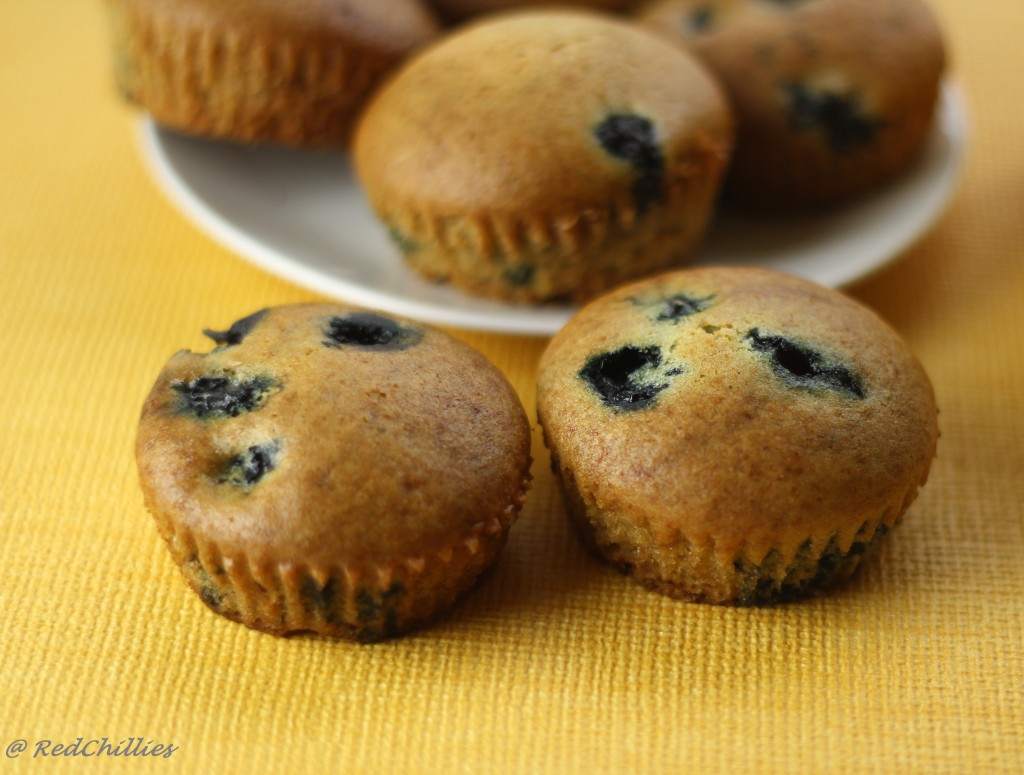 I don't own a whole lot of cookbooks (pssst… I own only 3 of them) and among them the book Joy of Vegan Cooking is my favorite. This book has helped me improve my baking skills and also let me venture and experiment with vegan cooking. I have tried many recipes from this book like Oatmeal raisin cookies, Cinnamon coffee cake, chocolate chip cookies and now this Blueberry Muffins; all with wonderful results.
 The recipe in the cookbook is originally for Lemon Blueberry muffins but in this recipe I skipped the lemon. I had tried the Lemon Blueberry muffins one time by following the recipe to a T and the next time experimented without the lemon flavor and made these Blueberry muffins. All I did was substitute lemon extract with vanilla and skipped the lemon zest. Even though I love lemon flavor in cakes and cookies, I did not like the lemon blueberry muffins but liked the one with vanilla better. It's all personal taste and by all means try the one's you like. 
Either way the muffins are soft, moist and because of this hard to believe that there were no eggs added in the recipe. Since there is no butter in this, it makes a wonderful low-fat snack. It is simple and a good one for beginners to try. Substitute blueberries with other berries or chopped fruit, chocolate chips or skip them altogether. Overall an awesome egg-free muffin and definitely a keeper recipe. 
Note: Please note that vinegar is used in this recipe as a substitute for egg.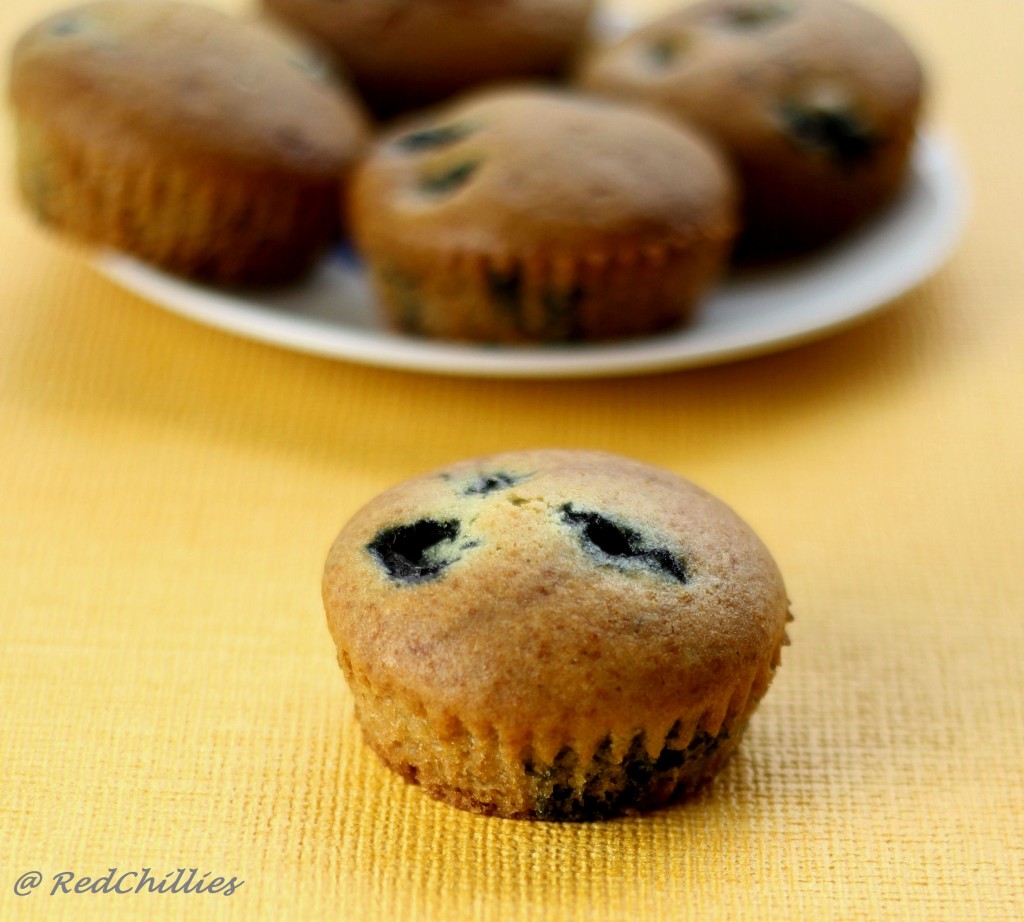 Recipe Source: Adapted from Joy of Vegan Cooking                                                                                                            
Yields: 12 muffins 
Ingredients
2 cups All Purpose Flour /Maida
1 ½ tsp baking soda
½ tsp salt
3/4cup granulated sugar
1 cup milk ( I used 2% milk)
1/3 cup oil(I  used vegetable oil, canola should be fine)
1 tsp vanilla extract (substitute with lemon if you prefer)
1 Tbsp vinegar ( I used apple cider vinegar, white distilled should work as well) [this is used as a substitute for egg]
1 cup blueberry ( I used frozen and thawed, fresh should work )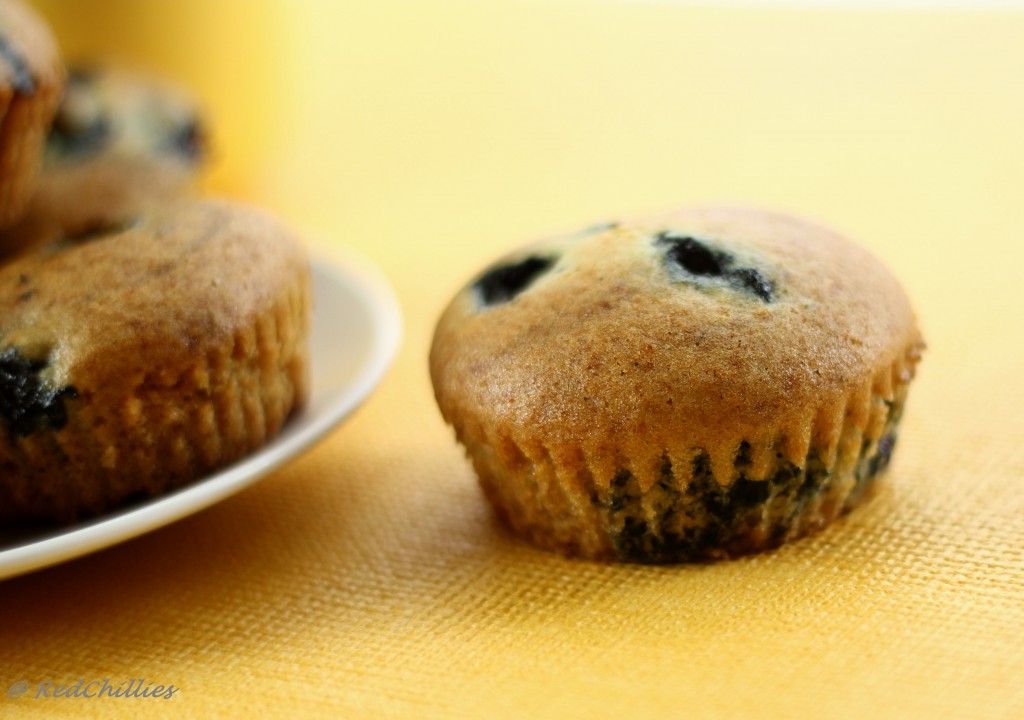 Method:
Pre-heat the oven to 400 F (200 C). Lightly grease a muffin tin.
Take a medium sized bowl and combine AP flour, baking soda and salt.
In another large bowl, mix the sugar, milk, oil, extract, and vinegar. Mix well.
Add the dry flour mixture to the wet ingredients slowly and stir until combined. (I ran this through my hand blender for a minute).
This mixture is not thick as compared to the cake batter. Now add in the berries and stir using rubber spatula.
Fill each of the muffin tins until about 2/3 full. Transfer to the oven.
Bake for 20 minutes until they are puffed up and lightly browned.
Remove from the oven and let it sit for 5 minutes.
Remove the muffins from the tins and cool on wire rack.