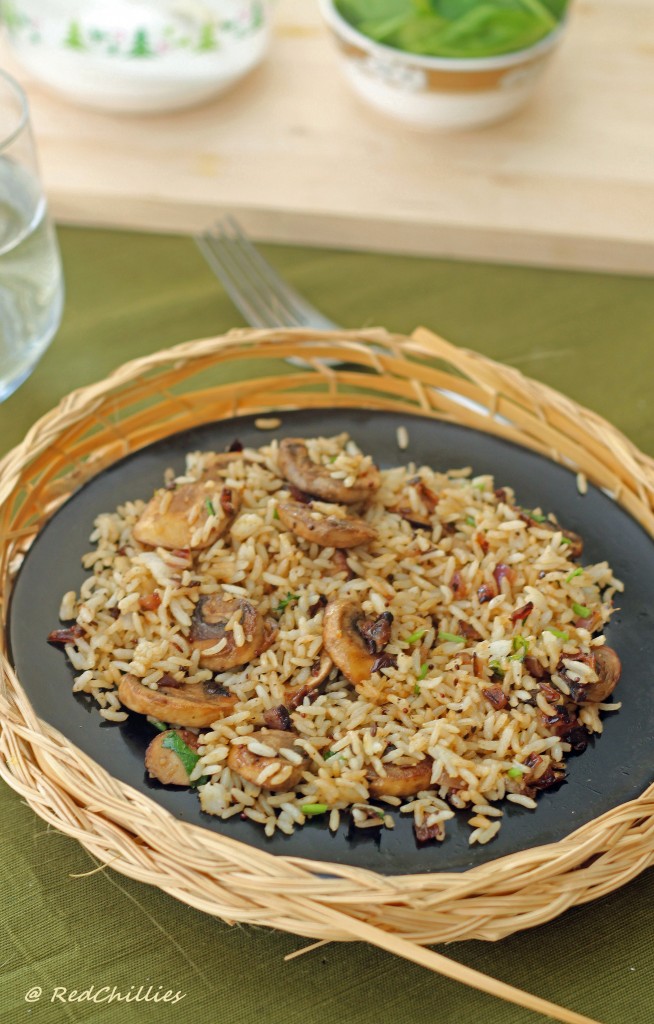 It is not often that you would find recipes with mushroom in the RedChillies household. The reason being that the Chief Chef of the house (a.k.a me) is not a big fan of them. If I had my way then the mushrooms would not have seen the light of the day in our kitchen. J But it is not meant to be as the kiddo loves mushrooms and with all the motherly instincts/love intact I have no option but to cook with them and also get accustomed to the taste.
I have prepared a mushroom curry before and this time decided to try it in a rice dish as quick fried rice. This is such an easy recipe to prepare and gets done in no time. I got the idea for this rice when my colleague had brought mushroom pulao for lunch. She had blended cumin seeds, garlic and pepper for the base and that gave a unique flavor the dish. But I decided to take the easy route and just use garam masala and give the mushrooms some punch.
Mushrooms blend very well with spices like cinnamon and cloves. The flavor a of Garam masala stands out and makes this dish very fragrant. If you do not like mushrooms then you could substitute with other vegetables of choice like brinjal, capsicum, tindora etc.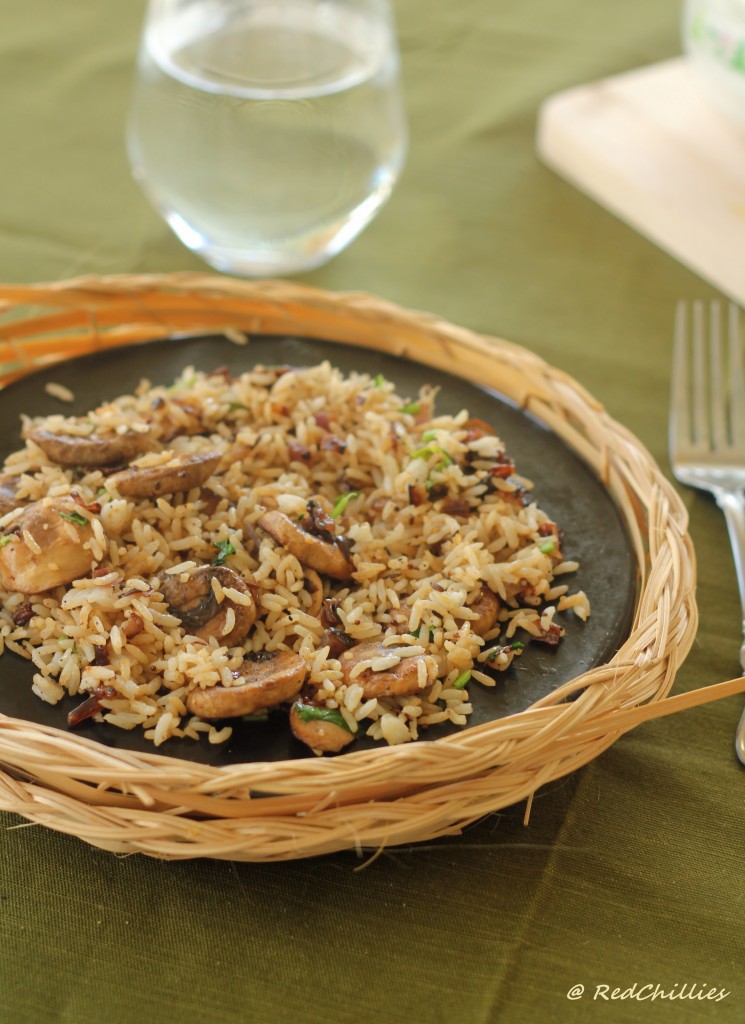 Serves: 3-4
Ingredients
1 cup rice (uncooked) [basmati is preferred]
8-10 button mushrooms
3-4 green chillies slit
1 big onion
½ tsp crushed black pepper corns (optional)
1 tsp garam masala
4-5 cloves
1″ cinnamon stick
2 tsp cumin seeds/jeera
1 tsp garlic paste
1 tsp ginger paste
1 Tbsp Oil
Salt
Method:
Clean the mushrooms with damp cloth and chop them. Chop the onion lengthwise. Keep aside.
Cook the rice separately either on stove top or pressure cooker using enough water. Make sure it cooks well and grains are separate and not mushy.
Take a big plate and spread out the rice, add little oil, salt and mix.
 Take a big skillet, add oil on medium heat. Add cumin seeds, cloves, cinnamon and mix. Add the ginger paste, garlic paste and fry again.
 Add the chopped onions and stir until it slightly cooks. Now add the chopped mushrooms, green chillies and continue to stir.
After it is cooked, add the garam masala, crushed pepper powder and mix until it is neatly coated.
 Add the rice and mix thoroughly. Cover the lid and let it cook for a while. 
 Serve hot. Tastes delicious as is or with side of raita.