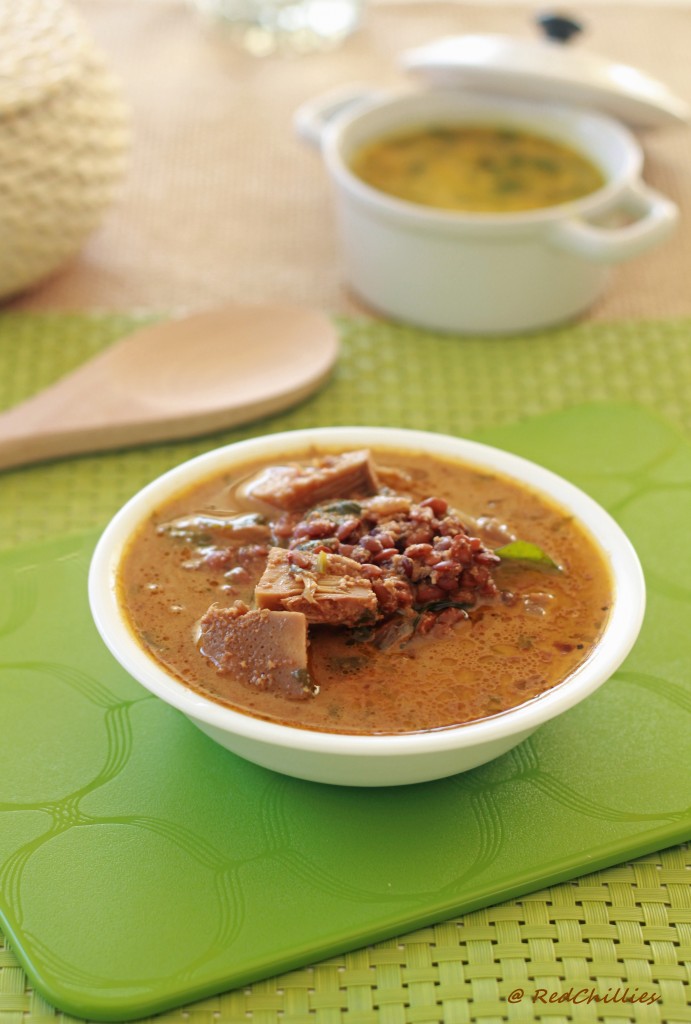 For folks here in the United States hope you had a wonderful Thanks Giving weekend. We had a relaxing time where in we spent most of the time indoors along with family and friends, thanks in part to the weather. The weather has now changed and we are inching closer to those dreaded cold snowy, winter days. 
Like I said we spent most of the days at home, cooking some feel good food, comforting food, apt for cold weather. Luckily we get most (if not all) ingredients that we grew up eating and it is not difficult to re-create the taste in the kitchen. Food is a part and parcel of our lives, be it a celebration or not and it is a wonderful way to bring back memories and re-live those treasured moments. 
In Konkani cuisine, it is quite common to find a seasoned coconut curry with the combination of bean/legume and or vegetable. The ground coconut paste is called 'Maasolu' and depending on the type of seasoning that is done (mustard, garlic, onion), the curry is referred to as that (Ambat/koddel/ghashi) At home we love the tempering of onion, garlic and curry leaves and so I have made this 'Ambat'( curry) that way.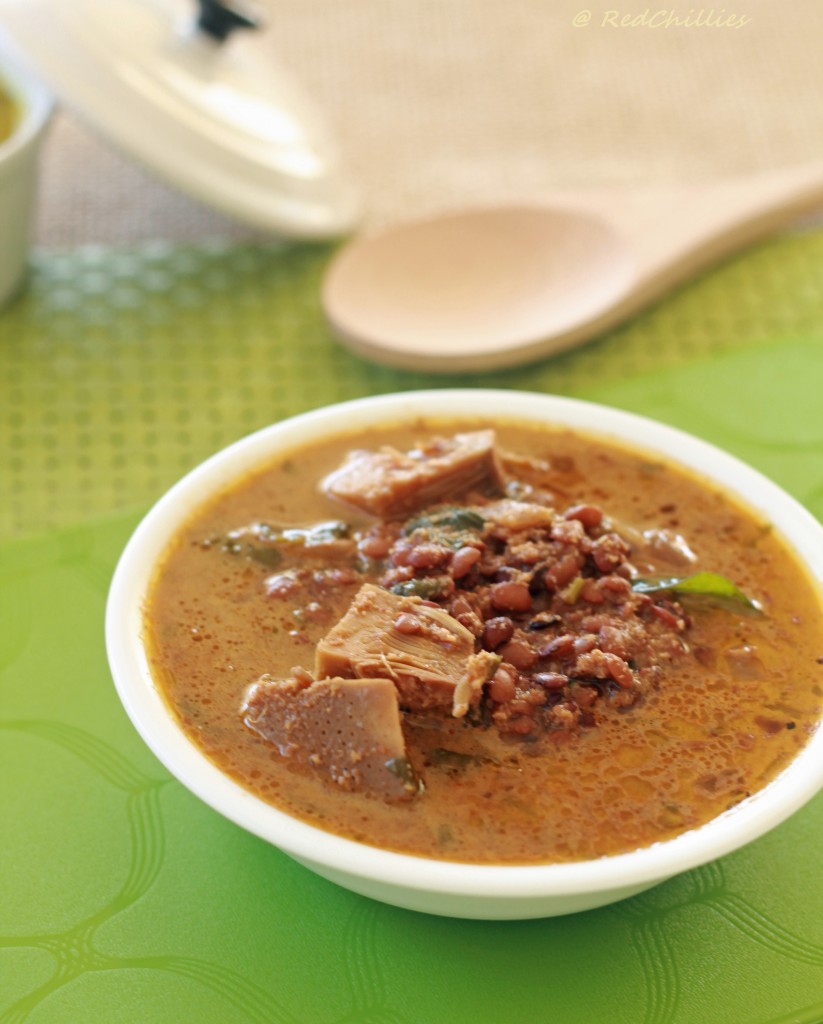 We use Horse Gram (called as Kulith) and raw Jackfruit in our cooking. For people not familiar with raw or young Jackfruit it is a smaller version of ripe jackfruit. It is called as 'Kadgi/Chakko' in Konkani and has mild flavor, with unique thick green texture and unlike the ripe fruit does not have a sweet taste and goes well in making curries. We found this in the frozen section at an Indian grocery. You can see how it looks here and some other recipes here and here. 
This spicy coconut curry is a delight to have during cold days, the pungent flavor of the chillies along with the sweetness of onions and garlic is sure to drive away those winter blues. 
It has been a long time since I have participated in Food related event. But I could not let this go as Lisa's blog is one of my favorites and being a vegetarian her cooking style is close to my heart. This recipe is my contribution to the event "A celebration of Indian food" at Lisa's kitchen.
Ingredients 
¾ cup chopped Unripe Green jackfruit (fresh frozen) [optional or substitute with chopped potato or chopped raw banana or yam]
½ cup kulith/ huruli/ Horse Gram (soak it in enough water for 6-8 hours)
salt 
Grinding: 
¾ cup coconut (shredded) [fresh or frozen]
4-5 red chillies ( I use byadgi variety) [roast this in 1 tsp of oil]
Tamarind juice – 2 tablespoon
Salt
Water (as required to make fine paste)
For seasoning/tadka/tempering
4-5 garlic pods (peeled and crushed)
¼ cup chopped onions
3-4 curry leaves
1 Tbsp Oil (coconut or regular vegetable)
Method:
Pressure cook the horse gram in enough water for about 8-10 whistles. (yes, mine takes a long time). Keep aside to cool.
If using fresh jackfruit then peel the skin and chop it into small pieces. (You can see how it looks here). Boil along with salt till jackfruit gets cooked completely. If using frozen then defrost and heat it in little water for 5 minutes.
Roast the red chilies in little oil till they are crispy.
Grind the roasted chillies along with coconut, tamarind to a smooth paste. Add water as required.
Heat a container and add the paste, salt, add the cooked horse gram along with the water, boiled jackfruit and continue to boil. Simmer on medium for the next 15-20 minutes until the gravy thickens a bit and then switch off.
In another small pan, heat 1 tbsp of oil and then add the onions until it turns pale and then fry garlic, curry leaves. Add this seasoning to the boiled horse gram curry and mix well.
Serve hot as a side dish with rice along with Aloo Raita and some pappads.