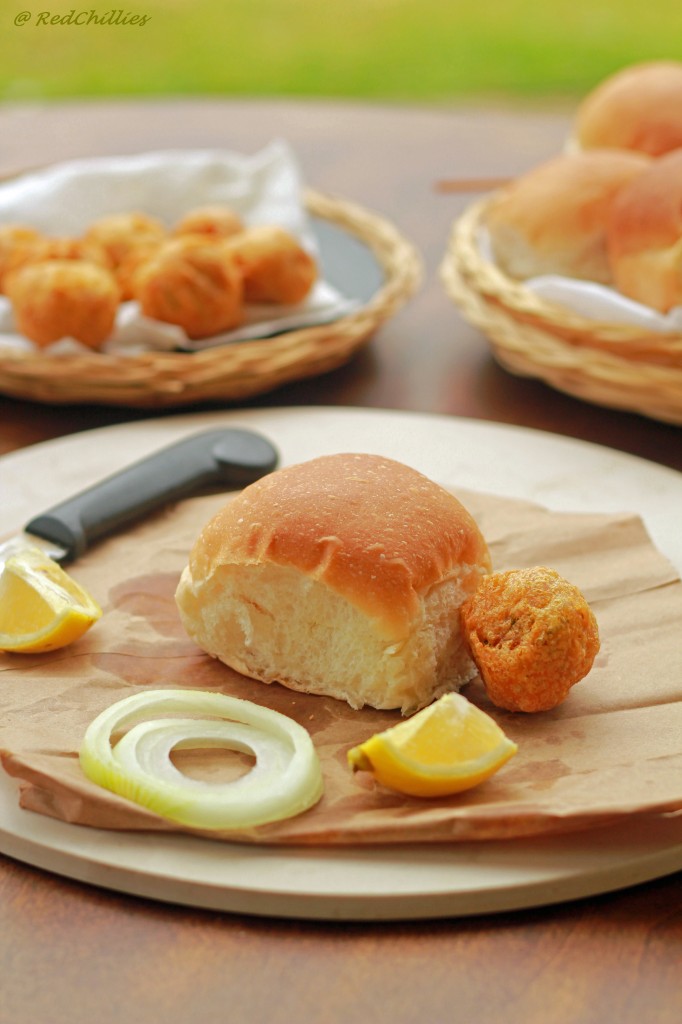 Remember the recipe for Batata Vada I posted last time? The popular sinfully good spiced potato patty which is deep fried and the one we relished?  Well as if that indulgence was not good enough, we took it to the next level and enjoyed even more. We re-created the street food magic at home and ate them as as Vada Paav. 
Vada Paav is a popular street food in Mumbai. It is an Indianised version of vegetarian burgers. The vada called as Batata Vada (burger) is a spicy potato filling, dipped in gram flour batter and then deep fried. This is then placed inside a small square bun (called Paav) smeared along with green and garlic chutney and eaten as is. Hence the name Vada Pav for this dish. 
 This is a burger on the go, and since everything fits in compactly there is no fear of spilling or smearing things around. This makes a very appetizing and a filling snack. 
Of course, you can eat the Aloo Bonda as is, which is just as blissful. And if you have any doubts about stuffing this in dry bread, then let me tell you that two types of chutney's that are smeared on the bread make this appetizing. Do give this a try (if you have not already tried it) and you will be in for a pleasant surprise. 
As I have mentioned before, along with the Batata Vada, we will also need to prepare two chutneys before processing with the assembly.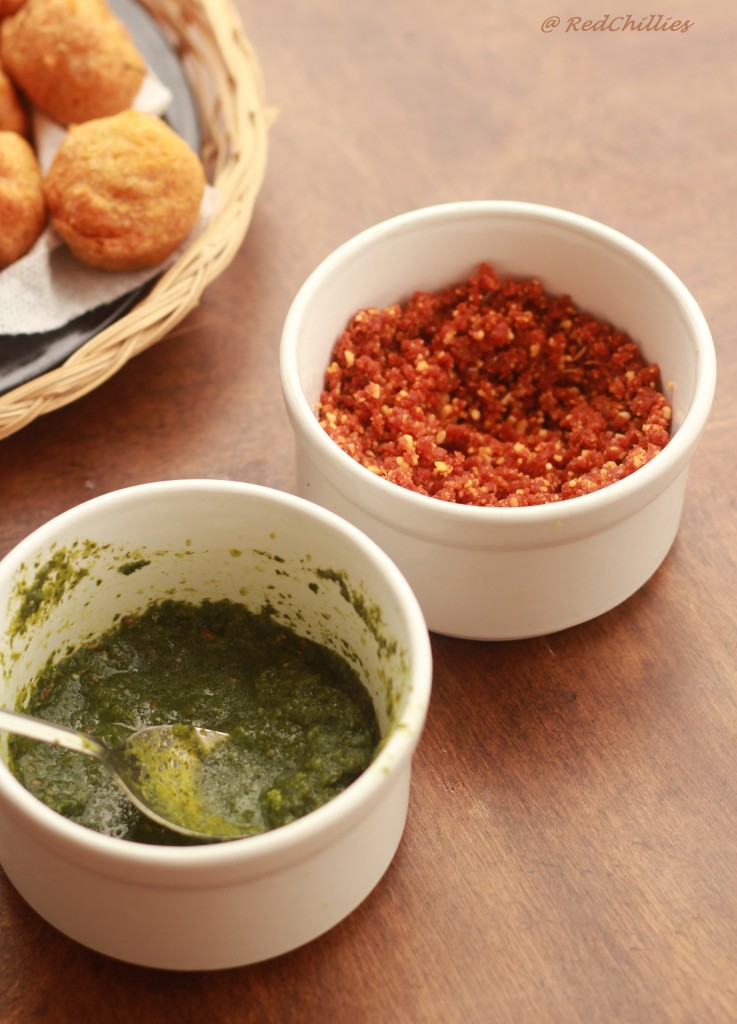 Spicy Coriander Chutney: 
This is versatile chutney and can be used as accompaniment along with several other dishes like Dhokla, Bhel Puri, bhajjis, Batata Vada. It is prepared using fresh coriander and mint leaves, along with green chillies, cumin seeds, lemon and sugar. It is very spicy, tangy and little goes a long way while using this.
Ingredients: 
2 cups cilantro/coriander (cleaned and stems removed)
½ cup mint leaves/pudina (cleaned and stems removed)
1 tsp sugar
3-4 green chillies
½ tsp cumin seeds
Juice of one lemon
salt
Method:
Combine all the ingredients and run it in the blender, adding very little water. Transfer it to a bowl.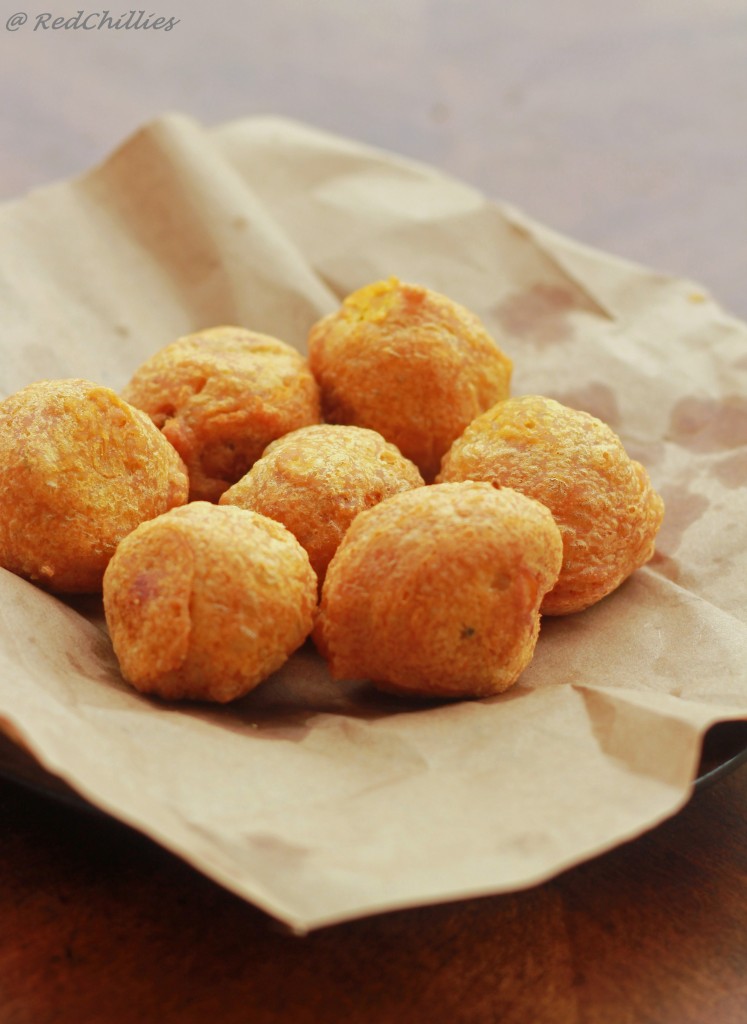 Cute Batata Vada
Peanut Garlic chutney: 
This is yet another spicy but dry chutney made out of garlic, peanuts and red chilli powder. The pungent flavor of garlic, along with peanuts adds crunch and enhances the taste even more. 
Ingredients 
5 cloves of garlic ( peeled)
¾ cup roasted peanuts (skin removed)
1  tsp dry red chilli powder
Salt to taste 
Method 
Add the peanuts in a blender and pulse it. Next add the chilli powder, garlic and salt and blend until combined.
This is a coarse chutney and do not add any water to this. Transfer to a bowl.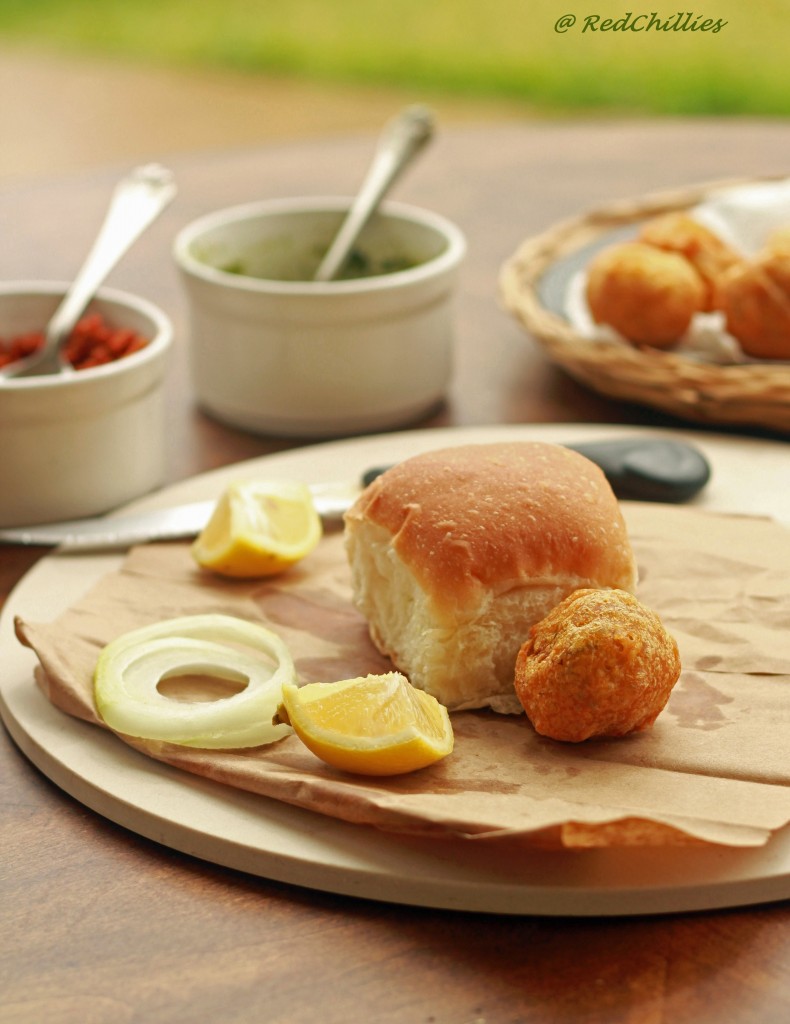 Assembly of Vada Pav
First gather all the ingredients required to make the Vada Paav.
Pav buns/ Laadi Paav (as required) [ small square bread rolls, substitute with hamburger buns or bread rolls or even regular sandwich bread]
Peanut Garlic Chutney
Spicy Green Chutney
Batata Vada (make sure they are hot)
Chopped onion rings
Lemon pieces
Method: 
First take one square of the paav buns and cut it horizontally ¾ of the way.
Note: You can roast this bread in little butter for taste, but that is optional.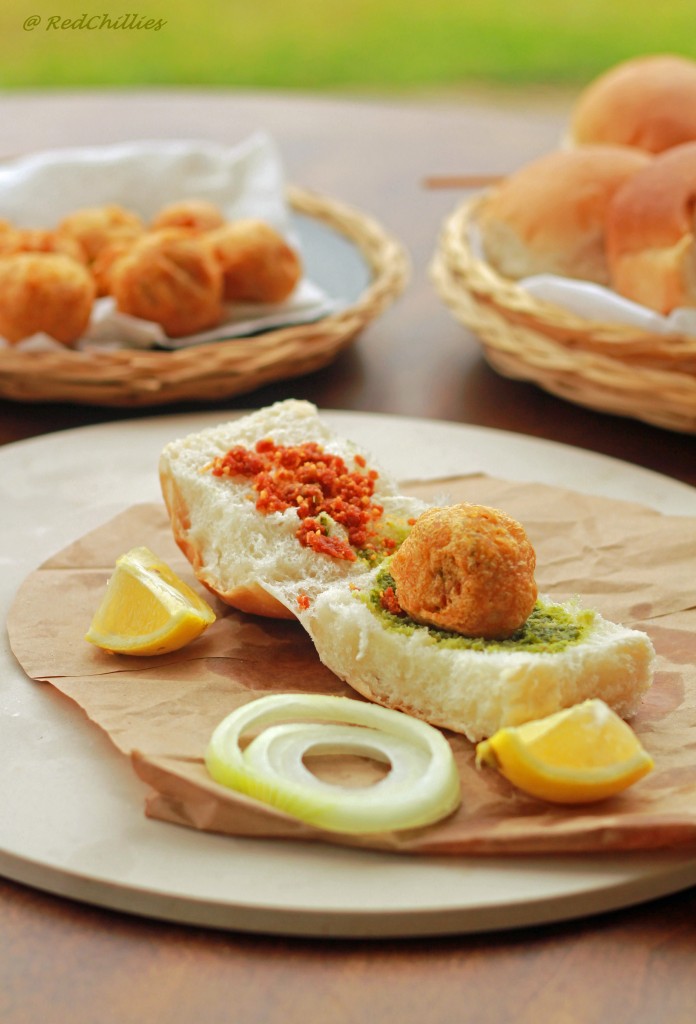 Spread some dry garlic chutney on one half of the bread and green chutney on the other half evenly.
Place one Batata Vada inside the sliced pav and squeeze some lemon juice over it
Top this with the chopped onion rings and add more dry garlic chutney if required.
Close the bread and gently smash the batata vada.

Bite into this goodness and rejoice!