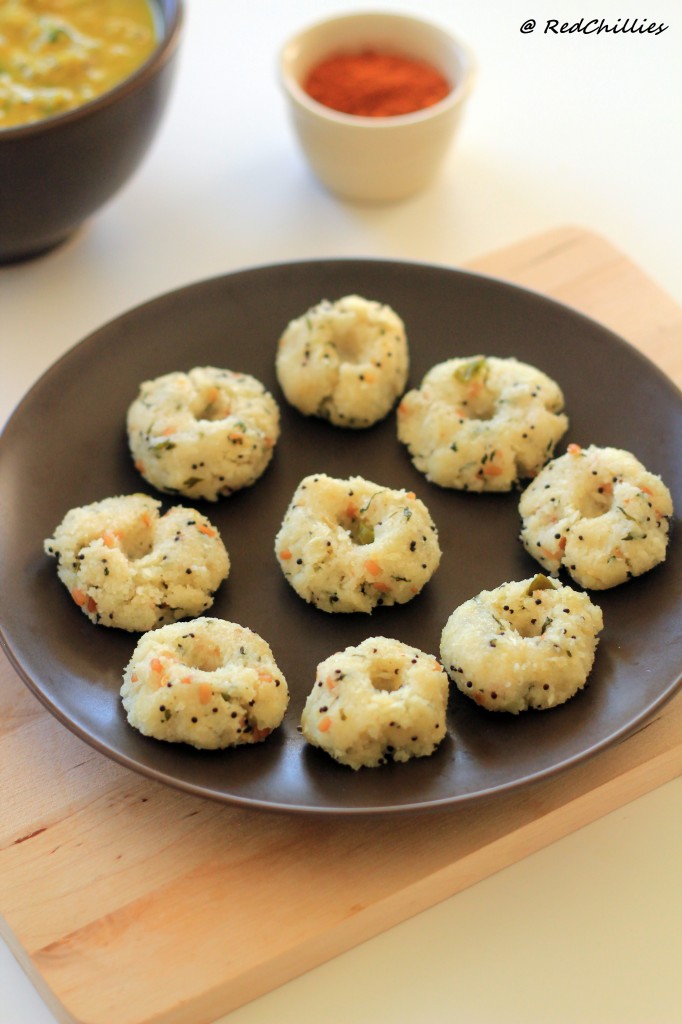 Blame it on the winter season, but lately I have been on the lookout for 'chatpata' steamed food that can be made 'zhatpat'. One some really cold days, I don't care for heavy meals, but feel like nibbling on some warm finger food along with hearty soup. So while on quest for such recipes on the net I landed on Lakshmi Canteen a wonderful blog which is a store house of tradition Konkani recipes.
 When I looked at her "Undi recipe, I froze as I had completely forgotten about it. It is a well loved breakfast/snack dish our favorite and one my mom-in-law makes for us often when we are in Bangalore. Traditionally this is made by soaking rice overnight and then grinding it in the morning along with coconut. But I took some shortcuts and made it the quicker way using Idli rava. 
Note that the rava that is used here in this dish is rice rava (used for making idlis) and not the sooji rava. Also using chopped coriander leaves in this is traditionally scoffed upon, but I for one cannot do without these leaves and use it in almost anything savory. If you do not like then do skip them. 
I have been told that these are called as upma khozukattai in Tamil.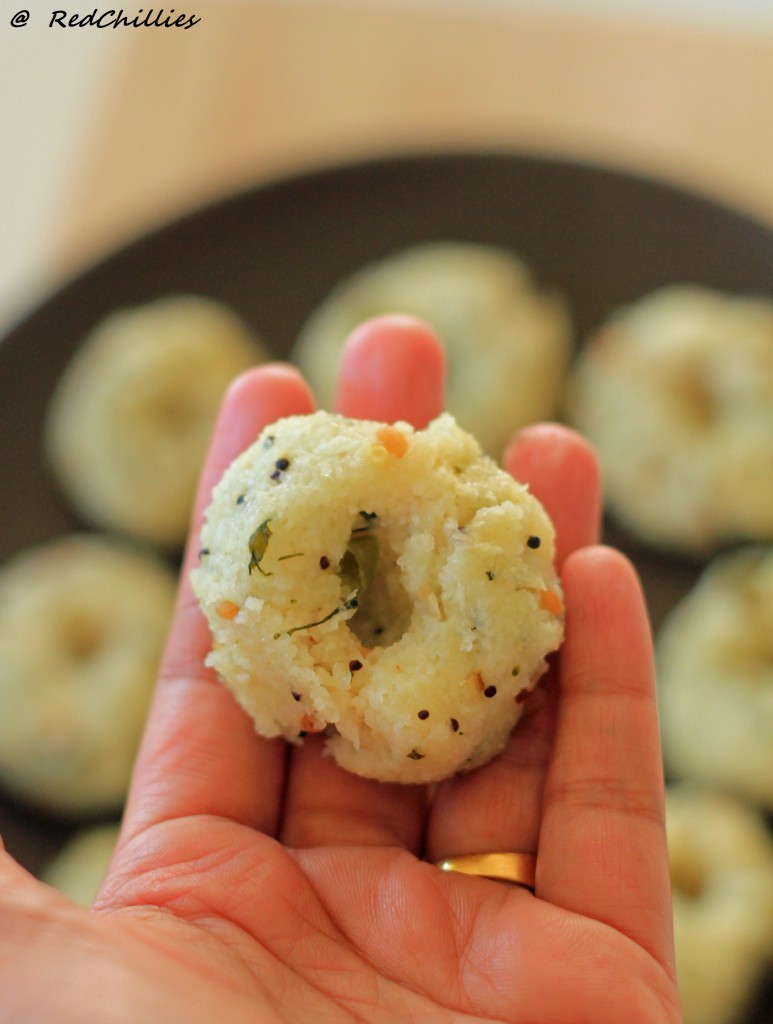 Recipe Adapted from Lakshmi Canteen 
Ingredients 
1 cup idli rava [not sooji rava]
½ cup shredded coconut
2.5 cups water
Salt to taste
1 Tbsp Oil
Handful of chopped coriander leaves 
Seasoning/Tadka 
1 tsp mustard seeds
¼ tsp methi seeds
4- curry leaves (broken)
1 tsp ginger (grated) [optional]
2-3 Green chillies [chopped finely]
1 Tbsp urad daal  
Method 
Heat a big pan and add oil. Add mustard seeds and let it splutter then add urad daal and continue to stir until it turns light brown
Add the methi seeds, curry leaves, green chillies and grated ginger and mix again.
Now add 2.5 cups of water and let it come to boil.
Add the idli rava, salt and continue to stir until the water has evaporated.  Add the shredded coconut, chopped coriander and stir. Turn off the gas.
Let this cool (not completely).Rub some oil on the palms and make small balls out of the dough. Using index finger make a hole in the middle.
Now take these balls and steam it in a pressure cooker like idli for 8-10 minutes.  (Without the weight). I used the idli stand greased it and placed 6-8 undis on one plate.
Serve hot as is or along with coconut oil or podi.