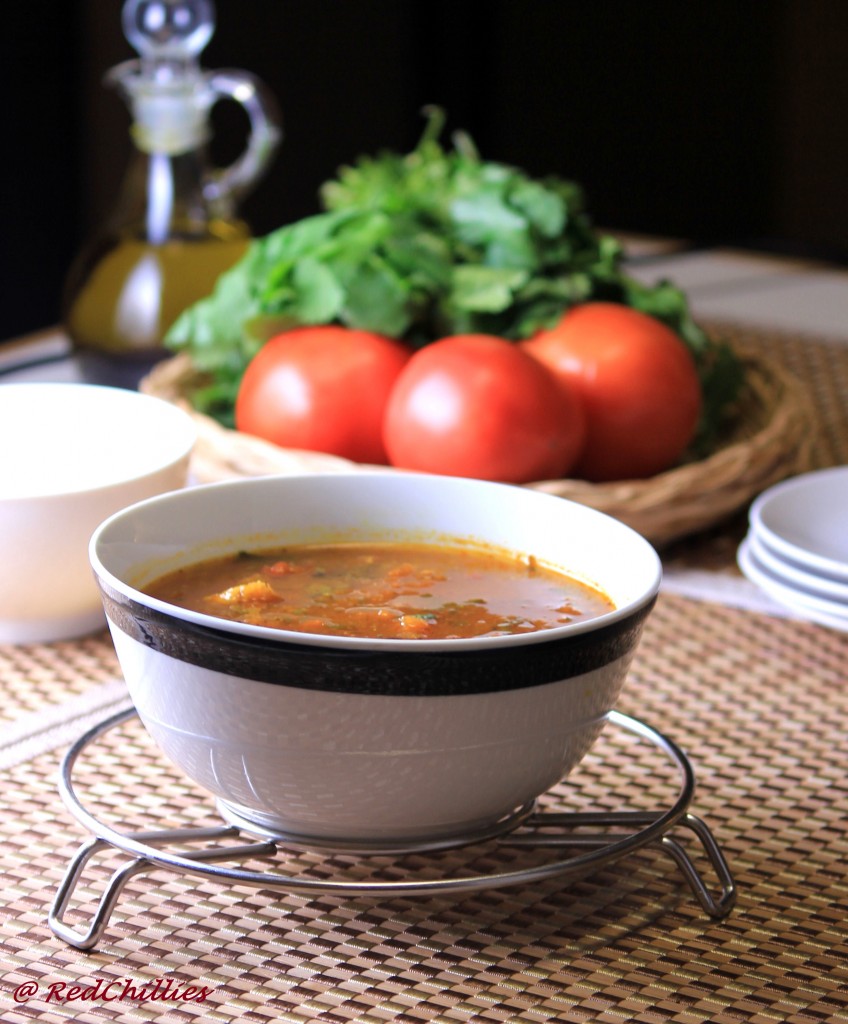 Winter is upon us and along with it comes the essential cold, cough sneezing sniffling etc. So at home, I try avoiding medicines as far as possible and look for some easy home made remedies. So far we have had good success with black pepper (Kali Mirchi in Hindi) and so I use it in different ways and among them one is this Pepper Jeera Rasam.
As I understand this is referred to as Milagu Rasam in TamilNadu. Milagu means pepper in Tamil. This Black Pepper Jeera rasam is a medicated rasam and because of black pepper in it is good for common cold, congestion, loss of appetite and even indigestion. (Source)
Even though making this rasam is lengthy process what with the roasting of different ingredients, powdering, boiling, blending and seasoning the effort is really worth it. Besides if you make the Jeera Pepper powder ahead of time and then making this Rasam is a breeze and does not take much time.
This is hearty concoction with good combination of herbs and very aromatic as well. We enjoy drinking this as right out of a small steel cup, instead of sipping it with a spoon (that is how it is traditionally consumed). Also one has to drink it 2-3 times a day to see some effect on cold/cough.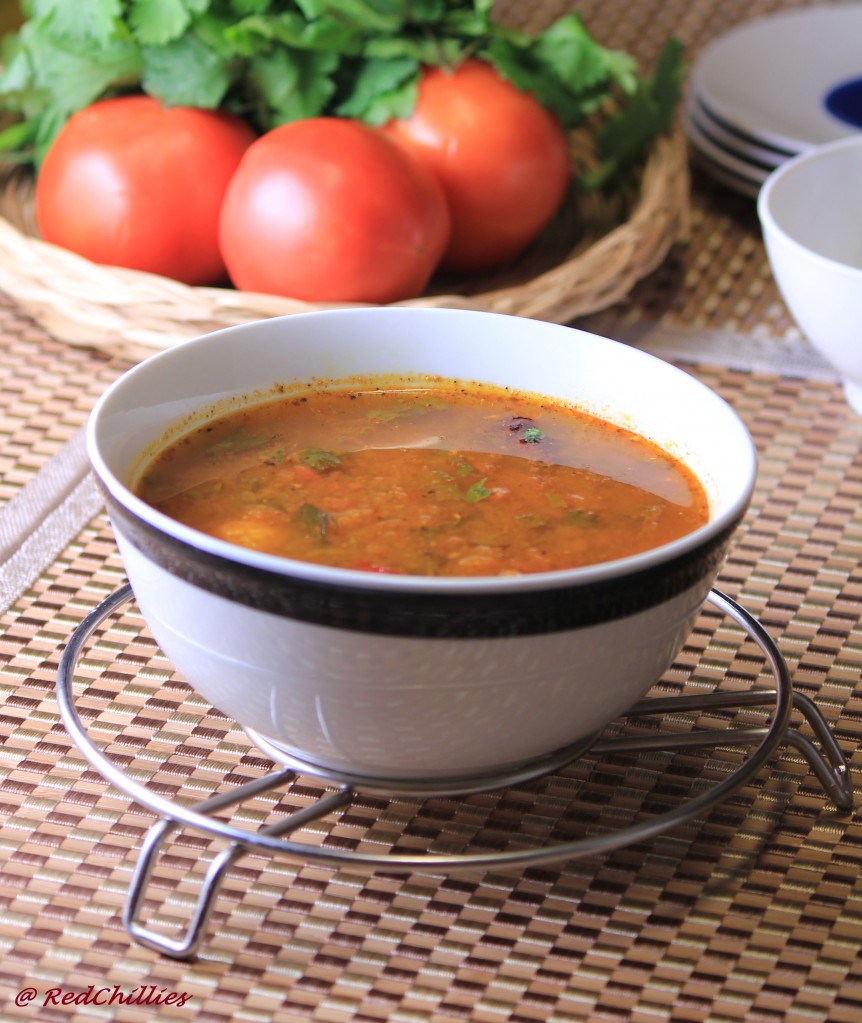 Jeera Pepper Powder
1/2 Tbsp Channa daal

1 Tbsp Urad daal

2 Tbsp Dhaniya/ coriander seeds

1 Tbsp Cumin seeds (Jeera)

2-3 Tbsp Black Pepper

1 dry red chilli (optional)
Rasam Ingredients
2-3 medium tomatoes

1 Tbsp chopped coriander

Salt to taste

1 Tbsp Tamarind extract
Seasoning/Tadka:
1 tsp mustard seeds

1 tsp oil

1 red chill broken into 3 pieces

5-6 Curry leaves

5-7 garlic pods (peeled)
·         Pepper Jeera powder: Roast all the ingredients for the Jeera Pepper powder one after the other and keep aside. After it is cooled grind the ingredients to a coarse powder. Store in airtight container. This powder can be re-used many times.
·         Boil about 3-4 cups of water in a vessel and then add the tomatoes (along with the skin, with one slit on each of them).
·         Boil until the skin of the tomato wrinkles and the tomato is cooked. Keep aside.
·         When it is slightly cooled, remove the skin from the cooked tomatoes.
·         There are 2 options here. A) To pulse this tomato in a blender along with cooked water and make a thick even paste or to b) mash the cooked tomato with hand removing all lumps along with cooked water. The later version will not be thick.
·         I followed the first method as we like our rasam thick and also we like having it with rice.
·         Now add 2 tsp of Pepper Jeera powder, salt, tamarind juice to this tomato paste and boil for 3-5 minutes.
·         Meanwhile heat oil in a pan for the seasoning. Add mustard seeds and allow them to splutter and then add crushed garlic pods, curry leaves and red chilli.
·         Add this to the hot rasam, add the chopped coriander leaves and cover it with a lid.
Serve hot with plain white rice or drink it hot as is after serving in cups.