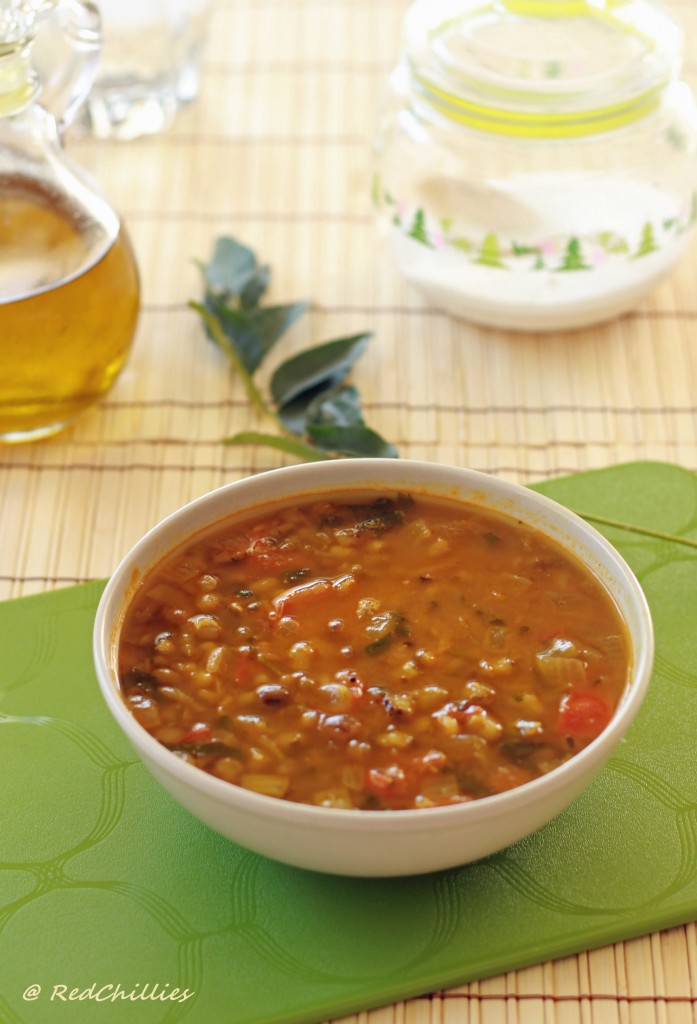 The past 10-15 days have been really busy for us and along with that we have been on an emotional roller coaster ride. With tense moments at work and some hard news from friends, we have been riding on wave of emotions ranging from disbelief to stress to restlessness. Hopefully it is all behind us now and we are now looking forward to brighter days ahead of us.
As a result I did not get time to post or write in detail about this recipe. But hopefully this is a self explanatory dish based on the title of Whole Moong Bean.
Here is what one source says about these small green beans. "They are very nourishing, while being relatively easy to digest–they do not generally create abdominal gas or bloating, the drawbacks of larger beans. Mung beans are also a good source of dietary fiber. They also contain iron, magnesium, potassium and are a good source of folate." (Source).
Here are some Indian Mung Bean Recipes that I prepare often:
This sambhar is versatile and goes well with rice, rotis, dosas and idli.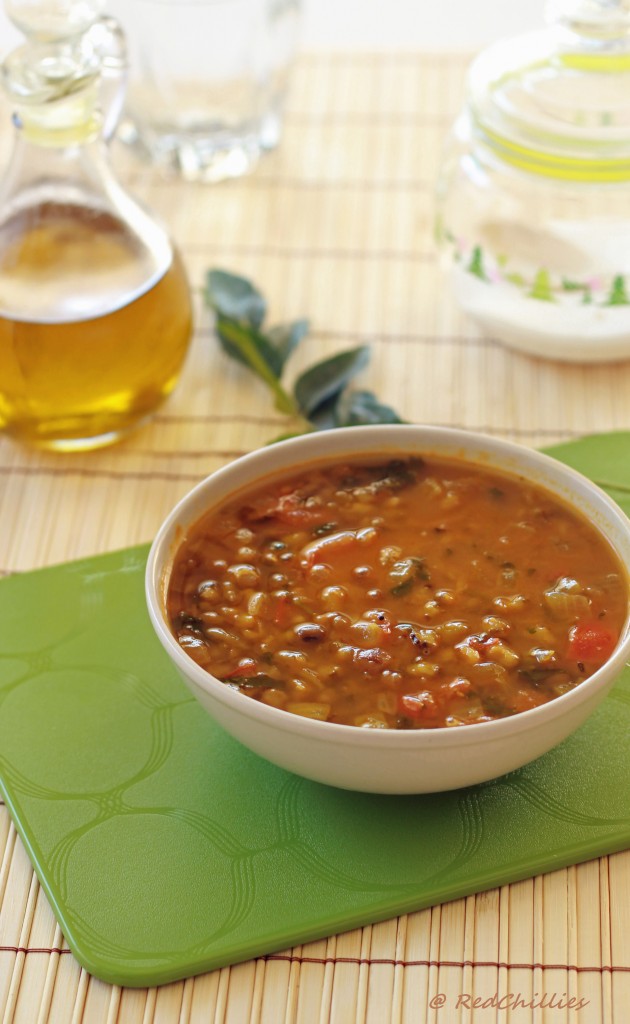 Ingredients
¾ cup whole moong bean (soak it overnight)
2 medium  ripe tomatoes (chopped)
1 medium onion
5-10 curry leaves
3 Tbsps sambhar powder
½ size lime tamarind ball
2 red chillies
1 tsp Jeera seeds
1 tsp Mustard seeds
2-3 strands of coriander leaves
oil
salt
Method:
Soak the whole moong bean in enough water overnight. If you can let it to sprout even better.
Soak tamarind in a little warm water and extract juice and keep it aside.
Pressure cook the whole moong in enough water until it is soft (not mushy). Keep aside.
Heat 3 tsp of oil in a vessel and add the mustard seeds. After they splutter, add cumin seeds and curry leaves and reduce the heat a bit.
Next cut the red chillies into 2-3 pieces add to this and fry for a little while.
Add the diced onions and sauté until they become light brown.
Add the finely diced tomatoes, salt and let it cook.
Add about 3 Tbsp of Sambhar powder and mix well. Stream in little bit of oil so that the powder mixes well and cooks with the rest of the ingredients.
Add the tamarind juice and mix again.
Next add the cooked moong, stir well and let it come to a boil. Simmer for the next 10-15 minutes until the flavor has incorporated.
Check taste and if necessary, add salt, tamarind etc. 
This tastes good when it is a bit tangy, so go little extra with the tamarind or tomatoes.
Winner of the Giveaway
Last but not least, I would like to end this post by announcing the winner of the 1 Mix 100 muffins book giveaway. I used random number generator, and picked a random number based on the number of comments. I am glad to announce that the winner is Sandhya. Congratulations! I will contact you soon via email.
 Thanks to all who participated and listed their favorite muffins, I really appreciate it.