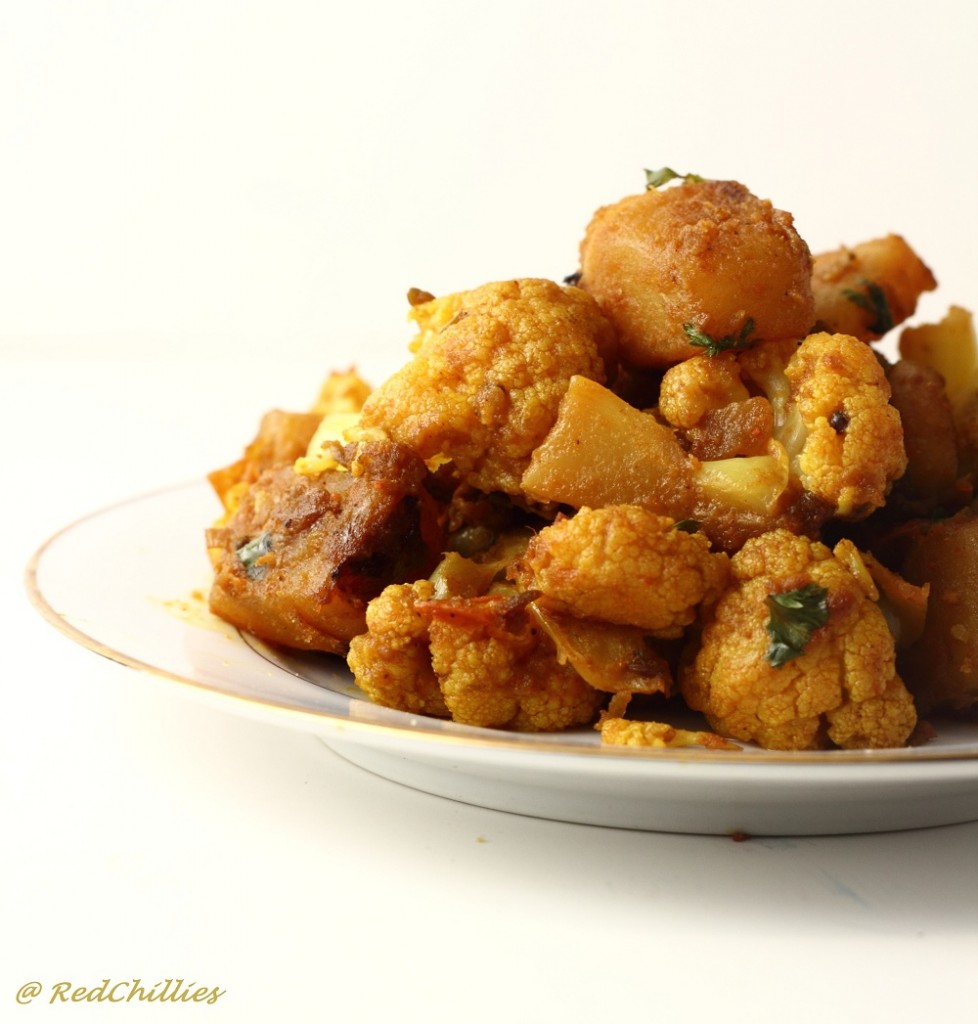 People who use Paav Bhaaji masala are very particular about the brand that they use. Most food bloggers swear by Nupur's approved Everest Paav Bhaji masala brand. In a recent Facebook discussion people had few other recommendations. I am yet to try the Everest brand as I have heard raving reviews about it. I am hoping to try most recommended brands in the near future. I have started with the Baadshah brand and so far, I am loving the taste of this masala. 
I have made Paav Bhaaji with it, the Tawa Pulao and also add it to regular sabzis.And boy does it change the character and flavor of the sabzi ! (in a good way). 
If you prefer this  version of Cauliflower sabzi which has minimal spices then you may want to try jazzing it up a little by adding some paav bhaji masala. 
This goes well with Daal rice, rotis, Pooris or chapathi.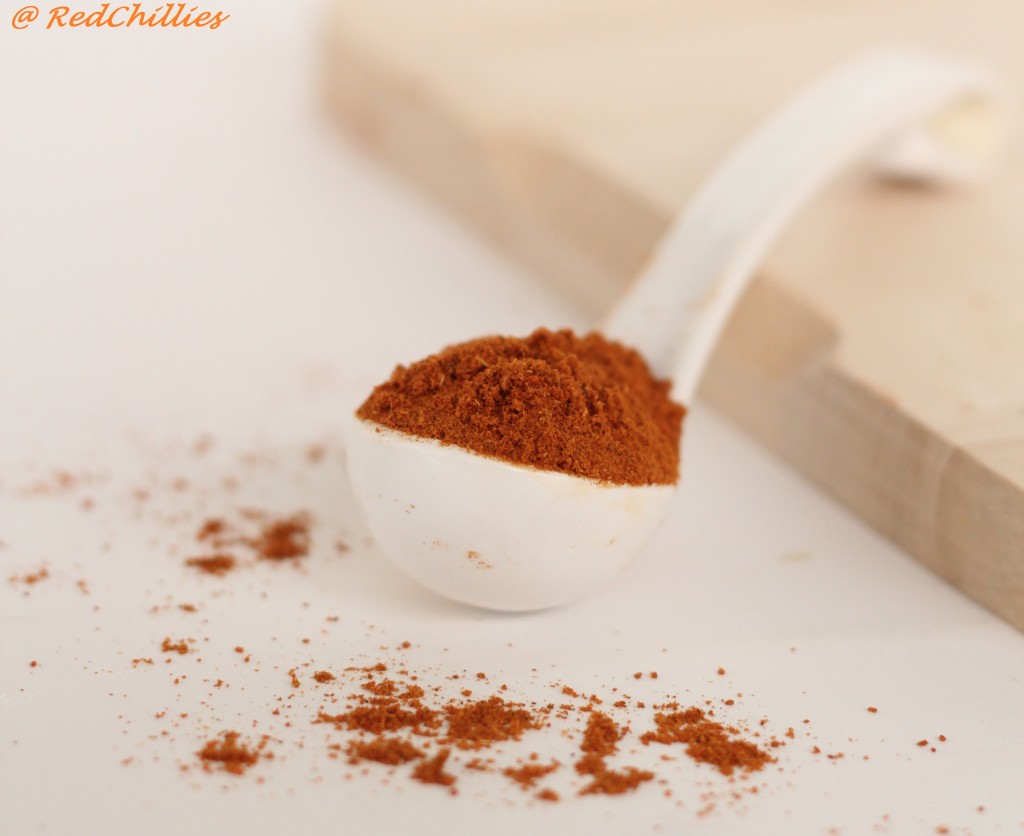 Serves: 4-5
Ingredients:
1 small cauliflower
1 big potato
1 small onion
2-3 medium tomatoes
2 cloves garlic
2 tsp paav bhaaji masala ( I used this)
1 tsp chilli powder
1" ginger
Handful of chopped Coriander leaves
½ tsp jeera seeds/cumin
½ tsp mustard seeds
Oil
Salt to taste
Preparation:
Cut the cauliflower into florets (remove the stems) and wash them thoroughly.
Peel the potato and dice it into small cubes.
Chop the onions and tomatoes into small pieces and keep aside. Grate the garlic and ginger and keep separate.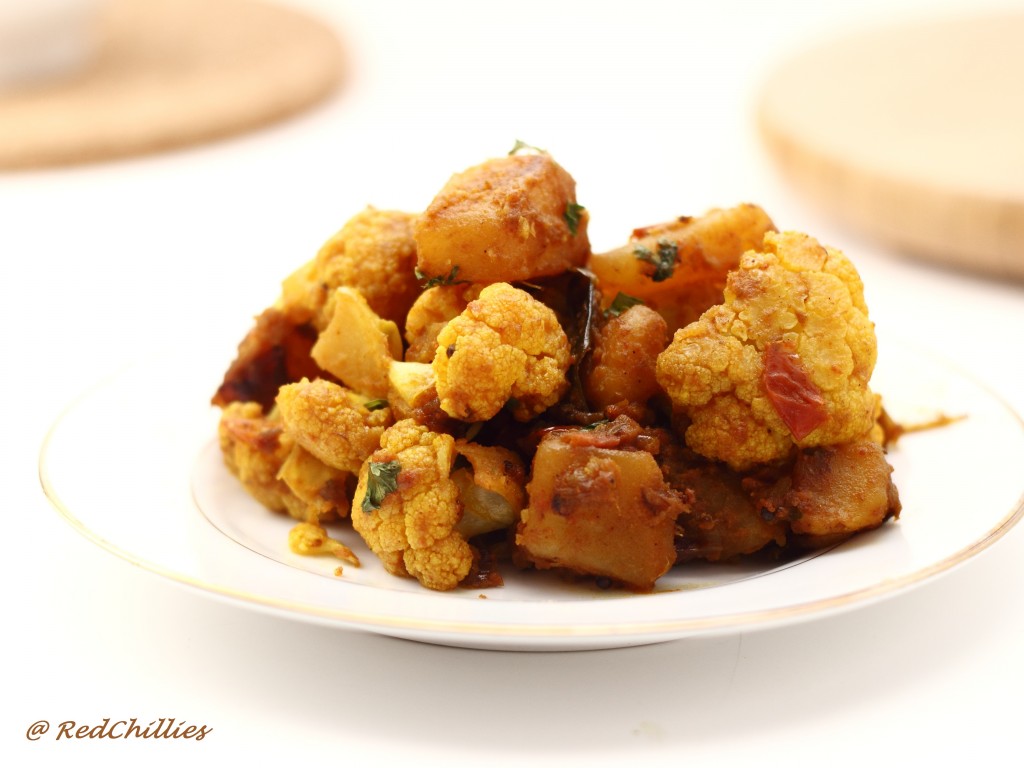 Method:
Take a big skillet; add about 2 Tbsps of oil. Add jeera seeds, mustard seeds and allow it splutter.
Add grated garlic, ginger, mix it well and cook. Then add the diced onions.
After the onions are sautéed add salt and chilli powder and mix well.
Add the tomatoes and sauté well until the tomatoes are slightly cooked.
Next add the chopped potato to this and mix well. Sprinkle little water and cover with lid and let it cook. Stir in between.
After the potatoes are ¾ way cooked, add the chopped cauliflower florets and toss them together.
Sprinkle water and cover with lid on medium and allow it to cook.
After it is cooked add the paav bhaji masala, little oil, salt, chilli powder (if required). Stir well and let the masala blend it with the vegetables. Cover or few minutes and cook.
Lastly garnish with chopped coriander leaves.
Serve with Rotis/ phulkas or with Rice.