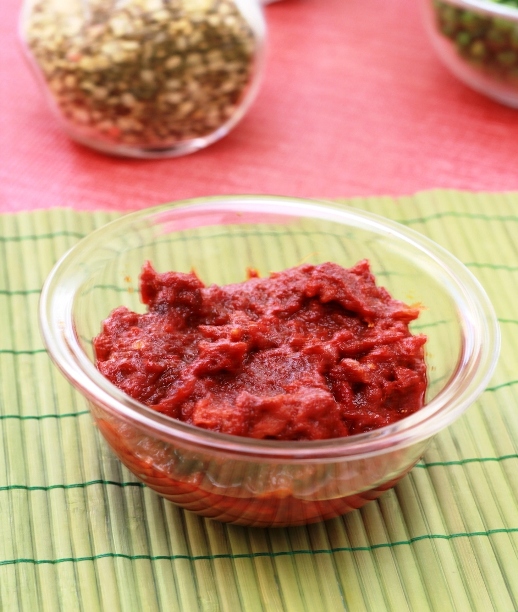 Looking for an Indian condiment is that spicy, tangy and tasty? Then this spicy tomato chutney might work for you. This is my ma-in-law's recipe and she used to make it often when she was here with us. She has quite a collection of chutneys, dry powders, Thokku's etc which not only taste great but enhances the flavor of any meal. (as a side dish). 
This recipe involves a three steps process; making the spice powder, roasting the tomatoes and then seasoning it. You can make the powder ahead of time and use it while making the chutney. 
I agree, this is not an easy dish, it is time consuming but then the end product is really worthwhile. But if you make the powder in advance, then it reduces a step and preparation becomes easier. Usually when time permits I take up the task of making chutney on a Sunday. This way I have time to make it and also a week's time to use it up. Remember a little goes a long way. This lasts for 4-5 days in the fridge and pairs well with idli, dosa, rotis and rice. 
Note: Change the quantity of the redchilli powder depending on your hotness tolerance level. I use a fiery red chili powder for this which we bought from India. 
Some more tomato related recipes: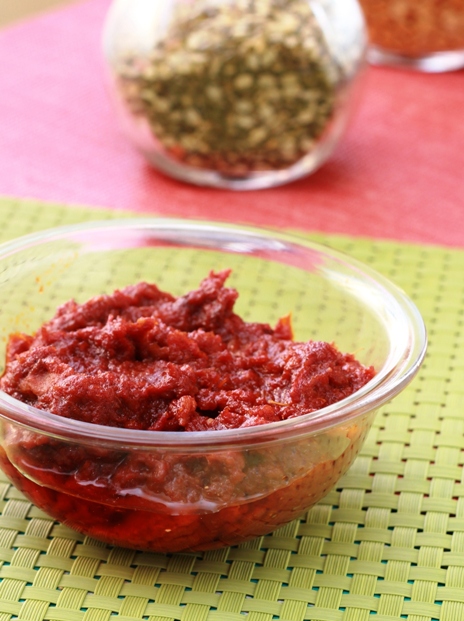 Ingredients:
4-7 medium ripe tomatoes
3-4 small pieces of raw tamarind
2 tsp urad daal
¼ tsp Hing/asafetida
2-3 Tbsp Red chilli powder
1/2 cup oil (canola/peanut)
Powder:
1 Tbsp coriander seeds
¼ tsp methi seeds/fenugreek
½ Tbsp jeera/cumin seeds
Method:
Wash the tomatoes well and chop them into two halves (along with the skin).
Powder: In a small pan separately roast the coriander seeds, then the cumin seeds and methi seeds (without oil). Transfer to plate.
After it is cooled, powder it finely and keep aside.
Roasting: Heat a heavy bottom flat pan and add 2 Tbsps of oil. Place the halved tomatoes directly in the pan.
After the bottom part has cooked, turn it around and cook on all sides. After it has cooked it will begin to wilt and loose shape. Press it with back of the spoon, so that all of it gets cooked. Now add the raw tamarind piece in it and stir again.
After it has cooled, grind it in a mixer (along with the tamarind) and set aside.
Seasoning: Heat oil in a pan, add the asafetida, urad daal mix until the urad daal turns light brown. Now add the roasted tomato paste and keep stirring, making sure it does not stick to the bottom.
After it has sufficiently cooked, add red chilli powder and the ground powder to this and mix well.
If you think it is a bit dry then add a teaspoon of oil. Let it continue to cook, until the oil leaves the sides.
After it has cooled store in an air tight container and this usually lasts for about 4-5 days in the fridge.   
This can be served with rice or rotis, dosa, idli and rice.